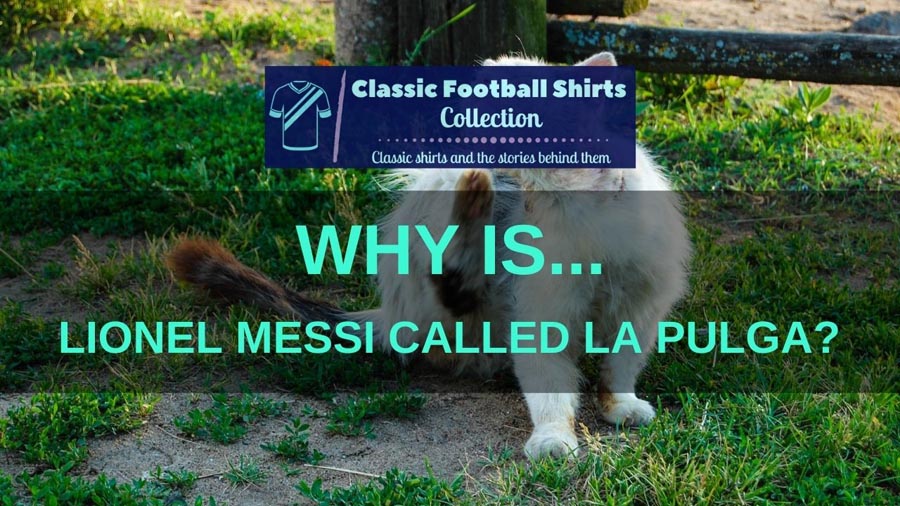 For a player as supremely talented as Lionel Messi, you would think he might have a more attractive nickname than La Pulga, which means 'The Flea'.
But why is Lionel Messi called La Pulga?
When you think about it, it makes total sense.
So let's delve into the story of Messi's nickname.
Why Is Lionel Messi Called La Pulga?
The nickname La Pulga, meaning The Flea, was given to Messi by his older brothers when he was just 4 years old. It was a reference to his diminutive stature, his speed and the fact he was very difficult to stop, making his way through the tiniest of gaps. It still stands as his nickname to this day and Messi is undoubtedly a pest to many opposing teams.
Great players usually have great nicknames right?
Pele was the Black Pearl, Roberto Baggio – the Divine Ponytail, Stanley Matthews – the Wizard of Dribble, Franz Beckenbauer – Der Kaiser (which translates as The Emperor) and George Best was El Beatle.
So it seems a little unfair that Lionel Messi's nickname is that of a parasitic insect you usually associate with animals.
La Pulga, the Flea.
So how did Messi get his nickname?
Messi is the youngest of three brothers. Matias is three years older than him and Rodrigo is five years older than him.
It was his brothers who gave him the nickname La Pulguita (Little Flea) when he very first started playing football with them when he was four years old.
Small, fast and seemingly unstoppable, the nickname soon stuck.
RELATED ===> Are Lionel Messi And Maradona Related?
Salvador Aparicio, was Messi's first-ever coach when he joined his brothers to play at local club Grandoli.
"He scored six or seven goals in every match… He was supernatural, simply put" his old coach says in the lovely interview above.
The nickname in many ways refers back to the condition he was diagnosed with that affected his growth – Growth Hormone Deficiency (GHD).
Without the treatment Barcelona paid for, Messi was told he would never grow any taller than 4'7.
When Messi was 4-years-old he was playing with 8-year-olds, when he was 13 he was playing with 15 and 16-year-olds at Barcelona. By the time he was 17 he was playing the Barcelona first-team with grown men.
He was always smaller than almost everyone until he made the Barcelona first-team.
By then the hormone injections he had been having had seen him grow to 5'7, the average height for an Argentinian male.
By then his nickname had changed a little, he was no longer The Little Flea, just The Flea or La Pulga.
So why is Lionel Messi called La Pulga?
Like a flea he is small, like a flea he is fast and like a flea he is a total pest (to opposing teams).
So the nickname is centered around his physique and style of play. He is also able to find his way through the smallest gaps like a flea and can literally bounce from player to player whilst still keeping the ball under his control.
So whilst it initially seems not a very flattering comparison, it is actually very, very apt.
What Does La Pulga Atomica Mean?
Messi went from being La Pulguita to La Pulga before lots of Spanish and South American media outlets started calling him La Pulga Atomica.
La Pulga Atomica simply means The Atomic Flea.
This name is meant to emphasize Messi's physically unimposing stature, which hides his truly mind-blowing ability.
In reality, it is just an extension of La Pulga.
RELATED ===> Why Is Lionel Messi Not On Twitter?
How Do You Pronounce La Pulga?
You pronounce it exactly as below:
What Other Nicknames Does Lionel Messi Have?
Messi has picked up a few nicknames during his career as you might imagine.
In 2017 the Spanish press started calling Messi Herculeo, a combination of the Greek god Hercules and his name.
This name came about following a sublime performance against Eibar at the start of the 2017-18 season.
Barca won 6-1 and Messi scored 4 including a fantastic solo goal.
Near the start of his career, the Argentian was also called The Messiah by certain sections of the press.
He picked up this nickname in the 2007/08 season as the mercurial Ronaldinho began to lose form and Messi took the mantle as Barcelona's main man.
He is also known as Messadona, as a tribute to his fellow Argentina great Diego Maradona and The Magician, for his almost supernatural skill and tricks.
Some fans simply refer to him as the G.O.A.T, which stands for Greatest of All Time, although many Cristiano Ronaldo fans also refer to him as the G.O.A.T as well.
And talking of the Messi and Ronaldo rivalry, that has also sparked nicknames for both players.
RELATED ===> Is Lionel Messi in Jane the Virgin?
Messi fans call Ronaldo 'Penaldo' and in return fans of CR7 call Messi 'Pessi'.
At the time they played for Barcelona and Real Madrid, Messi fans began calling Ronaldo 'Penaldo' for the number of penalties he scored.
With Messi also bagging a number of penalties, Ronaldo fans simply adapted Messi name in the same way.
Final Thoughts
So the great Argentinian maestro is called La Pulga in reference to his diminutive stature, his speed and the fact he is almost unstoppable.
The name translates to 'The Flea', and whilst initially, it might seem a bit of an insult, I think it probably is quite an apt nickname.
It was almost certainly meant as a compliment when his brothers bestow the moniker upon him, and I guess I am not the only one who has thought it was apt as the nickname is still with him over thirty years on!
Messi himself has never shown any dislike for this nickname either so it looks like it is here to stay.
---
Interested in Buying a Lionel Messi Shirt?
Check out the range of retro Barcelona shirts for sale. Or view all retro shirts you can choose from.
---