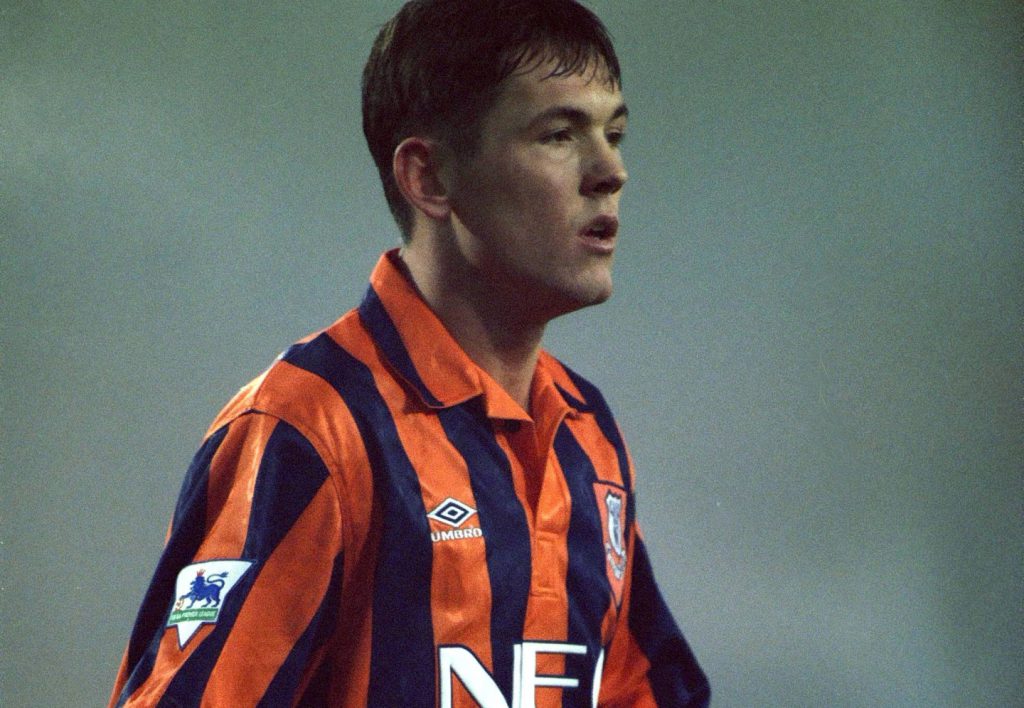 On 17 October 1992, the first season of the Premier League, he made his Premier League bow just after his 19th birthday. A box-to-box centre midfielder he took no time in making himself a fixture in the team. His combination of skill, vision, intelligence and courage made him an immediate fans favourite.
Towards the end of the season he made his debut for the England U21s in a qualifying match against Turkey and it seemed only a matter of time before he gained full international matters. He ended up with 17 league appearances to his name in his debut season.
He never played in the Premier League again and made only four more football league appearances before disappearing from the game at the age of 22.
The club – Everton, the player – Billy Kenny.
---
The Beginnings
---
William Kenny, or Billy as he became known, was born on 19 September 1973 to William Kenny Snr. Kenny Snr had been an Everton player himself, appearing 12 times for the Merseyside club from 1970 to 1975 before moving on to Tranmere where he racked up another 54 games and six goals.
For Everton fans the emergence of Kenny in the early nineties was a bright spot on an otherwise bleak time in the club's history. I'd been lucky enough to grow up in the mid to late 80s, a period that saw two league titles and one runners up, five Wembley finals and the club's first European trophy. The 90s were the exact opposite.
After the departure of manager Howard Kendall to boss Athletico Bilbao in Spain things start to hit a downward spiral. Assistant Colin Harvey became manager and whilst his first season in charge saw a downturn in form the team still finished 4th in the League and made the League Cup Semi-Final.
The following season they finished 8th, then there was a briefly rally to 6th before a 9th place finish and then a 12th place finish in 1991-92 – the club's lowest finish for over a decade.
By the start of 92-93 things were getting desperate for Howard Kendall who had returned to manage the club again.
The club's start to the season had been mediocre before September 1992 brought a run of three defeats on the spin, all without a goal, which saw fan's growing increasingly disgruntled. Kendall's response was to give 19-year-old Kenny his debut in the next game – a home fixture against Coventry.
---
The Complete Midfielder
---
These were the days before the internet and social media, the days when clubs could have genuine youth prospects that weren't all being touted as the next big thing on fan's forums before they had made a first team appearance. For many the appearance of Billy Kenny on the teamsheet that day will have come as a surprise – but not for those close to the club.
Kenny was as close as a teenager could be to the complete midfielder. Blessed with great technical ability – two good feet, a knack for finding space and being able to pick a killer pass, he added a creative spark that the team desperately needed.
He had a remarkable footballing maturity for a 19-year-old – knowing when to release the ball or hold on to it, when to sit or when to drive the team forward and having an uncanny ability to read opposition passes, intercept them and launch an Everton attack.
Such was his quality that Peter Beardsley – the one and only truly top class player at Everton at that time, dubbed him the Goodison Gazza.
But he didn't just do the pretty things, it was his tough, abrasive, robust nature where he really excelled and which I distinctly remember the one and only time I saw him play.
It was January 1993 and on a freezing Tuesday evening my dad and I went up to Selhurst Park to see Everton take on Wimbledon*.
Vinny Jones had obviously heard of Kenny's burgeoning reputation and took it upon himself to lay one on the teenager within the first five minutes, catching him deliberately high and late and walking away with a yellow card and the knowledge that Kenny would not go anywhere near him for the rest of the game. Except he did.
Five minutes later, at the touchline near where we sat, the ball broke loose for an obvious 50-50 between the same two players. If Jones was expecting Kenny to chicken out he was wrong, Billy Kenny threw himself into such a ferocious, but fair, tackle the crunch could be heard on the other side of the ground.
Kenny picked himself up and ran off with the ball whilst Jones sat on the floor wondering what had hit him.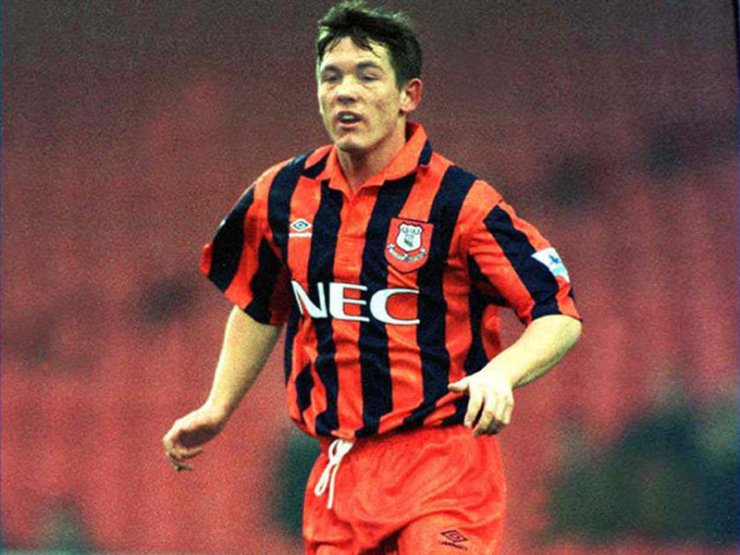 ---
The Making of a Star
---
A highlight that season for Everton came a month prior to the Wimbledon fixture when they took on Liverpool at Goodison in the Merseyside derby.
The Liverpool midfield was made up of the genius of John Barnes alongside rising stars Jamie Redknapp, Steve McManaman and Don Hutchison. The Everton midfield was made up of Ian Snodin, Barry Horne, Stuart Barlow and Billy Kenny.
Kenny dominated the Liverpool midfield that contained an England legend and two future England stars – putting in an unplayable performance that gave him the Man of the Match award and Everton a 2-1 victory.
He appeared for England U21s at the Altay Alsancak Stadium in March 1993 and it seemed certain that it would be the first of many England appearances. But this was the highpoint of his entire career and when things started to go wrong…
---
Drink and Drugs
---
Towards the end of the season Kenny began to suffer from shin splints. In the close season he faced an operation and six months on sideline. Injured and unable to train, with more money than he knew what to do with Kenny became bored and first started to over indulge in alcohol and then drugs.
Soon he was addicted and when he eventually reported for training again, it was clear he was no longer the player he had been. Resuming training wasn't enough to stop Kenny's self-destructive habits as he recounted in an interview he gave to the Daily Mail in 1998:
"I was completely hooked on coke. I needed it just to get by. I was an addict and a complete mess. It got so bad that I wasn't even interested in whether Everton were winning or losing … Some Monday mornings, I got home at four or five o'clock, had a couple of lines of coke, slept for an hour or so, then got a cab to the training ground. I looked a real mess."
Following a failed drugs test and realising his immense talent Howard Kendall fined Kenny two weeks wages and he was sent to rehab.
Things didn't improve and Kendall's successor, Mike Walker, gave Kenny a final ultimatum. It wasn't heeded and during the 1993-94 season, a little over a year since his debut, Billy Kenny was sacked.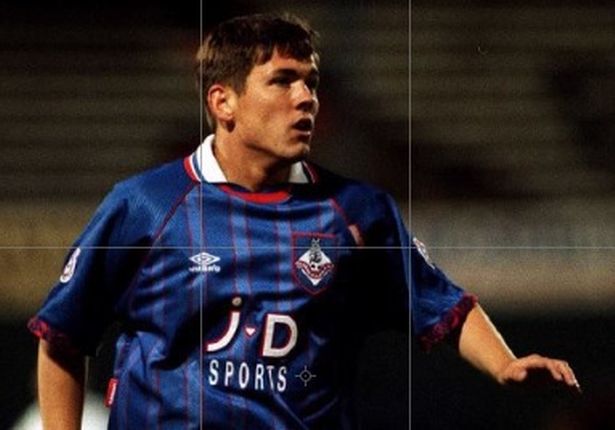 ---
Sacked Again
---
Fortunately for Kenny ex-Toffee Joe Royle, who was then manager of Oldham, decided throw him a lifeline. After giving him a trial, which included a pre-season tour of Norway, he made his League debut for Oldham on 13 August 1994 in a 5-2 win against Charlton Athletic.
He made three further league appearances – which were to be the last of his professional career – as he then got injured and went AWOL from the club and was sacked for the second time in his career.
Billy Kenny next popped up playing for Unibond Premier League side Barrow in October 1995.
Again controversy followed him and in his second game for Barrow Kenny was sent off minutes after coming on as a substitute. Kenny made one more appearance and then, in March 1996, was sacked by Barrow.
Kenny was last heard of in 2002. Whilst Steve McManaman was playing for Real Madrid and Jamie Redknapp for Tottenham, Kenny, the man who had outshone them both in the Merseyside Derby ten years previously, was playing for Royal Seaforth in the Frank Armitt Liverpool County Combination Division One.
---
*Note – We would find out the next day that the Premier League fixture against Wimbledon had the lowest attendance ever – 3,039, a record that still stands. This number includes an estimated 1,500 travelling Everton fans!
---
Save
Save
Save
Save
Save
Save
Save
Save
Save
Save
Save
Save
Save