Want to buy a retro Brentford shirt? Read on…
Team Info
Team: Brentford Football Club
Nickname: The Bees
Team Colours: Red and White
Year Founded: 1882
Stadium: Brentford Community Stadium
Location: Brentford, England
---
Check Out Some Retro Brentford Shirts
If you want to relive the days of Coote, Blissett, Cross, Booker and Gelson take a look at the number of retro Brentford shirts you can own:
---
STEVE SAYS…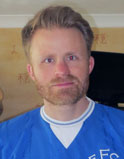 I grew up with Brentford being a team that bobbed around the second and third tiers of English football without ever really doing much. That has all changed in the past couple of years and they are a benchmark for what can be achieved by using resources well and making good appointments Steve.
Favourite player: Christian Eriksen – By the time you read this he may well have gone, but what a player.
Favourite kit: 1971 Home Shirt – pure, unadulterated 1970s retro! Available from TOFFS (see below for link)

Buy From: Classic Football Shirts
About Classic Football Shirts
Classic Football Shirts set themselves apart from many other companies by the fact that their shirts are all original shirts from the dates listed, not reproductions trying to replicate a classic shirt. All shirts come with condition details – ie whether they are in Mint Condition, As New, etc, etc. The prices are slightly higher but you are really getting a piece of history.
They have a limited selection of Brentford shirts, but this changes regularly so it is always worth checking back.
1998 Away Shirt
This typically classic 1990s football shirt was worn as Brentford entered a new era. The previous season had not been a good one for the Bees. They had been relegated from the second tier of English football on the final day of the season, and it looked like they might end the 1990s as they started it, in the Third Division.
The one promising thing to have come out of the relegation was new ownership of the club. David Webb, who was the manager at the time, led a consortium that bought a majority shareholding in Brentford. By the start of the 1998-99 season former Crystal Palace Chairman Ron Noades assumed ownership and took up that rare role, chairman-manager.
Against all expectations the move proved to be a successful one. Brentford didn't have the best start to the season, losing four of their first nine games and in fact by mid-February they had lost 13 of their 30 games. But then they hit form, winning ten of their last 16 games and drawing the other six. They traveled to second place Cambridge on the last day of the season and a 1-0 win secured the title and a return to the First Division.
2007 Away Shirt
This retro football shirt was worn during a season to forget for Brentford, as the club finished 14th in the bottom tier of English football after being relegated from League One the previous year. England legend Terry Butcher took up the reins for the season, but a pre-season that saw defeats against Staines, Harrow, Hampton and Richmond and Sutton proved foreboding for the season to come.
Brentford lost five of their opening ten games, if the supporters thought a brief four-game unbeaten run was to be a turning point it wasn't. The Bees went on to lose five games in a row in November and December, scoring no goals and suffering an embarrassing 7-0 hammering against Peterborough.
Butcher left the club and Andy Scott came in as caretaker manager, having an immediate effect with the team winning eight of their next 12 games, eventually finishing in 14th place.
>>> View the Classic Football Shirts selection of retro Brentford shirts for sale <<<
**GET 10% OFF WHEN ORDERING FROM CLASSIC FOOTBALL SHIRTS THROUGH MY LINK**
Click on my link above and add something to your basket. Hover over the footballs hanging in the top right corner and click on 'Basket' from the subsequent menu that pops up.
Enter CFSPJ10 in the 'Discount Codes' box and receive 10% off of your order!
Buy From: Vintage Football Shirts
About Vintage Football Shirts
Vintage Football Shirts also offer original shirts rather than reproductions with each shirt marked for its condition – from BNIB (brand new in bag) to Excellent (may have tiny defect, may not be noticeable).
2015 Goalkeeper Shirt
By 2015 Brentford were showing great signs of progression. In 2014-15 they were back in the second tier of English football for their first time in 20 years and against all odds finished 5th to make the play-offs. The 2015-16 season saw them do some big transfer business. Notably selling Andre Gray and James Tarkowski to Burnley for £14million in total and Moses Odubajo to Hull for £3.5million.
Towards the end of March Burnley's place in the division looked under threat, as they languished 18th in the table. They picked up, winning seven of their last nine games to finish a very respectable 9th. David Button wore this shirt in 47 of Brentford's 48 games that season, the other appearance being made by young goalkeeper Jack Bonham.
>>> View the Vintage Football Shirts selection of retro Brentford shirts for sale <<<
---
CLASSIC BRENTFORD MOMENT
Brentford return to the top flight for the first time in 74 years!
---
Buy from: Amazon
Amazon doesn't have many retro Brentford shirts, but they do have a lot of retro Brentford memorabilia. That is well worth a look.
>>> View the selection of retro Brentford shirts for sale on Amazon <<<
Buy from: TOFFS
TOFFS (which stands for The Old Fashioned Football Shirt) specialises in handcrafted, vintage football shirts made to the highest quality in the North of England – with each shirt as close to the real thing as possible.
1940s Home Shirt
As the Second World War broke out Brentford were in the top flight of English football. By the time the club prepared for the first season after the war, its aging squad remained largely unchanged. Brentford finished second from bottom of the First Division wearing this classic football shirt in 1946-47 and were relegated. They didn't know it at the time but Brentford wouldn't return to the heady heights of top-level football for 74 years, until the 2021-22 season.
The end of the 1940s saw the end of club legend Harry Curtis' 23-year stint at the club and the club began to slide down the leagues. By 1954 they were in the Third Division and by 1962 the Fourth Division. In 2013 Curtis was named Brentford's greatest ever manager.
1971 Home Shirt
The vintage Brentford shirt was worn as the Bees ended a four-year spell in the bottom rung of English professional football. This season was remarkable as Brentford used just 14 players, a record for a Football League season, and finished third to gain promotion.
A big part of this success was down to nomadic striker John O'Mara, signed from Wimbledon for £1,500. In his first full season at the club, O'Mara scored 25 goals in 40 games and took the club's player of the year award. The only disappointment for the club was after five successive wins that actually put them top of the table going into the final week of the season, a last-day defeat to Workington meant they finished third.
>>> View the TOFFS selection of retro Brentford shirts <<<
---
So there you have it. If, like me, you are a lover of football and all things retro there are a huge selection of classic Brentford shirts you can pick up to revel in the nostalgia of days gone by!
>>> See what other classic football shirts are available <<<
---
Save
Save
SaveSave
Save
Save
Save
S