Want to browse some vintage Tottenham shirts? Read on…
Team Info
Team: Tottenham Hotspur Football Club
Nickname: Spurs
Team Colours: White and Navy Blue
Year Founded: 1882
Stadium: White Hart Lane
Location: London, England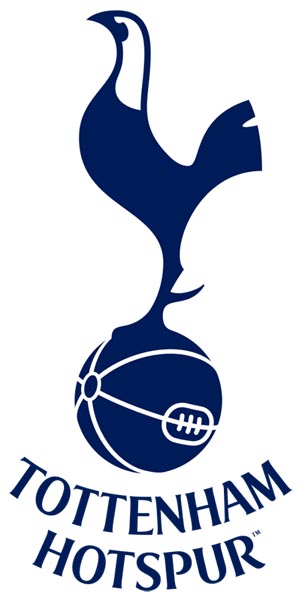 ---
Get Your Own Vintage Spurs Shirt
If you want to relive the days of Greaves, Gascoigne, Lineker, Hoddle, Ardiles and Blanchflower and get your own vintage Spurs shirt there are plenty of options available to you:
---
STEVE SAYS…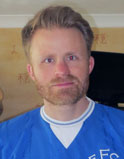 I've always liked Tottenham, mainly because I think in many ways they are like my club Everton, living in the shadow of their nearest neighbour for most of their history. That isn't to say they haven't had some good seasons and I remember Gazza and Lineker in tandem in the early 90s, Bale scoring a hat-trick at the San Siro and of course 'Lasagnagate'! One think I do associate with Tottenham is that they have always tried to play attractive football, as demonstrated in Dumitrescu, Popescu, Klinsmann era in the 90s! Steve
Favourite player: Gary Lineker – still scoring goals at the end of his career.
Favourite kit: 1985-87 home shirt. Delightful design and the classic Holsten logo! Available from Classic Football Shirts (see below for link)
Buy From: Classic Football Shirts
About Classic Football Shirts
Classic Football Shirts set themselves apart from many other companies by the fact that their shirts are all original shirts from the dates listed, not reproductions trying to replicate a classic shirt. All shirts come with condition details – ie whether they are in Mint Condition, As New, etc, etc. The prices are slightly higher but you are really getting a piece of history.
They have around 500 classic Spurs shirts and pieces of kit from 1978 to the present day.
1982 Away Shirt
These include the 1982-83 away shirt (above left) – featuring the special 'Centenary Year 1882-92' crest to mark 100 years since the club's foundation.
This collectible shirt was worn as the side won the FA Cup, reached the League Cup Final and the Semi-Final of the UEFA Cup.
This was also the season Director Irving Scholar floated the club on the stock exchange – the first sports club to do so and something that was the basis for club's being run as businesses – eventually leading to the formation of the Premier League.
1989 Home Shirt
Or there is the 1989-91 home shirt (above right).
This classic Hummel shirt was worn by England internationals Gary Lineker, Paul Gascoigne and Gary Mabbutt, and is best remembered for being worn in the 1991 FA Cup Semi-Final victory over Arsenal which featured a blockbusting 35 yard free-kick from Paul Gascoigne.
Another big moment this season was Tottenham's kit – they introduced a longer style of shorts that were ridiculed at first, but eventually every single club in the league followed suite!
>>> View the Classic Football Shirts selection of retro Tottenham shirts for sale <<<
**GET 10% OFF WHEN ORDERING FROM CLASSIC FOOTBALL SHIRTS THROUGH MY LINK**
Click on my link above and add something to your basket. Hover over the footballs hanging in the top right corner and click on 'Basket' from the subsequent menu that pops up.
Enter CFSPJ10 in the 'Discount Codes' box and receive 10% off of your order!
Buy From: Vintage Football Shirts
About Vintage Football Shirts
Vintage Football Shirts also offer original shirts rather than reproductions with each shirt marked for its condition – from BNIB (brand new in bag) to Excellent (may have tiny defect, may not be noticeable).
1991 Third Shirt
With around 100 Spurs shirts ranging from 1985 to the present day – you are sure to find something you like. Amongst the options available is the unusual 1991-94 third shirt (above right) worn as Spurs finished 15th, 8th and 15th in the League, Gary Lineker left to play in Japan and Spurs splashed out a club record £2.1million on Teddy Sheringham.
The 1993-94 season ended in a bad fashion for the club as they were deducted 12 points (from the start of the following season) and banned from the FA Cup due to financial irregularities committed in the 1980s.
1997 Home Shirt
There is also the 1997-99 home shirt (above right) worn by the likes of Jurgen Klinsmann, David Ginola and Darren Anderton.
Despite investing in these big signings it was a turbulent time in the club's history that saw Gerry Francis, Chris Hughton, Christian Gross and George Graham all in the managerial hotseat at one time or another.
The kit was manufactured by the unfortunately name Pony!
>>> View the Vintage Football Shirts selection of retro Tottenham shirts for sale <<<
---
CLASSIC TOTTENHAM MOMENT
1981 and the moment Ricky Villa scored that FA Cup Final goal…
---
Buy from: Amazon
1962 Home Shirt
Amazon have a great selection of retro Spurs shirts including a 1962 home shirt, the season they finished third in the League and won the FA Cup. The previous season they had completed the League and FA Cup double.
The big shock this season was Ipswich Town, led by Alf Ramsey, winning the First Division title in their debut season in the top flight. This led to Alf Ramsey being offered the England job.
1983 Home Shirt
Or you can get the 1983 home shirt (above), worn by a Spurs team that finished fourth in the League under Keith Burkinshaw's stewardship and were inspired by the midfield genius of Hoddle, Ardiles and Villa.
Almost as remarkably as Ipswich winning the League in 1962 the runners-up in top flight this season (way behind runaway Champions Liverpool) were Watford – in their first season in the First Division.
>>> View the selection of retro Tottenham shirts for sale on Amazon <<<
Buy From: Kitbag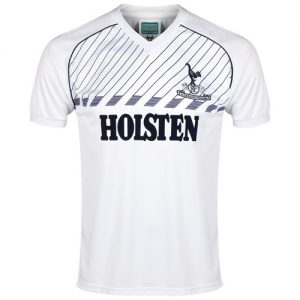 The Kitbag range of Spurs shirts is slightly more limited but owing to the fact that the shirts are reproductions of classic kit they are more affordable.
1986 Home Shirt
You can get the 1986 home shirt (above), worn by Glen Hoddle during his last season at the club and Clive Allen as he scored an amazing 49 goals in all competitions.
All in all it was a good season, as the club finished third in the First Division, were runners-up in the FA Cup, reached the semi-finals of the League Cup and Allen won both the PFA Player of the Year and Football Writers' Footballer of the Year awards.
This retro football shirt was even worn by Diego Maradona as he took part in Ossie Ardiles' Testimonial at the end of the season!
1962 Away Shirt
Or there is the 1962 away shirt. As worn by Jimmy Greaves, who was signed in December 1961 for £99,999.
Greaves went on to score 30 goals in 28 appearances in his first season for the club, including one in the FA Cup Final as Tottenham beat Burnley. Bobby Smith also scored in the 1962 Cup Final for Spurs – having scored in the previous year's Final as well.
It took another 40 years for this to happen again when Freddie Ljungberg scored in the 2001 and 2002 finals for Arsenal.
>>> View the Kitbag selection of retro Tottenham shirts for sale <<<
Buy from: TOFFS
About TOFFS
TOFFS (which stands for The Old Fashioned Football Shirt) specialise in handcrafted, vintage football shirts made to the highest quality in the North of England – with each shirt as close to the real thing as possible.
1940s Home Shirt
You can pick up a host of top notch retro Spurs shirts here including a beautiful 1940-50s home shirt (above right) as warn by the late, great Spurs legend Bill Nicholson in his playing days or the eye catching 1977-80 away shirt (above left).
1977 Away Shirt
This retro football shirt typifies 1970 style kits and was worn when the club spent their last season in the old Second Division, before returning to the top flight in 1978-79 where they have been ever since. The season
Spurs won promotion from the Second Division was more or less down to one result – a 9-0 win over Bristol Rovers in October, they finished third on goal difference from Brighton – and without these nine goals they would not have been promoted!
>>> View the TOFFS selection of retro Tottenham shirts for sale <<<
---
So there you have it. If, like me, you are a lover of football and all things retro there are a huge selection of classic Spurs shirts you can pick up to revel in the nostalgia of days gone by!
>>> See what other classic football shirts are available <<<
---
Save
Save
Save