Want to peruse retro England shirts? Read on…
Team Info
Team: England National Football Team
Nickname: The Three Lions
Team Colours: All White (with a few variations!)
Stadium: Wembley Stadium, London
---
Get Your Own Retro England Shirt
If you want to relive the days of the glorious 1966 World Cup triumph? Or the so near but so far campaigns in the 1990 World Cup or 1996 European Championships? Take a look at the retro England shirts you can get:
---
STEVE SAYS…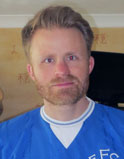 I am rather worried that it will never get better for 1990 for me as an England fan. At the age of 11 that was a great summer for me, the best England team I have seen, the best England performance at a World Cup on foreign soil I have seen, the best England player I have seen (Gazza) and the best England match I have seen (the 3-2 win against Cameroon), we were just a penalty kick away from winning the World Cup, I am sure of that. Steve
Favourite player: Paul Gascoigne – utterly brilliant and loved playing football.
Favourite kit: The 1982 World Cup Final shirt. Both the home and away shirts have a fantastic retro design. Available from all retailers (see below for links)
---

Buy From: Classic Football Shirts
About Classic Football Shirts
Classic Football Shirts set themselves apart from many other companies by the fact that their shirts are all original shirts from the dates listed, not reproductions trying to replicate a classic shirt.
All shirts come with condition details – ie whether they are in Mint Condition, As New, etc, etc. The prices are slightly higher but you are really getting a piece of history. They have just short of 1,000 classic England shirts and pieces of kit (yes you read that right – a thousand!) from te 70s to the present day.
1980 Home Shirt
You can choose from such gems as the 1980 – 83 home shirt (above left) – this Admiral-made kit is one of my favourite retro football shirts and is an ultra-rare and highly popular original shirt from the 1982 World Cup in Spain.
This World Cup started so well for England with Bryan Robson netting after just 27 seconds in the opening game against France, a record at the time. They won all three group games to proceed to the second group phase where they drew against Germany and Spain but were knocked out as they finished second.
England manager Ron Greenwood announced his retirement immediately after the tournament.
1987 Third Shirt
Or there is the 1987 – 90 third shirt (above right), this rare blue third shirt was never actually worn by the full England side in a competitive or friendly match. It looks great and is very collectible (and I had one of these as a kid but never kept it!).
This was a mixed period for England as they massively under-performed at Euro 88, losing all three of their group games including a 1-0 defeat to Republic of Ireland.
However the 1990 World Cup was England's greatest achievement in a tournament on foreign soil, being only a penalty kick from making the World Cup Final. The team and the fan's good performance led to the reinstatement of English clubs into European competition on the 1990-91 season.
>>> View the Classic Football Shirts selection of retro England shirts for sale <<<
**GET 10% OFF WHEN ORDERING FROM CLASSIC FOOTBALL SHIRTS THROUGH MY LINK**
Click on my link above and add something to your basket. Hover over the footballs hanging in the top right corner and click on 'Basket' from the subsequent menu that pops up.
Enter CFSPJ10 in the 'Discount Codes' box and receive 10% off of your order!
Buy From: Vintage Football Shirts
About Vintage Football Shirts
Vintage Football Shirts also offer original shirts rather than reproductions with each shirt marked for its condition – from BNIB (brand new in bag) to Excellent (may have tiny defect, may not be noticeable). With almost 200 England shirts ranging from the 80s to the present day – their selection is huge.
1984 Away Shirt
You can get the vintage 1984-87 away shirt (above right) – worn by Lineker, Robson and Hoddle during the qualification stages for the 1986 World Cup when the side topped the group with Northern Ireland finishing as runners up (we won't mention the 1986 Finals and the Hand of God incident).
Manager Bobby Robson went into the 1986 World Cup in a precarious position, despite only taking over in 1982 he had already survived calls to quit as England failed to qualify for his first major competition – the 1984 European Championships.
Despite winning five, drawing two and losing one of their eight games and scoring 23 goals and conceding only two they finished second in their qualifying group behind Denmark. With only eight teams going to the Finals they missed out, despite having the best goal difference of any team in qualifying.
1996 Away Shirt
You can also pick up the classic 1996-97 away shirt (above left) that was worn in the 1-1 draw, and subsequent defeat on penalties, to Germany in the 1996 European Championships semi-final.
Two years after failing to qualify for the 1994 World Cup an England team featuring a mix of emerging young players, like Steve McManaman, Darren Anderton and Gary Neville, and seasoned veterans like Stuart Pearce, Paul Gascoigne and Tony Adams were again a penalty kick from making a major final.
Euro 96 also saw Alan Shearer emerge as a genuinely world-class centre-forward. Prior to tournament he had scored just five goals in 23 games and gone 12 games without a goal for England, 22 minutes into the tournament he broke that duck with a goal against Switzerland and ended up with five goals to be the top scorer in the competition.
He went on to score 25 goals in his next 40 England games and ended his England career with 30 goals in 60 caps, putting him joint sixth on the top goalscorers list for the national team.
>>> View the Vintage Football Shirts selection of retro England shirts for sale <<<
---
CLASSIC ENGLAND MOMENT
We could have chosen 1966, but everyone knows what happened then, the Semi-Finals against Germany in 1990 and 1996 would be too heartbreaking, but this was one of the all-time great World Cup Quarter Finals, and after two penalties in Bobby Robson's eight years as manager England suddenly get two in 22 minutes!
---
Buy from: Amazon
1982 Away Shirt
Amazon has a great selection of retro England shirts including the classic 1982 World Cup Finals away shirt from which England were eliminated despite not losing a game during the group stages.
The tournament was one marred by violence – a trait that would reoccur throughout the decade much to the chagrin of the Government and true England fans.
Then there is the 1996 European Championship home shirt, worn when football famously came home and England came within a whisker of making the Final – if only Gascoigne's leg was two inches longer surely he would have poked home Alan Shearer's cross in the Semi-Finals against Germany.
>>> View the selection of retro England shirts for sale on Amazon <<<
Buy from: TOFFS
About TOFFS
TOFFS (which stands for The Old Fashioned Football Shirt) specialises in handcrafted, vintage football shirts made to the highest quality in the North of England – with each shirt as close to the real thing as possible.
1938 Shirt
You can pick up some top-notch retro England shirts here including a replica of the 1938 shirt (above left) – a rare blue kit with a button-down front.
This shirt was worn the year England toured Europe and the first match saw them travel to Germany, to take part in what Adolf Hitler saw as a showpiece for Nazi propaganda. As the team got ready for the game they were told by an FA Official that they had to make the Nazi salute during the playing of the German national anthem, the England players were furious and immediately refused.
The FA Official returned minutes later saying he had a direct order from British Ambassador Sir Neville Henderson, they were told the political situation was so sensitive if they refused to do so it could effectively be the spark that lit the touch paper for a World War.
The England team reluctantly followed suit with the exception of Stan Cullis who refused and was dropped from the squad. England won 6-3 with Len Goulden scoring a goal that Stanley Matthews desctibed as 'the greatest goal in football I ever saw'.
Home Shirt from 30s to 50s
You can also get a classic home shirt worn from the 1930s through to the 1950s (above right) – a design which was the template for many future England shirts. This period saw England rejoining FIFA in 1946, 18 years after leaving the confederation due to a dispute over payment to amateur players.
Towards the end of the 1940s England claimed two memorable victories – winning 4-0 against reigning World Champions Italy and then 10-0 over an undefeated Portugal in Lisbon.
>>> View the TOFFS selection of retro England shirts for sale <<<
---
So there you have it. If, like me, you are a lover of football and all things retro there are a huge selection of classic England shirts you can pick up to revel in the nostalgia of days gone by!
>>> See what other classic football shirts are available <<<
---