The Shirt
An iconic kit, an iconic tournament, let's take a closer look at the England 1990 Third Shirt.
Team: England National Team
Years Worn: 1990 to 1991
Shirt Colours: Sky Blue
Manufacturer: Umbro
Worn By: Lineker, Barnes, Pearce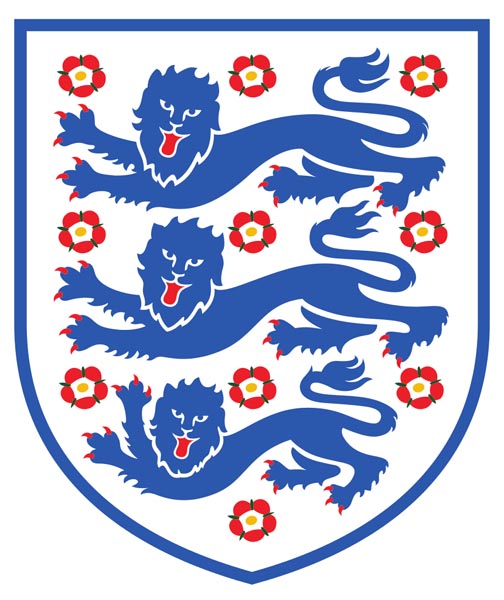 ---

The Story…
As the country entered the 1990s English football was at a nadir. The nation was reeling from the tragedy of Hillsborough, clubs were still banned from competing in European football as a result of the Heysel disaster and the national team were far from convincing. Yet by the end of 1990, the mood had changed completely, and prevalent in that mood change was a kit that was never actually worn that year, the England 1990 third shirt…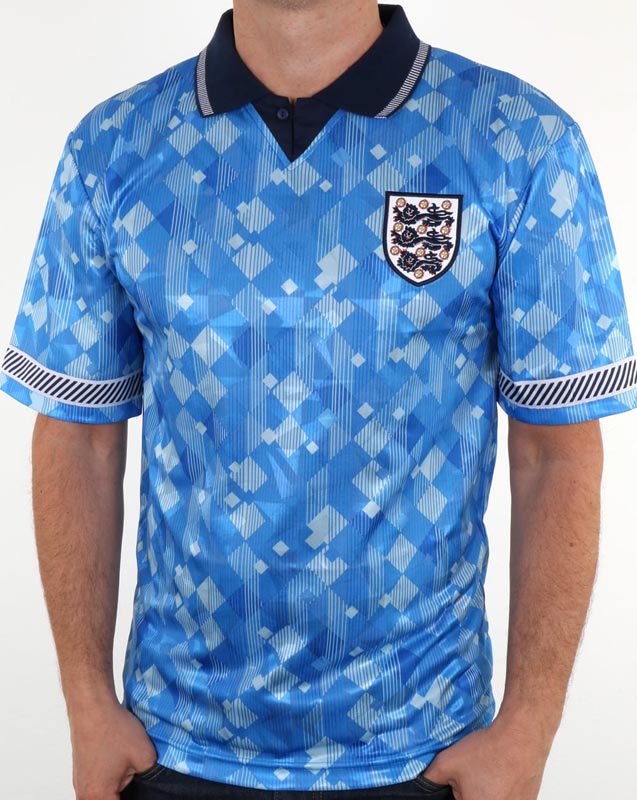 To find this shirt and many other classic England shirts view all retro England shirts for sale.
"In the name of Allah, go…"
So let's backtrack a bit, before this now-classic England shirt was even a glint in the kit designer's eye, to the aftermath of the European Championships of 1988. England had unceremoniously been dumped out of the competition losing all three games and manager Bobby Robson's job was well and truly on the line.
An unconvincing 1-0 win over Denmark, followed up by a 0-0 draw at home to Sweden in England's first qualifying game for the 1990 World Cup, did little to appease either the fans or the press. Worse was to come, a 1-1 draw against Saudi Arabia in England's last game of 1988 left the Daily Mirror's backpage demanding "In the name of Allah, go". Robson submitted his resignation, but it wasn't accepted.
In truth, the England team that day was hugely inexperienced. Sheffield Wednesday's Mel Sterland won his only cap as did Brian Marwood of Arsenal, David Seaman, Michael Thomas and Alan Smith all made their debuts and Gary Pallister, David Rocastle and Paul Gascoigne made just their second appearances for England. It was to be Gascoigne who was to have the biggest impact for England over the next two years…
Stumbling towards Italia 90…
Nevertheless, England stumbled their way to qualification for Italia 90. Their final two qualifying games were both 0-0 draws against Sweden and Poland, and they finished second in their group behind Sweden.
Preparations for the 1990 World Cup were mixed, a 1-0 win over Brazil on 28 March 1990 (which was my first ever visit to Wembley), was followed up by a 4-2 win over Czechoslovakia inspired by the brilliance of Paul Gascoigne. But then England's last two games before the World Cup started were a 2-1 home defeat to Uruguay and a 1-1 draw with Tunisia and that came courtesy of a last-minute equaliser by Wolves legend Steve Bull.
Sky blue thinking, the shirt goes public!
England had formally introduced their World Cup kits a few weeks previously and the diamond-inspired, powder blue England third shirt immediately caught the eye. But it was to be music, not football, that perhaps cemented this kit's legendary status.
The song was released on 21 May 1990 and spent two weeks at the top of the charts at the start of June as World Cup fever took hold in England. More importantly, it cemented the shirt's place in football history and it continues to be seen widely to this day.
Stumbling through Italia 90…
Whilst Italia '90 is now seen as the World Cup that changed the face of football in this country it is worth remembering that England's start in the tournament was far from emphatic.
The tournament began with a huge shock. On 8 June 1990 Cameroon, in only their second-ever World Cup, defeated holders Argentina 1-0 despite being down to nine men. Three days later England opened their World Cup campaign with a scrappy 1-1 draw with the Republic of Ireland.
England's next performance was a big improvement, but still yielded only a single point with a 0-0 draw against Holland. This meant going into their final group game against Egypt all four teams in World Cup Group F had identical records. England, Holland, Ireland and Egypt had all played two, drawn two, scored one, conceded one.
The Egypt game took place on my 11th birthday, 21 June 1990, and I remember rushing home after a birthday (at the Harvester no-less) and watching a Mark Wright header giving England the win and propelling them to the top of the group after Ireland and the Netherlands drew.
To find this shirt and many other classic England shirts view all retro England shirts for sale.
Scifo v Gascoigne
England faced Belgium in the last 16, and the game was played at a frenetic pace in the intense summer heat of Bologna. Two of the tournament's great talents were pitted directly against each other, and Belgium's Enzo Scifo definitely had the upper hand over Paul Gascoigne. Scifo and his midfield partner Jan Ceulemans both hit the post, but John Barnes was also unlucky to have a goal chalked off for a close-offside decision.
In the final minute of extra-time, with both teams dead on the ground, Paul Gascoigne floated a free-kick deep into the penalty area. England substitute David Platt watched the ball drop over his right shoulder and hit a perfect volley across Belgium's veteran keeper Michel Preud'homme to give England the win with his first-ever international goal. England were into the quarter-finals against surprise package Cameroon.
The world's most difficult 'bye'
Often forgotten in light of England's painful semi-final defeat that followed against West Germany three days later, England's quarter-final game against Cameroon on 1 July 1990 is one of the all-time classic England World Cup matches.
Legend has it that before the game manager Bobby Robson went through the Cameroon team and tore it apart bit by bit, specifying the numerous weakness that England could exploit and telling them they practically had a bye into the semi-finals. 120 minutes later the players returned to the changing room, drenched in sweat and having been tested to their very limit in the process of gaining a fortuitous 3-2 win. "Some f**cking bye that was" Chris Waddle said as he slumped exhausted into his seat.
A miracle
England had taken the lead in the game, David Platt scoring his second international goal in the 26th minute, but the game changed with the introduction of Cameroon's 38-year-old striker Roger Milla at half-time and by the 65th minute the African nation were 2-1 ahead. Then something amazing happened.
From 1982 to 1 July 1990 England had had two penalties in Bobby Robson's eight years in charge. Between 10.38pm and 11.05pm on 1 July 1990 they got two penalties in 27 minutes. The first, in the 83rd minute, drew the scores level and the second in the 105th minute put England 3-2 up. Both were scored by Gary Lineker and for the first time ever England advanced to the semi-finals of a World Cup on foreign soil.
England's semi-final against West Germany on 4 July was another classic, and certainly the nation's best performance in the tournament as the Three Lions matched the Germans every inch of the way. A penalty shootout was no way to separate the two best teams in the tournament, but that is what was required and West Germany went through to beat Argentina in the Final and England went home to a heroes welcome having restored the reputation of a battered nation.
England's 1990 third shirt finally gets an outing
So what became of this retro 1990 sky blue third shirt? It wasn't seen at all in the tournament and in fact was only worn once by England, in May 1991 for a European Championship qualifying game in Turkey. Debutant Dennis Wise scoring the crucial goal in the game.
Wise would never score another England goal and neither would the kit be worn again, but never has a kit so rarely worn made such a big impact on the history of English football.
To find this shirt and many other classic England shirts view all retro England shirts for sale.
SKY BLUE KITS: A HISTORY OF THE ENGLAND NATIONAL TEAM

At the time of writing England have only ever had five sky blue kits and only actually donned the colour four times.

KIT 1: 1970 World Cup
England wore three different kits in their three group games in the 1970 World Cup, the last of which was the sky blue shirt worn on 11 June 1970 in a 1-0 win against Czechoslovakia.

KIT 2: 1986 World Cup
This kit went to the World Cup in Mexico as an alternate kit. The shirt was never worn but the socks and shorts did get an outing in the quarter-final match against Argentina.

KIT 3: 1988 European Championship
This third kit was also never worn by the Senior team but went to the European Championships as a third kit. It did make an appearance though with the U21s.

KIT 4: 1990 World Cup
The aforementioned kit, made famous by Bernard Sumner in the run-up to the 1990 World Cup, was worn just once for the 1991 Euro 92 qualifier against Turkey.

KIT 5: 1992 Friendlies
The only sky blue kit worn more than once. This appeared twice in 1992 friendlies against Czechoslovakia and Spain and was notable for its three large lions in darker blue that dominated the front of the shirt.
---
So there you have it. If, like me, you are a lover of football and all things retro this goes down as one of the all-time classic England shirts, perfecto for revelling in the nostalgia of days gone by!
>>> See what other classic football shirts are available <<<
---
Save