Want to buy a retro Burnley shirt? Read on…
Team Info
Team: Burnley Football Club
Nickname: The Clarets
Team Colours: Claret and Blue
Year Founded: 1882
Stadium: Turf Moor
Location: Burnley, England
---
Check Out Some Retro Burnley Shirts
If you want to relive the days of Adamson, McIlroy, James, Duff and Eyres take a look at the number of retro Burnley shirts you can own:
---
STEVE SAYS…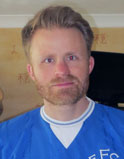 Burnley have a rich and illustrious footballing history, but unfortunately when I was old enough to start following football back in the mid 80s they weren't just struggling they were almost down and out and came close to going out of the football league altogether. Their renaissance has been spectacular in recent years, and at the time of writing they are very much an established Premier League team with European experience Steve.
Favourite player: Robbie Blake – everyone loves a footballing maverick – I do!
Favourite kit: 1982 Super Cup Final shirt – love the retro nature of this kit that Villa won as they beat Barcelona. Available from Amazon (see below for link)

Buy From: Classic Football Shirts
About Classic Football Shirts
Classic Football Shirts set themselves apart from many other companies by the fact that their shirts are all original shirts from the dates listed, not reproductions trying to replicate a classic shirt. All shirts come with condition details – ie whether they are in Mint Condition, As New, etc, etc. The prices are slightly higher but you are really getting a piece of history.
They have around 100 retro Burnley football shirts and pieces of kit from the 90s to the present day.
1994 Away Shirt
This unusual retro football shirt, with its dark lines dissecting a bright yellow shirt was worn during a less than happy two years for Burnley. First of all they were relegated from the second tier of English football, finishing 22nd in Division One, eight points away from safety. The following season they struggled in Division Two, using 34 different players as they finished 17th. The season proved to be manager's Jimmy Mullen's last in charge.
The highlight of the two seasons was holding Premier League giants Liverpool to a 0-0 draw at Turf Moor in the FA Cup 4th Round, before only narrowing losing 1-0 in the replay at Anfield. Behind the scenes however Turf Moor was undergoing at £6.5million redevelopment, with two new stands being added to give Burnley a 22,000 all-seater stadium.
2001 Home Shirt
This vintage Burnley shirt was worn by their first £1million signing Ian Moore, who arrive from Stockport County the previous season. It marked Burnley's second season in the second tier of English football after promotion from Division Two in the 1999-2000 season.
They finished with a very similar record to the previous season – finishing 7th and agonisingly missing out on the play-offs by one goal. They finished on the same amount of points as 6th place Norwich, winning their last game of the season 1-0 against Coventry. One more goal in that game would have seen them leapfrog Norwich and finish 6th.
England legend Paul Gascoigne graced Turf Moor that season with Burnley signing him on a free transfer from Everton.
>>> View the Classic Football Shirts selection of retro Burnley shirts for sale <<<
**GET 10% OFF WHEN ORDERING FROM CLASSIC FOOTBALL SHIRTS THROUGH MY LINK**
Click on my link above and add something to your basket. Hover over the footballs hanging in the top right corner and click on 'Basket' from the subsequent menu that pops up.
Enter CFSPJ10 in the 'Discount Codes' box and receive 10% off of your order!
Buy From: Vintage Football Shirts
About Vintage Football Shirts
Vintage Football Shirts also offer original shirts rather than reproductions with each shirt marked for its condition – from BNIB (brand new in bag) to Excellent (may have tiny defect, may not be noticeable).
1993 Home Shirt
This classic Burnley shirt was worn when they were promoted from Division Two via the play-offs. Burnley actually finished in the last play-off position and took on third placed Plymouth Argyle in the Play-Off Semi-Finals. After a 0-0 draw at Turf Moor, they stunned Plymouth with a 3-1 win in the away leg.
They then beat fourth-placed Stockport County in a fiery Final 2-1. The game saw two Stockport players sent off and it is estimated . Both Plymouth and Stockport County finished 12 points ahead of Burnley in the league that season.
2005 Home Shirt
This stylish vintage Burnley home shirt was worn when they finished 17th in the Championship. Burnley were one of a number of teams to finish the season on points in the mid 50s. Burnley started the season reasonably well, but their form tailed off after selling star striker Ade Akinbiyi to Sheffield United for £1.75million in January. After his sale they lost 8 of the next 10 matches.
Despite leaving Burnley in January Akinbiyi still finished their top scorer, scoring six goals more than next top scorer midfielder Garreth O'Connor.
>>> View the Vintage Football Shirts selection of retro Burnley shirts for sale <<<
---
CLASSIC BURNLEY MOMENT
The 1959-60 season and Burnley are champions of England!
---
Buy from: Amazon
Amazon don't have any retro Burnley shirts, but they do have a lot of retro Burnley memorabilia. That is well worth a look.
>>> View the selection of retro Burnley shirts for sale on Amazon <<<
Buy from: TOFFS
TOFFS (which stands for The Old Fashioned Football Shirt) specialises in handcrafted, vintage football shirts made to the highest quality in the North of England – with each shirt as close to the real thing as possible.
1959 Home Shirt
This was the classic shirt worn when Burnley picked up their second, and to date, last league title. They finished on 55 points, one ahead of Wolves and two clear of Tottenham Hotspur and also reached the FA Cup Quarter-Final where Blackburn Rovers beat them on a replay.
Burnley were indebted to three players who weighed in with most of the goals: John Connelly scored 24 goals, Ray Pointer 23 and Jimmy Robson 22. The highlight of the season was undoubtedly an 8-0 win over Nottingham Forest when Jimmy Robson bagged five of the goals.
Three things were remarkable about Burnley's win that season. Firstly, their squad cost £13,000 in transfer fees, with only two players costing money and the remainder coming from the youth academy. Secondly, with a population of 80,000 Burnley became the smallest town to take home the league championship and thirdly, and possibly most amazingly, they had never led the table until their last day of the season win over Manchester City!
1920s Home Shirt
This beautiful classic Burnley shirt was worn during the 1920s, the decade that saw them win the First Division title for the first time in 1920-21. The Clarets had finished second in the league the season before, nine points behind a dominant West Bromwich Albion team and after losing their first three games of the 1920-21 season it looked unlikely they could go one better.
However, they preceded to go on a 30 game unbeaten run and remained top of the table from 20 November 1920 right through until the end of the season, clinching the title on 23 April 1921. Despite drawing four and losing two of their last six games Burnley finished on 59 points, just one point shy of the all-time record for top-flight points at that time.
After a 3rd place finish the following season the club's fortunes dipped and bar a 5th placed finish in 1926-27 they didn't finish above 15th the remainder of the decade, eventually finishing 21st and getting relegated in the 1929-30 season.
>>> View the TOFFS selection of retro Burnley memorabilia <<<
---
So there you have it. If, like me, you are a lover of football and all things retro there are a huge selection of classic Burnley shirts you can pick up to revel in the nostalgia of days gone by!
>>> See what other classic football shirts are available <<<
---
Save
Save
SaveSave
Save
Save
Save
S