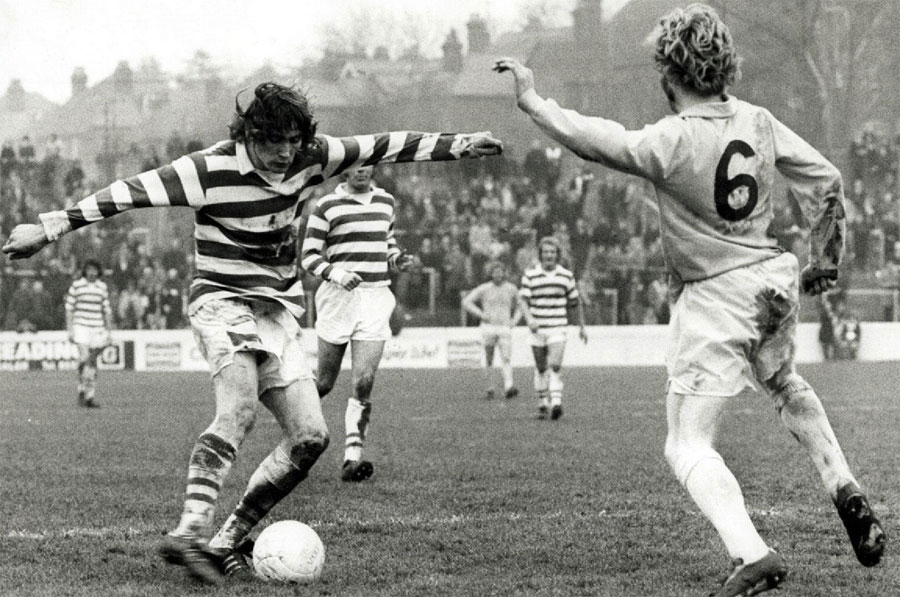 ---
"He had incredible vision. And once he'd got the ball it was almost impossible to get it off him. He was a phenomenal goalscorer as well, so really he had everything – the complete centre-forward."

Jimmy Andrews, Cardiff Manager

"If the guy was keen, had trained properly, conducted himself properly – he would have been a world-beater. People talk about Shearer today but Robin was twice as good."

Rod Lewington, friend.

"He was an unbelievable character, the most unbelievable character I've ever worked with. He would not take anything seriously and that was his biggest problem. In my opinion Robin could have played for England."

Maurice Evans, Reading Manager
---
Those three quotes are all about the same player, a player hugely talented, a player who scored amazing goals and lived life exactly as he wanted. He would often spend the night before a game out until the early hours of the morning then turn up, looking dishevelled, boots in a carrier bag, hungover or still high on drugs and be the best player on the pitch.
He flicked v-signs at goalkeepers, kissed policeman and aggravated England legend Bobby Moore so much he spent the whole game trying to kick him the one time he played against him.
He could definitely have played in the top-flight, but he never did, he could probably have played for England but he never did. His name? Robin Friday.
---
All time cult hero
---
Friday's career lasted just four seasons – two for Reading in the Fourth Division, one in the Third Division and then was transferred to Cardiff in the Second Division where he spent a solitary season before he literally disappeared from the game.
In his two full seasons at Reading he was top goalscorer and Player of the Season both seasons – he ended his career with 53 goals in 135 games for Reading and 7 in 25 for Cardiff.
In a 2004 poll Robin Friday was voted the top 'all time cult hero' for both Reading and Cardiff.
Oh and for you music fans who might be familiar with The Super Furry Animals and their single 'The Man Don't Give a Fuck?', yes that is dedicated to Robin Friday and it is Friday on the single cover flicking the v-sign at Luton goalkeeper Milija Aleksic after scoring against him for Cardiff.
He has also been the subject of the fantastic book 'The Greatest Footballer You Never Saw – The Robin Friday Story', written by Paolo Hewitt and former Oasis bassist Paul McGuigan.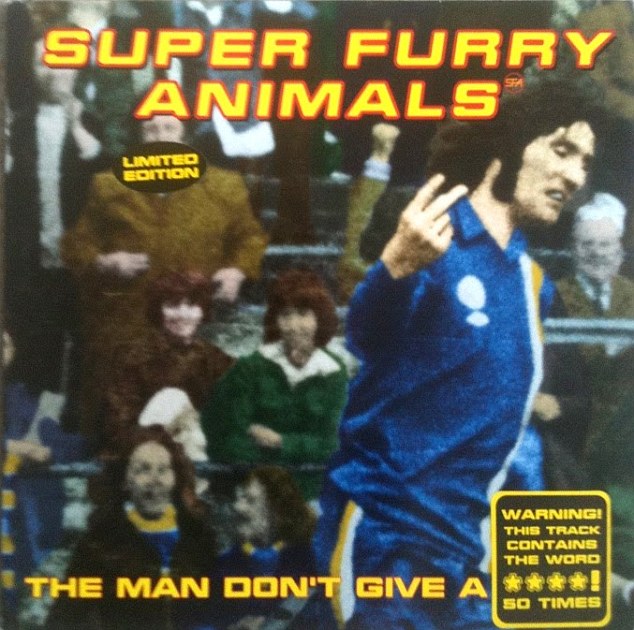 ---
A brush with death
---
So how is a player so supremely talented not better known? Why did he not play at the highest level? Largely down to the way he lived his life.
As a young boy Robin Friday was in trouble – he regularly stole and at the age of 16 was sent to a Borstal. He was released and then re-offended and was sent back almost immediately. After his release he played semi-professionally for Walthamstow Avenue for six months and then signed for Hayes.
It was at Hayes in July 1972 that something happened that many felt shaped Friday's life. Whilst working as an asphalter Friday fell and landed on a large spike that speared his buttock and narrowly avoided a lung.
Despite recovering from the injuries in just three months it only strengthened Friday's maverick attitude – and he seemingly became hell bent on making sure he enjoyed every minute of his life.
After 67 appearances for Hayes, 46 goals and seven red cards he signed for Reading in January 1974.
---
'The best goal I have ever seen'
---
Friday wasted no time in becoming a firm favourite at Reading. In his second game against Barnsley he scored his first goal. In fact a team that was struggling was transformed and scored 16 goals in five games after his introduction to the first eleven.
In his first full season for the club, 1974-75 Friday scored 18 league goals and 20 overall and was voted the Player of the Year. Reading, who had been in the bottom tier of English football for over 40 years, narrowly missed promotion – finishing seventh.
In his second full season they went one better and finished third gaining promotion. Friday scored 21 league goals and was again the club's Player of the Year. That season Friday scored what many Reading fans consider the greatest goal they have ever seen when they played Tranmere on 31 March.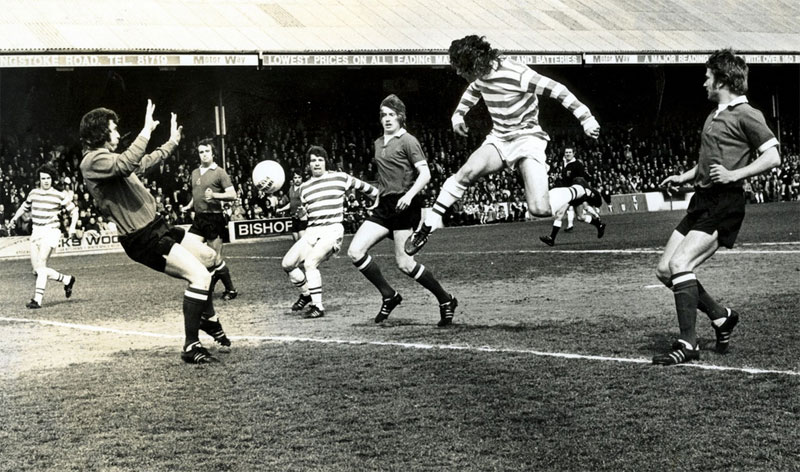 A ball was pinged towards Friday who was 30 yards diagonally out from goal. As it came to him he jumped in the air and chested the ball up and then as he was falling he smashed the ball over his left shoulder where it flew into the top corner.
The referee that day was Clive Thomas – one of the world's top officials – and years later the goal had still left an indelible mark on him:
"I'll never forget it", he recalled. "It was the sheer ferocity of the shot on the volley, over his shoulder. If it hadn't gone into the top corner of the net it would have broken the goalpost. Even up against the likes of Pelé and Cruyff, that rates as the best goal I have ever seen."
After the game Thomas asked Friday what he was doing playing down in the Fourth Division telling him he had never seen a goal like that. Friday's response? He shrugged his shoulders and said: "Really? You should down here more often, I score goals like that every week."
---
Joining Cardiff
---
Things to started to go wrong the following season. Manager Charlie Hurley reported that Friday, who was hardly a paragon of virtue at the best of times, reported back for pre-season training in a very bad condition.
Hurley also knew that Friday was using drugs and a combination of this and his poor form led to him being put on the transfer list. An offer was accepted from Second Division Cardiff City in mid-December 1976 and Robin Friday was transferred for £28,000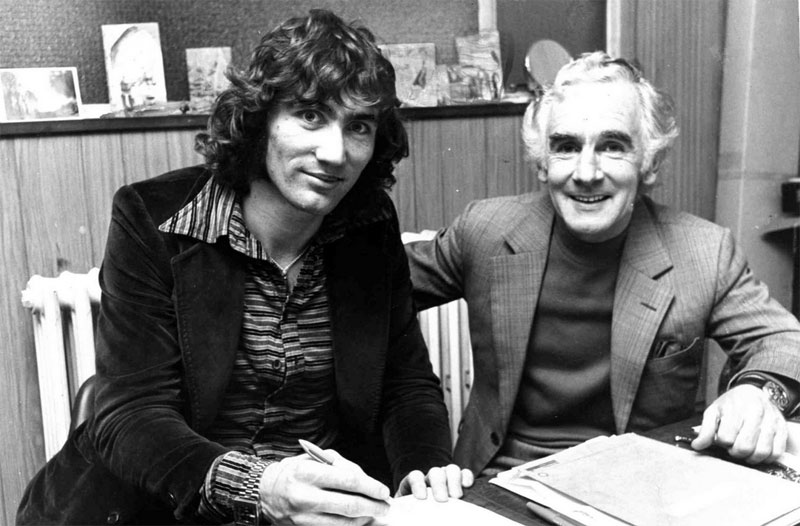 ---
Giving Bobby Moore the runaround
---
Friday's arrived at Cardiff in his own inimitable style – he was arrested on stepping off the train from Reading at Cardiff Central Station as he only had a platform ticket.
His debut came on New Years' Day 1977 against Fulham, who had a squad that contained George Best and Bobby Moore.
In an effort to make a real impression on his debut Robin Friday reined himself in the night before the match – he went to the Boar's Head pub at 6pm and after sinking a few beers, and as the clock reached 9pm, the landlord suggested he make that his last one and head home.
Robin agreed it was a good idea, finished his pint and said to the landlord 'Oh Dick, give us a dozen Colt 45s to take away', then he went home and finished them off too!
Friday's Cardiff debut was a revelation – being marked by former England captain Moore he turned him inside out, scoring two goals in a 3-0 win.
"He had a phenomenal debut against Fulham – he gave everyone the runaround. He really did look a world-beater. I don't think Bobby Moore knew what had hit him that day. Robin was turning him inside out, running him all over the park. I remember he squeezed Bobby's nuts – that was just Robin in a playful mood, there was no malice intended."

Paul Went, team-mate at Cardiff City.
---
Quitting the game for good
---
But after his debut his formed dipped as his personal life became even more troubled and chaotic. By the end of the season Cardiff escaped relegation from the Second Division on goal difference and then lost the second leg of their Welsh Cup final 3-0 to Shrewsbury.
After the game staff and players were awoken in their hotel by a series of large bangs. They found Friday stood on the hotel's snooker table in his underpants throwing snooker balls around the room in fury. Robin Friday ended the 76-77 season with 14 goals in 44 games.
Friday failed to turn up for pre-season training prior to the 1977-78 season. Eventually appearing in October. He made his first appearance of the season against Brighton on 29 October 1977. He was promptly sent off for kicking future Match of the Day pundit Mark Lawrenson in the face.
After serving his three game suspension he played in a 6-3 away defeat to Bolton and then a few days later, on 20 December 1977, walked into the office of manager Jimmy Andrews, and announced he was quitting the game for good.
---
A Sad End
---
Friday drifted around the periphery of the game, he trained with Brentford and it looked like he may sign for them in 1978-79 but he changed his mind and stopped training.
He played a few games for Hillingdon Borough, he got divorced and re-married, he worked as a roofer with his brother and he served a prison sentence in the 1980s for impersonating a police officer and confiscating people's drugs.
Then on 22 December 1990 he was found dead in his flat in Action having suffered a fatal heart attack. He was 38 years old.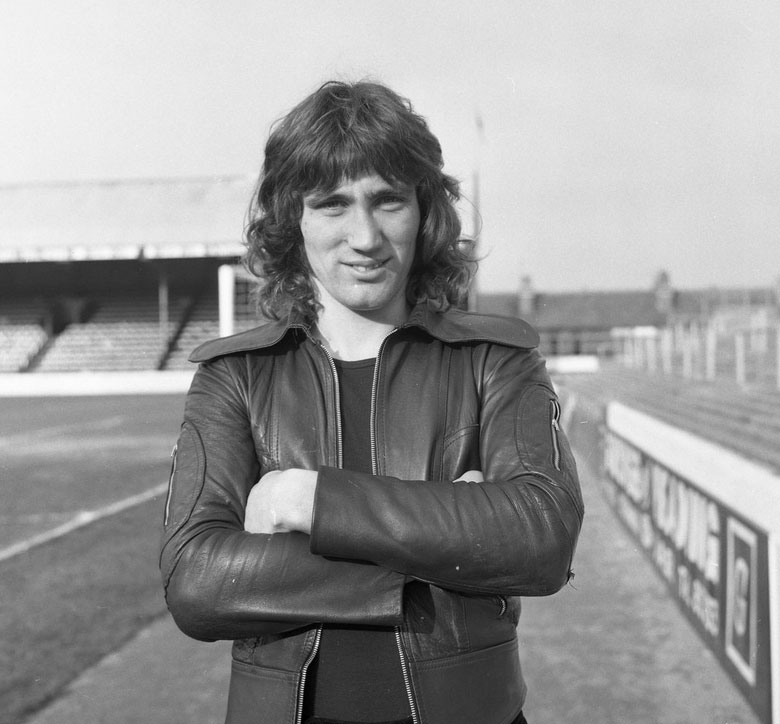 "You hear stories of wasted talent all the time but I never saw anyone with as much talent as Robin. If everything else in his life had been in the right place who knows what would have become of him."

Ritchie Morgan, team-mate at Cardiff
---
Find out more about Robin Friday
---
Two biographies of Robin Friday are available: The Greatest Footballer You Never Saw: The Robin Friday Story and Man Friday: The First Half (The Life and Times of Robin Friday).
---