Want to browse vintage Juventus shirts? Read on…
Team Info
Team: Juventus Football Club
Nickname: The Old Lady
Team Colours: Black and White
Year Founded: 1897
Stadium: Stadio delle Alpi
Location: Turin, Italy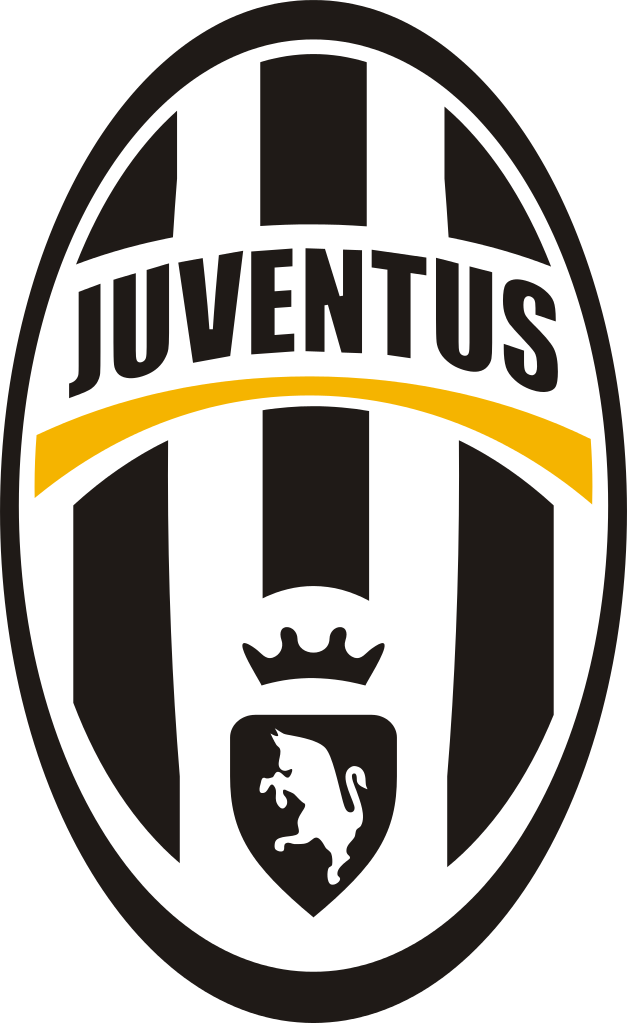 ---
Browse A Selection Of Vintage Juventus Shirts
The Old Lady of Italian football Juve are the most successful club historically in the country and have had some world superstars pull on their shirt – Charles, Sivori, Platini, Zidane, Rossi, Baggio and Vialli. Take a look at the vintage Juventus shirts you can get to emulate your heroes:
---
STEVE SAYS…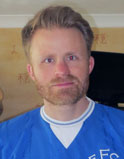 The classic black and white striped kit of Juventus is the thing that has always stood out most for me. I suppose as I got into football Italian football had a reputation of being dull, slow and defensive, so I never took that much notice of it – although my interest was piqued when Championship Manager Italia came out! Despite the association with defensive football they have had some amazing attacking talents – Platini, Baggio, Vialli, Del Piero, Inzaghi, etc, etc. Steve
Favourite player: Alessandro Del Piero – club and country legend.
Favourite kit: 1984 home shirt. The classic kit of all classic kits. Available from Amazon (see below for link)
---
Buy From: Classic Football Shirts
About Classic Football Shirts
Classic Football Shirts set themselves apart from many other companies by the fact that their shirts are all original shirts from the dates listed, not reproductions trying to replicate a classic shirt. All shirts come with condition details – ie whether they are in Mint Condition, As New, etc, etc. The prices are slightly higher but you are really getting a piece of history. They have over 300 classic Juventus shirts and pieces of kit.
1989 Home Shirt
You can get your hands on the 1989-90 home shirt (above left) worn by the likes of Baggio, Schillaci, Hassler and Reuter, when under the stewardship of Italy legend Dino Zoff the club did the UEFA Cup and Italian Cup double.
1996 Away Shirt
Or you can get the 1996-97 away shirt (above right). This retro football shirt was worn during the season Juve won the Serie A title and reached the Champions League Final only to lose to Borussia Dortmund 3-1.
They also lost the final the following year against Real Madrid. It was worn by such legends as Zinedine Zidane and Alessandro Del Piero during this period.
>>> View the Classic Football Shirts selection of retro Juventus shirts for sale <<<
**GET 10% OFF WHEN ORDERING FROM CLASSIC FOOTBALL SHIRTS THROUGH MY LINK**
Click on my link above and add something to your basket. Hover over the footballs hanging in the top right corner and click on 'Basket' from the subsequent menu that pops up.
Enter CFSPJ10 in the 'Discount Codes' box and receive 10% off of your order!
Buy From: Vintage Football Shirts
About Vintage Football Shirts
Vintage Football Shirts also offer original shirts rather than reproductions with each shirt marked for its condition – from BNIB (brand new in bag) to Excellent (may have tiny defect, may not be noticeable).
There are almost 100 Juventus shirts to choose from. You can get hold of the 1992-94 home shirt (above left).
1992 Home Shirt
The early 90s were a period of little success for Juve, despite the arrival of Roberto Baggio for a world record fee.
In this shirt the club finished fourth and second in Seria A. However it did see them win the UEFA Cup thrashing Borussia Dortmund 6-1 on aggregate over two legs.
2000 Home Shirt
Alternatively there is the 2000-01 home shirt (above right).
Despite it being a classic and very retro football shirt this was far from a classic season for Juve. Although they were runners up in Seria A, they were knocked out early in the Coppa Italia and suffered the ignominy of finishing bottom of their Champions League Group behind Deportivo La Coruna, Panathinaikos and Hamburg.
>>> View the Vintage Football Shirts selection of retro Juventus shirts for sale <<<
---
CLASSIC JUVENTUS MOMENT
It is 1994-95 and Juve win their first Champions League on penalties.
---
Buy from: Amazon
Amazon have a small selection of retro Juve shirts and associated memorabilia. The pick of which is a 1972-76 home shirt.
The 70s were a period of dominance for Juve, winning the league four times and also their first ever major European title – the UEFA Cup in 1977.
>>> View the selection of retro Juventus shirts for sale on Amazon<<<
Buy from: TOFFS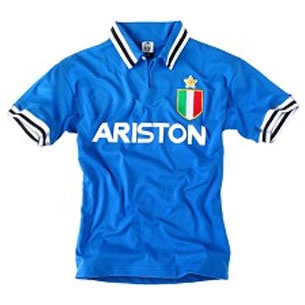 About TOFFS
TOFFS (which stands for The Old Fashioned Football Shirt) specialise in handcrafted, vintage football shirts made to the highest quality in the North of England – with each shirt as close to the real thing as possible.
TOFFS have a really nice selection of vintage Juve shirts. They include a lovely blue 1984-85 away shirt (above).
1984 Away Shirt
The early to mid 80s were another hugely successful time for the club and their third scudetto of the decade in 1984 meant they had won 20 Italian titles, allowing Juve to add a second golden star to their shirt, thus becoming the only Italian club to achieve this.
The driving force behind their success in this period was Frenchman Michel Platini. The goalscoring midfielder was awarded a record three European Footballer of the Year titles in a row in 1983, 1984 and 1985 – scoring 28, 25 and then 29 goals in the respective seasons.
1967 Home Shirt
You can also get a great 1967 home shirt.
This was the season Juve won their second title of the 1960s, although it went down to the last day of the season and saw Internazionale who had been top losing 1-0 to Mantova.
Juve's 2-1 victory over Lazio saw them leapfrog Inter and claim their 13th Scudetto.
>>> View the TOFFS selection of retro Juventus shirts for sale <<<
---
So there you have it. If, like me, you are a lover of football and all things retro there are a huge selection of classic Juventus shirts you can pick up to revel in the nostalgia of days gone by!
>>> See what other classic football shirts are available <<<
---
Save
Save
Save
Save
Save