Want to browse some retro Manchester City shirts? Read on…
Team Info
Team: Manchester City Football Club
Nickname: The Citizens / The Sky Blues
Team Colours: Sky Blue and White
Year Founded: 1880
Stadium: City of Manchester Stadium
Location: Manchester, England
---
Get Your Own Retro Manchester City Shirt
If you want to relive the days of Bell, Lee, Oakes, Summerbee, Doyle, Tueart and Kinkladze take a look at the number of retro Manchester City shirts you can own:
---
STEVE SAYS…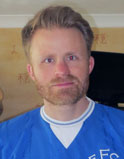 City are hugely successful now, but my initial memories are of them bouncing between the top two divisions and even slipping into the third tier of English football from which they emerged after one of the most remarkable Play-Off Finals ever in 1999. In the late 80s I also remember them beating Huddersfield 10-0 and three different players getting hat-tricks. Steve
Favourite player: Georgi Kinkladze – one of the most skillful players ever.
Favourite kit: The 1981 home shirt. I am a real sucker for these early 80s kit – this is so retro. Available from Classic Football Shirts (see below for link)
---

Buy From: Classic Football Shirts
About Classic Football Shirts
Classic Football Shirts set themselves apart from many other companies by the fact that their shirts are all original shirts from the dates listed, not reproductions trying to replicate a classic shirt. All shirts come with condition details – ie whether they are in Mint Condition, As New, etc, etc. The prices are slightly higher but you are really getting a piece of history.
They have hundreds of classic Manchester City shirts and pieces of kit from the early 70s to the present day.
1981 Home Shirt
These include the classic 1981 home shirt (above left) worn by City in the Centenary FA Cup Final against Spurs that same year, with an embroidered coat of arms and Centenary Cup Final Wembley 1981 detail. City lost the final 3-2 in a replay which featured the famous Ricky Villa wondergoal.
City finished 12th in the league that season, thanks mainly to an upturn in fortunes brought about by a change of manager from Malcolm Allison to John Bond. City made easy work of the initial rounds of the FA Cup beating Crystal Palace 4-0 in the Third Round and then Norwich 6-0 in the Fourth Round. They kept up their record of not conceding a goal with a 1-0 Fifth Round win against Peterborough. The Quarter-Finals and Semi-Final ties provided more of a test, beating Everton in a replay and Ipswich after extra-time respectively. The Final is remembered for Rick Villa's goal, but that came in a replay, with the first game ending 1-1 with Tommy Hutchison scoring both the goals.
Hutchison holds the record in world football for the most appearances in official matches by an outfield player. His career spanned from 1964 to 1994 and took in 1,174 matches.
1986 Away Shirt
Or you can get the 1986–87 away shirt (above right) with its eyecatching black and red squared design. This retro football shirt was worn by the likes of John Gidman, Peter Barnes and Paul Stewart as City were relegated from the top flight under the stewardship of Jimmy Frizzell as City finished second from bottom of the First Division.
City started the season with Billy McNeill in charge, however a little over a month into the season he was recruited by Aston Villa who had sacked Graham Turner. Frizzell came in to replace McNeill at City. Unfortunately for McNeill Aston Villa were the only team to finish below Manchester City that season and he was sacked by Villa as the season drew to a close and held the record of managing the teams occupying the bottom two slots of the league that season!
>>> View the Classic Football Shirts selection of retro Manchester City shirts for sale <<<
**GET 10% OFF WHEN ORDERING FROM CLASSIC FOOTBALL SHIRTS THROUGH MY LINK**
Click on my link above and add something to your basket. Hover over the footballs hanging in the top right corner and click on 'Basket' from the subsequent menu that pops up.
Enter CFSPJ10 in the 'Discount Codes' box and receive 10% off of your order!
Buy From: Vintage Football Shirts
About Vintage Football Shirts
Vintage Football Shirts also offer original shirts rather than reproductions with each shirt marked for its condition – from BNIB (brand new in bag) to Excellent (may have tiny defect, may not be noticeable).
With over 80 Manchester City shirts ranging from the 80s to the present day there is a great selection to choose from.
2003 Home Shirt
They include the 2003-04 home shirt (above left) worn by the likes of Robbie Fowler, Shaun Wright-Phillips and Steve McManaman. Managed by Kevin Keegan they finished 16th in the Premiership, but did thrash rivals Manchester United 4-1.
This was City's first season at the new City of Manchester Stadium and also saw one of the most remarkable FA Cup comebacks ever when, in the Fourth Round, they trailed Spurs 3-0 at half-time and went down to ten men when Joey Barton was sent off before incredibly coming back to win 4-3 in the second-half!
2008 Away Shirt
Or you can get the 2008-09 away shirt (above right).
This was the retro football shirt worn the season Abu Dhabi-based investment company ADUG completed the take over of the club and their dramatic rise to the top again really began. Robinho was one of the first big-money signings to come in to the club during this season costing £32million from Real Madrid, other big signings included Jo for £18million, Nigel De Jong for £16million, Craig Bellamy for £14million and Wayne Bridge for £10million.
City finished 10th this season, although after a run of six defeats in nine games they were in the bottom three at Christmas. However a much improved second half of the season saw them move up the table.
>>> View the Vintage Football Shirts selection of retro Manchester City shirts for sale <<<
---
CLASSIC MANCHESTER CITY MOMENT
Two goals in the last five minutes, including a last-minute winner and Manchester City win the league for the first time in 34 years.
Relieve the drama of those last ten minutes
---
Buy from: Amazon
1994 Home Shirt
Amazon has a good selection of retro Manchester City shirts including the 1994 home centenary shirt.
This marked 100 years since the club officially became Manchester City in 1894 (they were founded as St Mark's West Gorton in 1880).
It was not a season to remember as the club finished 17th under manager Brian Horton. The close season arrival of Georgi Kinkladze was a bright point of an otherwise disappointing season.
1972 Home Shirt
Or you can get a replica of the 1972 home shirt worn during a season that saw Malcolm Allison take over as manager and Peter Swales become owner of the club.
The season was otherwise unremarkable with a mid-table league finish and no cup runs. This was club record signing Rodney Marsh's first full season at City and he top scored with 19 goals.
>>> View the selection of retro Manchester City shirts for sale on Amazon <<<
Buy From: Kitbag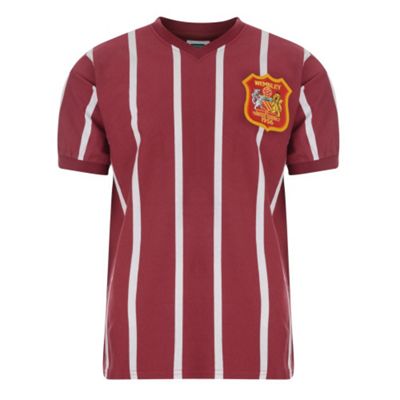 The Kitbag range of Manchester City shirts extends to a number of retro shirts and a tracksuit jacket.
1956 FA Cup Final Shirt
You can get a great replica of the 1956 FA Cup Final shirt (above) – an unusual maroon colour as both teams in the Final (the other being Birmingham) wore blue usually.
City won the final 3-1 but it is remembered for German goalkeeper Bert Trautmann who unknowingly broke his neck in the 73rd minute. Despite being knocked unconscious Trautmann came round and played on as at the time there were no substitutes.
Trautmann even went to the evening's post-match banquet and it was only discovered three days later that he had dislocated five vertebrae in his neck – the second of which had cracked in two!
1976 Home Shirt
You can also pick up the 1976 home shirt, worn as City won the League Cup Final 2-1 against Newcastle and finished 8th in the First Division.
>>> View the Kitbag selection of retro Manchester City shirts for sale <<<
Buy from: TOFFS
About TOFFS
TOFFS (which stands for The Old Fashioned Football Shirt) specialise in handcrafted, vintage football shirts made to the highest quality in the North of England – with each shirt as close to the real thing as possible.
1984 AFC Gorton Shirt
You can pick up some top-notch retro Manchester City shirts here including a replica of the 1884 Gorton AFC shirt (above).
City was founded in 1880 as St Mark's (West Gorton), in 1882 they became West Gorton and then Gorton AFC in 1884. This black shirt was before they took on their now-famous sky blue colour.
1969 FA Cup Final Shirt
Or you can get a 1969 FA Cup Final shirt.
This retro-style red and black striped shirt saw City triumph 1-0 over Leicester to claim their fourth FA Cup. The winning goal was scored by Neil Young, not the grizzled Canadian rocker, but the legendary City left-back.
The match was notable for Leicester's David Nish becoming the youngest ever caption of an FA Cup Finalist at the age of 21 and for City being the second last all-English team after the FA Cup. The last was West Ham United in 1975.
>>> View the TOFFS selection of retro Manchester City shirts for sale <<<
---
So there you have it. If, like me, you are a lover of football and all things retro there are a huge selection of classic Manchester City shirts you can pick up to revel in the nostalgia of days gone by!
>>> See what other classic football shirts are available <<<
---
Save
Save
Save
Save
Save
Save
Save