Want to get a retro Everton shirt? Read on…
Team Info
Team: Everton Football Club
Nickname: The Toffees
Team Colours: Royal Blue and White
Year Founded: 1878
Stadium: Goodison Park
Location: Liverpool, England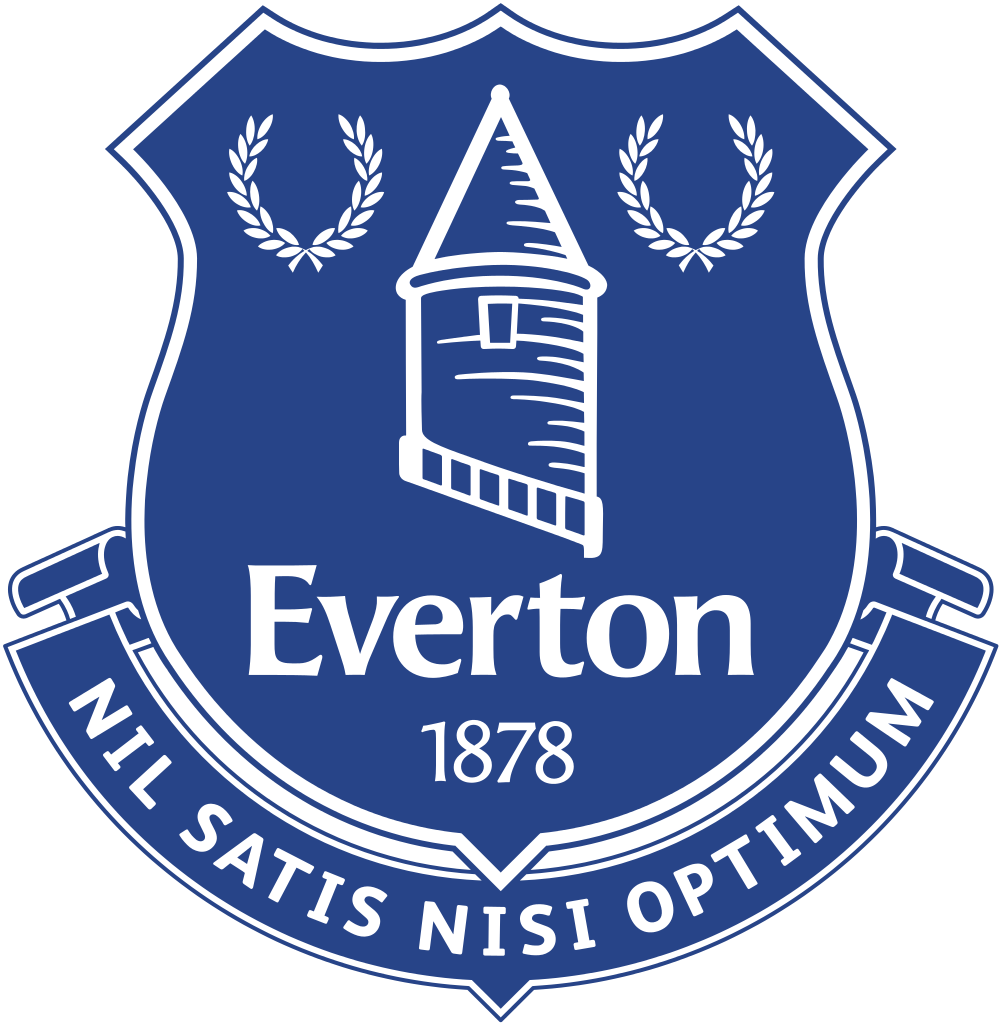 ---
Get Your Own Retro Everton Shirt
If you want to relive the days of Kendall, Ball, Southall, Reid, Ratcliffe, Young and Dixie Dean (60 league goals in one season!) and get your own retro Everton shirt there are plenty of options available to you:
---
STEVE SAYS…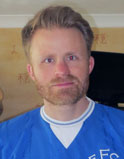 Ah Everton! My team, the team I have supported all my life and it all started so well, League Champions in 1987 – the first season I can remember. Since then it has been mediocrity punctuated by occasional bright sparks – the FA Cup in 1995 and the league the following season, fourth place under Moyes, the emergence of Rooney, Big Dunc… Still we have spent more seasons in top flight than any other team. Steve
Favourite player: Neville Southall – the best in the world on his day
Favourite kit: The 1985 European Cup Winners Final shirt – great kit, great team. Available from Amazon and Kitbag (see below)
---
Buy From: Classic Football Shirts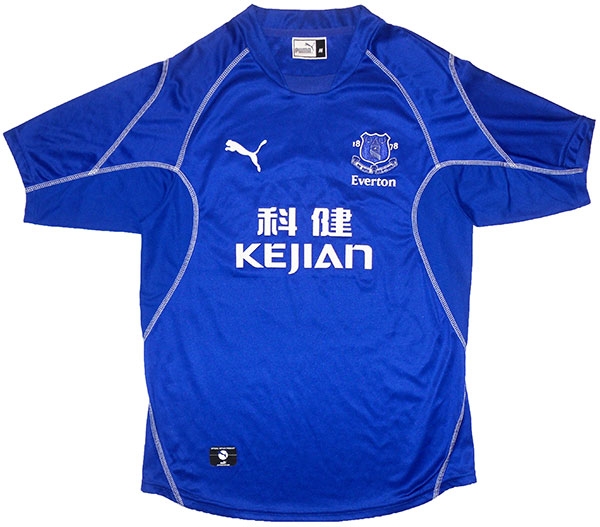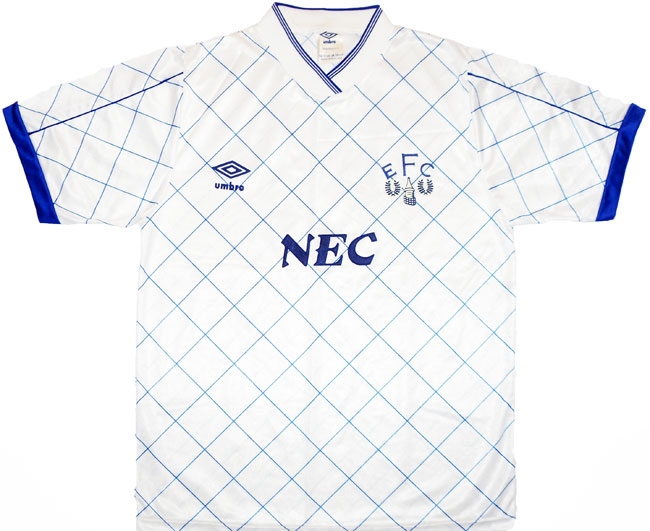 About Classic Football Shirts
Classic Football Shirts set themselves apart from many other companies by the fact that their shirts are all original shirts from the dates listed, not reproductions trying to replicate a classic shirt. All shirts come with condition details – ie whether they are in Mint Condition, As New, etc, etc. The prices are slightly higher but you are really getting a piece of history.
1992 Third Shirt
They have a huge range of classic Everton shirts from the 70s to the present day. Amongst hundreds of shirts you can get the extremely rare 1992-93 third shirt (above right) worn only once during the inaugural Premier League Season.
This retro football shirt isn't associated with happy memories, Everton finished the season 13th, their lowest league finish for a decade and only four points above relegation, and pressure grew on legendary boss Howard Kendall.
2002 Home Shirt
Or there is the 2002-03 home shirt (above left) made famous by a then 16 year-old Wayne Rooney who burst onto the scene with a wonder goal against reigning champions Arsenal – ending their unbeaten run.
This season Everton became ther first club to play 100 seasons in England's top division and, after struggling in the League for the best part of a decade, they were revitalised and finished 7th in David Moyes' first full season in charge.
>>> View the Classic Football Shirts selection of retro Everton shirts for sale <<<
**GET 10% OFF WHEN ORDERING FROM CLASSIC FOOTBALL SHIRTS THROUGH MY LINK**
Click on my link above and add something to your basket. Hover over the footballs hanging in the top right corner and click on 'Basket' from the subsequent menu that pops up.
Enter CFSPJ10 in the 'Discount Codes' box and receive 10% off of your order!
Buy From: Vintage Football Shirts
About Vintage Football Shirts
Vintage Football Shirts also offer original shirts rather than reproductions with each shirt marked for its condition – from BNIB (brand new in bag) to Excellent (may have tiny defect, may not be noticeable).
1988 Away Shirt
With more than 150 Everton shirts ranging from the 1980s to the present day – their selection is huge. Amongst the masses of options available is the 1988-89 away shirt (above right) – the season Everton finished 8th in the League and were runners up to rivals Liverpool in one of the most dramatic FA Cup Finals of the 20th Century.
The Final was notable for Stuart McCalls' last minute equaliser and the fact two substitutes (McCall and Liverpool's Ian Rush) both scored two goals. The Final was played just five weeks after the Hillsborough disaster.
1992 Away Shirt
You can also get the classic salmon pink 1992-93 away shirt (above left), worn in the first Premier League Season by the likes of Andy Hinchcliffe, Peter Beardsley and Tony Cottee.
This retro football shirt replicated the kit colours that Everton had worn 100 years previously in the 1892-93 season – a season when Everton left their Anfield Road home (yes the future home of Liverpool) and started their tenure at Goodison Park.
Everton finished third in the league this season and lost in the FA Cup Final 1-0 to Wolves in a farcical game where the crowd were so close to the pitch that Everton winger Alf Milward was actually tripped by a spectator on one occasion!
>>> View the Vintage Football Shirts selection of retro England shirts for sale <<<
---
CLASSIC EVERTON MOMENT
Possibly the greatest game Goodison Park has witnessed as Everton come from 1-0 down to beat Bayern Munich 3-1 in the second leg of the European Cup Winners' Cup Semi Final, to clinch a place in their first ever European Final in the Toffees all conquering 1984-85 season.
---
Buy from: Amazon
1966 Cup Final Shirt
Amazon have a great selection of retro Everton shirts including the 1966 FA Cup Final shirt that saw the Toffees come back from 2-0 down with 30 minutes left to beat Sheffield Wednesday 3-2.
Hero on the day was Mike Trebilcock, a practically unknown striker who had barely played for Everton (in fact in three seasons at Goodison he played only 11 league games). Included in the side due to an injury to star striker Fred Pickering he scored twice, with Derek Temple adding the third to secure the victory.
1985 European Cup Winners Cup Final Shirt
There is also the 1985 European Cup Winners Cup Final (above) shirt when Everton completed a League and Cup double with a 3-1 win over Rapid Vienna in Rotterdam.
Everton conceded just one goal in eight games on their way to the Final but unfortunately were not able to enter the European Cup the next season due to the ban on English clubs following the Heysel tragedy.
>>> View the selection of retro Everton shirts for sale on Amazon <<<
Buy From: Kitbag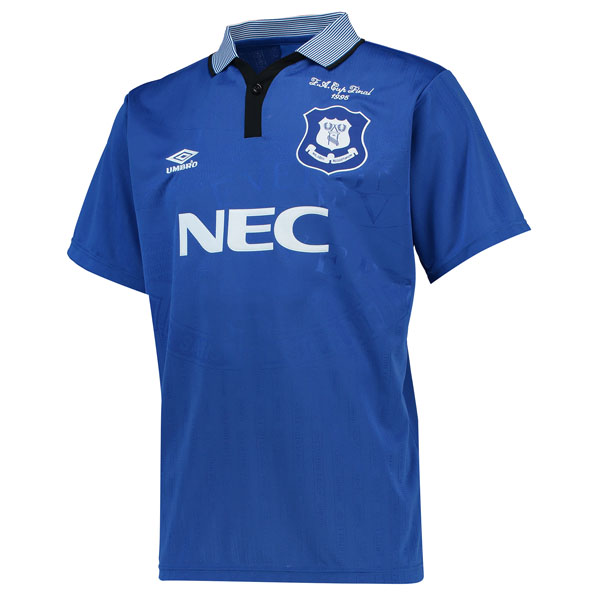 The Kitbag range of Everton shirts is slightly more limited but owing to the fact that the shirts are reproductions of classic kit they are more affordable.
1995 Cup Final Shirt
You can pick up a number of shirts including the 1995 Cup Final Shirt (above) worn by the likes of Ferguson, Rideout, Limpar and Watson when Everton claimed their last domestic trophy with a 1-0 win over Manchester United.
This capped a remarkable season for the Toffees who had made their worst start to a season ever under Mike Walker. Walker was sacked and replaced by Joe Royle who guided the Blues away from relegation and to the FA Cup Final where, despite being huge underdogs, a Paul Rideout goal saw them claim the trophy.
1986 Home Shirt
You can also get the 1986 Home League Shirt – a season that ended in agony, finishing as runners up in both the League and FA Cup to Merseyside rivals Liverpool.
Gary Lineker, who had joined Everton for a club record fee of £900,000, ended the season with 30 league goals winning the Golden Boot award. The turning point being when Everton lost 1-0 to Oxford on 30 April, Oxford finished just a point above relegation and if Everton had won this game they would have won the league.
>>> View the Kitbag selection of retro Everton shirts for sale <<<
Buy from: TOFFS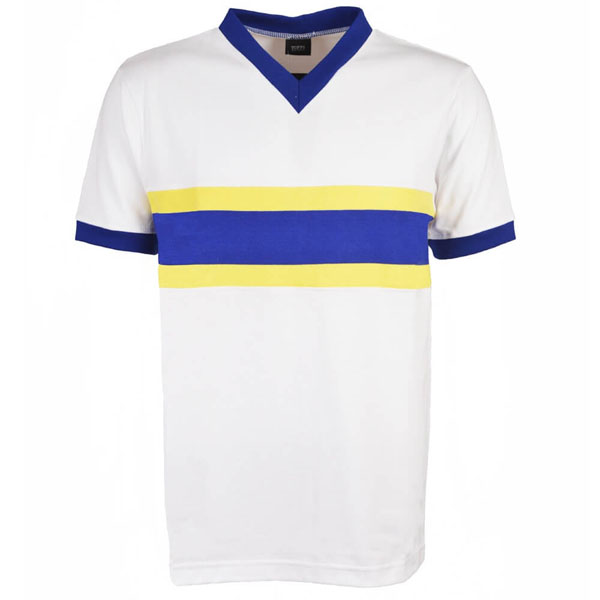 About TOFFS
TOFFS (which stands for The Old Fashioned Football Shirt) specialise in handcrafted, vintage football shirts made to the highest quality in the North of England – with each shirt as close to the real thing as possible.
1886 Shirt
You can pick up some top notch retro Everton shirts here including a fantastic replica of the 1886 Shirt – two years before the Football League was founded!
This was seven years after the first offical match Everton played in 1879 – a 6-0 win against St Peters. In 1884 the club moved to Anfield, and over the next seven years they converted Anfield from a simple field to a 20,000 plus international standard ground.
1958 Away Shirt
You can also get the 1958 away shirt (above) – the first Toffees away shirt to deviate from an all white design with its blue and yellow hoop across the middle.
The season saw Everton finish 16th in the League and get eliminated from the FA Cup in the Fourth Round. The legendary Dave Hickson finished as top scorer – this was his first season back at the Toffees after rejoining them from Huddersfield.
>>> View the TOFFS selection of retro Everton shirts for sale <<<
---
So there you have it. If, like me, you are a lover of football and all things retro there are a huge selection of classic Everton shirts you can pick up to revel in the nostalgia of days gone by!
>>> See what other classic football shirts are available <<<
---
Save
Save
Save
Save
Save
Save