Want to browse some Sheffield Wednesday retro shirts? Read on…
Team Info
Team: Sheffield Wednesday Football Club
Nickname: The Owls
Team Colours: Blue and White
Year Founded: 1867
Stadium: Hillsborough
Location: Sheffield, England
---
Take A Look At Some Sheffield Wednesday Retro Shirts
If you want to relive the days of Hirst, Di Canio, Waddle, Quixall, Walker and Nilsson take a look at the Sheffield Wednesday retro shirts you can own:
---
STEVE SAYS…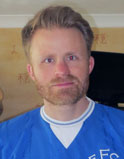 I always look for the Sheffield Wednesday score having been a student in the city in the late 90s/early 00s. I went to watch a few games there, most notably the game against Arsenal in 1998 when Paolo Di Canio pushed referee Paul Alcock to the floor! Back then they were an established Premier League team with players like Di Canio, Benito Carbone, Gerald Sibon and Wim Jonk. Steve
Favourite player: Paolo Di Canio – loose cannon and amazing footballer!
Favourite kit: 1982-83 home shirt. Classic retro design. Available from TOFFS (see below for link)

Buy From: Classic Football Shirts
About Classic Football Shirts
Classic Football Shirts set themselves apart from many other companies by the fact that their shirts are all original shirts from the dates listed, not reproductions trying to replicate a classic shirt. All shirts come with condition details – ie whether they are in Mint Condition, As New, etc, etc. The prices are slightly higher but you are really getting a piece of history.
They have around 50 classic Sheffield Wednesday shirts and pieces of kit from the early 80s to the present day.
1992 Away Shirt
These include the classic 1992-93 away shirt (above right) worn by Wednesday legend Chris Waddle as the team made it to both the FA Cup and League Cup Finals that season and Waddle himself was voted Footballer of the Year. They beat rivals Sheffield United in the semi-final of the FA Cup but lost to Arsenal in both the Cup Finals.
The club also performed well in the league, finishing 7th and having a seven-game winning running from 28 December 1992 to 23 February 1993 that lifted them into the top four. What was more remarkable about this winning run was the fact Wednesday lost strikers David Hirst and Mark Bright to injury, so Paul Warhurst was moved from his normal role as a central defender to play as an emergency striker. He scored 12 goals in 12 games and called up to the England squad. Warhurst also played in both Finals Wednesday made it to that year, the League Cup Final as a defender and the FA Cup Final as a striker.
1995 Home Shirt
Or you can get the 1995-97 home shirt (above left). This shirt was worn when the Owls had an excellent start to the 1996-97 season, winning their first four games and going to the top of the table. Although they couldn't maintain a title challenge they still finished a creditable seventh.
Pivotal to the team's impressive start to the season was young striker Richie Humphreys. In pre-season he had starred in a tour of the Nertherlands to such an extent that Johann Cruyff who watched one game said Humphreys was the next Marco Van Basten. Humphreys scored three goals in Wednesday's first four league games, but that proved to be the highpoint of his career at the Owls. He only scored one more goal in his next four seasons
>>> View the Classic Football Shirts selection of retro Sheffield Wednesday shirts for sale <<<
**GET 10% OFF WHEN ORDERING FROM CLASSIC FOOTBALL SHIRTS THROUGH MY LINK**
Click on my link above and add something to your basket. Hover over the footballs hanging in the top right corner and click on 'Basket' from the subsequent menu that pops up.
Enter CFSPJ10 in the 'Discount Codes' box and receive 10% off of your order!
Buy From: Vintage Football Shirts
About Vintage Football Shirts
Vintage Football Shirts also offer original shirts rather than reproductions with each shirt marked for its condition – from BNIB (brand new in bag) to Excellent (may have tiny defect, may not be noticeable).
1985 Home Shirt
There are a handful of Sheffield Wednesday shirts ranging from 1985 to the present day. These include the 1985-87 home shirt (above left). This classic blue and white retro football shirt was worn when Wednesday finished fifth in the top flight and reached the FA Cup Semi-Finals.
They were only three points behind fourth-placed Manchester United. Lee Chapman and Brian Marwood top-scored with 15 goals apiece this season. Unfortunately they missed out on European football due to the ban on English clubs as a result of the Heysel Stadium disaster at the end of the season.
1993 Home Shirt
Or you can get the 1993-95 home shirt (above right).
This was worn during two comfortable Premier League seasons under Trevor Francis, when the Owls finished 7th and 13th with Mark Bright top-scoring on both occasions. Sheffield Wednesday were also still one of the top ten most supported clubs in England at this time as they average 26,572 through the gates at Hillsborough.
>>> View the Vintage Football Shirts selection of retro Sheffield Wednesday shirts for sale <<<
---
CLASSIC SHEFIELD WEDNESDAY MOMENT
1993 and the FA Cup Semi-Final sees a Steel City Derby as Wednesday get to their second Cup Final of the season.
---
Buy from: Amazon
1960s Home Shirt
Amazon have a nice selection of retro Sheffield Wednesday shirts including a 1960s retro shirt.
The 60s were a mixed period for Wednesday, generally things went quite well as they had a series of top 8 finishes. In fact in the first six seasons from 1959/60 they finished in the top 8 each season.
However off the field in 1964 the club became embroiled in a betting scandal in which three of its players – Peter Swan, David Layne and Tony Kay – were accused of matching fixing and betting against their own team and were sent to prison and banned from football for life.
Then the 1969-70 season saw them relegated from Division One, and the start of one of the darkest periods in the history of the club as they then spent five seasons struggling in Division Two before relegation to the third tier of English football for the first time in their history. In fact in their first season in the third tier they finished one place and one point above relegation to the fourth tier.
1978 Home Shirt
You can also get a 1978-81 home shirt (above). This retro football shirt was worn as Wednesday spent the last two of five seasons in Division Three.
They eventually finished third in the 1979-80 season to secure promotion to Division Two. The club's renaissance was due largely to the appointment of Jack Charlton as manager in 1977.
>>> View the selection of retro Sheffield Wednesday shirts for sale on Amazon <<<
Buy from: TOFFS
About TOFFS
TOFFS (which stands for The Old Fashioned Football Shirt) specialises in handcrafted, vintage football shirts made to the highest quality in the North of England – with each shirt as close to the real thing as possible.
1966 FA Cup Final Shirt
TOFFS has some top-notch retro Sheffield Wednesday shirts here including a 1966 FA Cup Final shirt (above right).
Sheffield Wednesday finished 17th in the League this season but before that their League record had been remarkably consistent as they finished 8th, 6th, 6th, 6th, 2nd and 5th in the preceding six seasons.
The 1966 FA Cup Final was a heartbreaking affair for the Owls as they lead Everton 2-0 with 30 minutes to go only to lose 3-2 with Everton scoring in the 60th, 64th and 74th minute.
1979 Away Shirt
Or you can get a retro yellow 1979-82 away shirt (above left).
This vintage shirt was worn during something of a revival during a dark time for the club. They had been relegated to the Third Division in 1975 and then almost dropped into the Fourth Division immediately in 1976 – avoiding relegation by just one point.
They slowly stabilised and were promoted from the third tier in 1979 before spending four seasons in the Second Division, finishing 10th, 4th, 6th and then 2nd to get promoted back to the top flight in 1984.
>>> View the TOFFS selection of retro Sheffield Wednesday shirts for sale <<<
---
So there you have it. If, like me, you are a lover of football and all things retro there are a huge selection of Sheffield Wednesday retro shirts you can pick up to revel in the nostalgia of days gone by!
>>> See what other classic football shirts are available <<<
---