Want to peruse retro Liverpool shirts? Read on…
Team Info
Team: Liverpool Football Club
Nickname: The Reds
Team Colours: All Red
Year Founded: 1892
Stadium: Anfield
Location: Liverpool, England
---
Get Your Own Retro Liverpool Shirt
If you want to relive the days of Dalglish, Keegan, Souness, Toshack, Gerrard and Rush and get your own retro Liverpool shirt there are plenty of options available to you:
---
STEVE SAYS…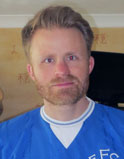 Despite being an Everton fan it is hard not to grudgingly respect what Liverpool achieved in the 80s. At School practically every other boy would have a 'Crown Paints' Liverpool shirt and they were pretty much unstoppable for the best part of two decades. Their record in Europe too is incredible. Forever in my mind will be the poignant scenes at the 1989 FA Cup Final between Liverpool and Everton after the Hillsborough disaster. Steve

Favourite player: Robbie Fowler – proper character and proper player.
Favourite kit: The 1982-85 home shirt. I love this classic design with it thin stripes and deep red colouring. Available from all retailers (see below for links)
---

Buy From: Classic Football Shirts
About Classic Football Shirts
Classic Football Shirts set themselves apart from many other companies by the fact that their shirts are all original shirts from the dates listed, not reproductions trying to replicate a classic shirt. All shirts come with condition details – ie whether they are in Mint Condition, As New, etc, etc. The prices are slightly higher but you are really getting a piece of history.
1981 Away Shirt
They have around 800 classic Liverpool shirts from the 70s to the present day. Among them are the 1981–1984 away shirt (above left). This lovely retro football shirt was worn during two successive League and League Cup Double winning seasons under legendary boss Bob Paisley. In the last of these seasons, Ian Rush scored 47 goals in 65 games, making him the highest goalscorer across all competitions for any professional club that season. Thirty-two of his goals were in the League, the most prolific season of his career.
In fact from 1972 to 1990, a total of 19 seasons Liverpool finished first or second in 18 of them! The only exception was the 1980-81 season when they finished 5th. Over this period they won 11 League titles, 3 FA Cups, 4 League Cups, 4 European Cups and 2 UEFA Cups. This extremely rare shirt with a vintage pinstripe design is very collectible.
1996 Home Shirt
Or you can pick up the classic 1996-98 home shirt (above right) worn by the infamous 'Spice Boys' including Fowler, Collymore, Redknapp and McManaman and most notably by Michael Owen as he burst onto the scene with 23 goals in the 97-98 campaign.
The club challenged for the title for the first half of the season, but couldn't quite keep up the momentum, eventually finishing a respectable third behind Manchester United and Champions Arsenal.
>>> View the Classic Football Shirts selection of retro Liverpool shirts for sale <<<
**GET 10% OFF WHEN ORDERING FROM CLASSIC FOOTBALL SHIRTS THROUGH MY LINK**
Click on my link above and add something to your basket. Hover over the footballs hanging in the top right corner and click on 'Basket' from the subsequent menu that pops up.
Enter CFSPJ10 in the 'Discount Codes' box and receive 10% off of your order!
Buy From: Vintage Football Shirts
About Vintage Football Shirts
Vintage Football Shirts also offer original shirts rather than reproductions with each shirt marked for its condition – from BNIB (brand new in bag) to Excellent (may have tiny defect, may not be noticeable).
With around 500 Liverpool shirts ranging from the early 80s to the present day – their selection is huge.
1989 Home Shirt
Amongst the masses of options available is the 1989-91 home shirt (above left). This classic Candy shirt was worn when Liverpool won the title under Kenny Dalglish, which included a 9-0 thumping of Crystal Palace, they finished nine points ahead of second-place Aston Villa.
Liverpool looked set for the double, but they amazingly lost 4-3 in the semi-final of the FA Cup to Crystal Palace a match that went down as one of the greatest cup semi-finals of all time. At half-time the game was following the script with Liverpool dominant, albeit only 1-0 up. But Crystal Palace came flying out for the second half and scored immediately via Mark Bright and then went ahead in the 69th minute. Liverpool by this point had lost both Gary Gillespie and Ian Rush through injury and were very much on the ropes.
But showing the spirit of Champions Steve McMahon rifled in a 20-yard-drive to equalise out of nowhere in the 82nd minute and then just a minute later went ahead. But Palace weren't done and grabbed an equaliser of their own in the 88th minute and then came close to winning the game in the dying seconds when Andy Thorn sent a close-range header against the bar. In extra-time Crystal Palace still carried the greater threat, and were rewarded in the 109th minute when Alan Pardew head home from a corner for the historic win. The other semi-final on the day was almost as good as Manchester United and Oldham fought out a 3-3 draw.
1992 Home Shirt
You can also get the 1992-93 home shirt (above right) which marked the Centenary of the club.
The season was a disappointing one for the Reds who finished sixth in the League – their lowest finish since they returned to the top flight in the 1962-63 seasons.
Their failure to make an impact in any of the three cup competitions they were in meant they were left without European football in the 1993-94 season, again for their first time since 1964 (with the exception of the seasons English clubs were banned from European football).
>>> View the Vintage Football Shirts selection of retro Liverpool shirts for sale <<<
---
CLASSIC LIVERPOOL MOMENT
Is this the greatest European Cup Final ever? The greatest comeback ever? You will have to go some to find any better.
---
Buy from: Amazon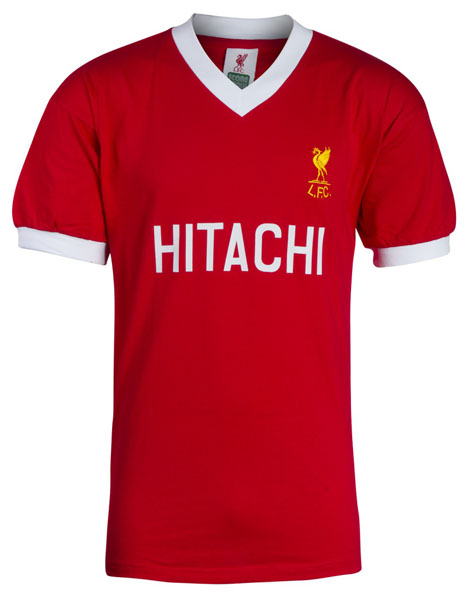 1978 Home Shirt
Amazon has a great selection of retro Liverpool shirts including the 1978 home shirt (above) worn as Liverpool won their 11th league title in a record-breaking season.
They conceded just 16 goals (and only four at Anfield!) in 42 games, kept 28 clean sheets and amassed a record points total of 68 points. They also reached the FA Cup Semi-Final.
The only disappointment was being drawn against Nottingham Forest in the first round of the European Cup. Forest, who were Liverpool's main competitors in the League where they finished second, beat them 2-0 on aggregate and went on to win the European Cup.
1984 European Cup Final Shirt
You can also get the 1984 European Cup Final shirt which saw Liverpool win their fourth European Cup with a win on penalties over Roma at the Stadio Olimpico in Rome, which was Roma's home ground.
Despite Steve Nicol missing the first penalty in the shoot out Phil Neal, Graeme Souness, Ian Rush and Alan Kennedy all converted. Bruce Grobbelaar did his now-famous wobbly legs routine and Liverpool won 5-4 on penalties.
>>> View the selection of retro Liverpool shirts for sale on Amazon <<<
Buy From: Kitbag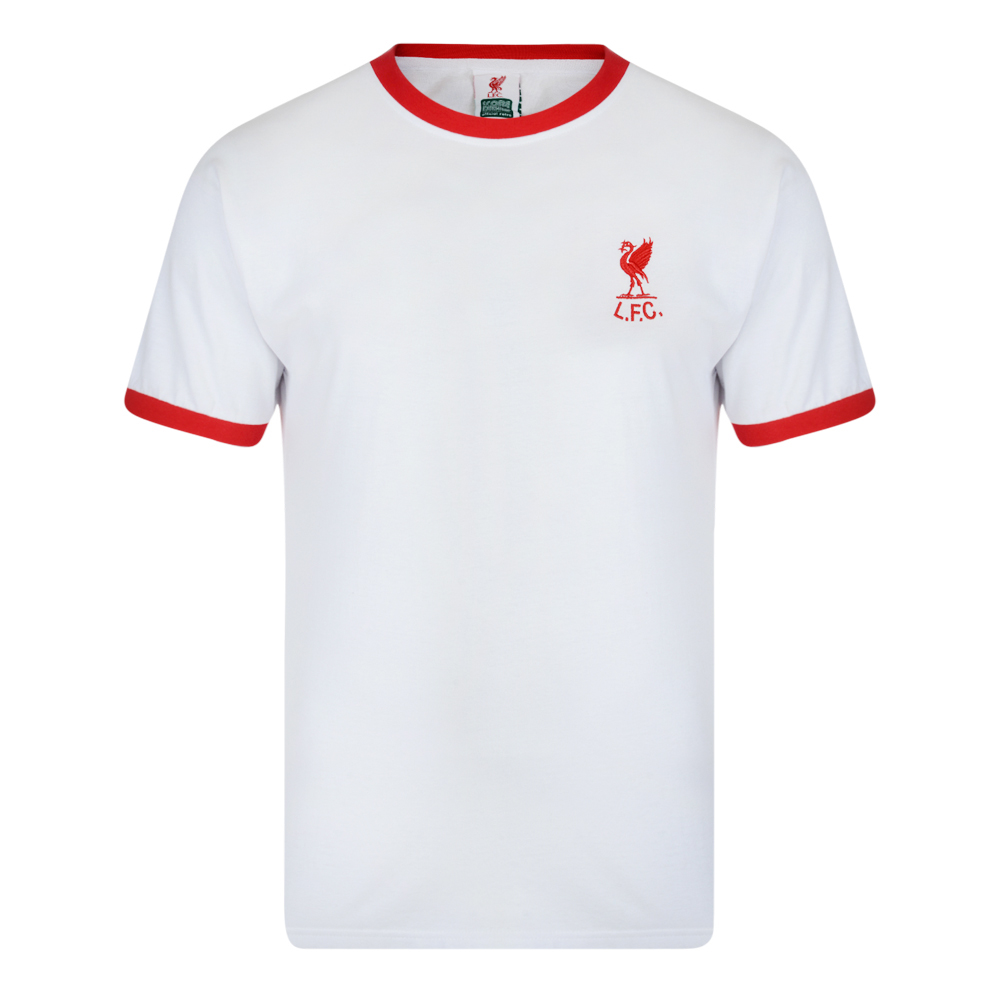 The Kitbag range of Liverpool shirts is slightly more limited but owing to the fact that the shirts are reproductions of classic kit they are more affordable.
1964 Home Shirt
You can pick up a number of shirts including the 1964 home shirt worn by the likes of Ron Yeats, Gordon Milne and Ian Callaghan during the Championship winning season, Liverpool's first title since 1947 and one they achieved just two years after being in Division Two.
They finished four points clear of Manchester United and five points clear of Merseyside rivals Everton.
1973 Away Shirt
You can also get a 1973 away shirt (above). This retro football shirt saw the Reds winning the League and UEFA Cup after seven years of not winning any trophies.
Their 3-0 win over Borussia Monchengladbach was their first European trophy and they would go on to win another five European trophies over the next 11 seasons.
>>> View the Kitbag selection of retro Liverpool shirts for sale <<<
Buy from: TOFFS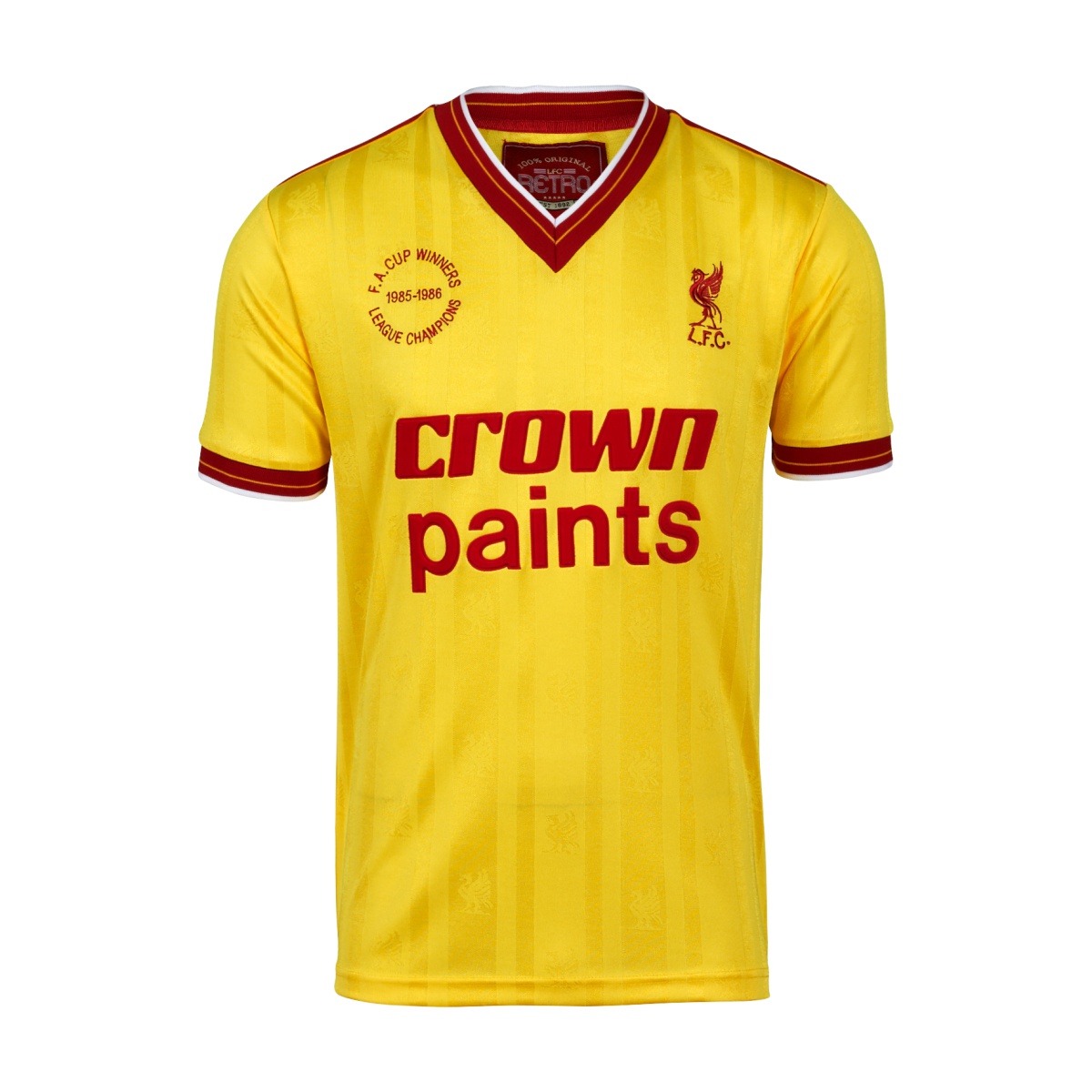 About TOFFS
TOFFS (which stands for The Old Fashioned Football Shirt) specialise in handcrafted, vintage football shirts made to the highest quality in the North of England – with each shirt as close to the real thing as possible.
1985 Away Shirt
You can pick up some top-notch retro Liverpool shirts here including the 1985-86 away shirt (above) – this bright yellow shirt was worn by Dalglish, Hansen, Lawrenson et al during their Double winning season, when they pipped Merseyside rivals Everton to both the League and FA Cup.
This was Kenny Dalgish's first season as manager and at the age of just 34 he was playing alongside many players only a few years younger than him.
In a close-run competition, Liverpool won the title by just two points from Everton. West Ham finished in third place a further two points behind in their best-ever finish in a top-flight seasons.
1982 Away Shirt
You can also get a lovely 1982 away shirt as Liverpool won yet another league title and for the third successive season, the League Cup, the major disappointment was being beaten by Widzew Lodz in the Quarter Finals of the European Cup.
At the end of the season, legendary manager Bob Paisley retired after winning six League titles, three European Cups, three League Cups, four Charity Shields, a UEFA Cup and a European Super Cup.
>>> View the TOFFS selection of retro Liverpool shirts for sale <<<
---
So there you have it. If, like me, you are a lover of football and all things retro there are a huge selection of classic Liverpool shirts you can pick up to revel in the nostalgia of days gone by!
>>> See what other classic football shirts are available <<<
---
Save
Save
Save
Save
Save
Save
Save
Save
Save