Want to get a retro Arsenal shirt? Read on…
Team Info
Team: Arsenal Football Club
Nickname: The Gunners
Team Colours: Red and White
Year Founded: 1886
Stadium: The Emirates Stadium
Location: London, England
---
Get Your Own Retro Arsenal Shirt
If you want to relive the days of Bergkamp, Henry, Adams, George, Brady, Jennings, Rocastle or Wright and get your own retro Arsenal shirt there are plenty of options available to you:
---
STEVE SAYS…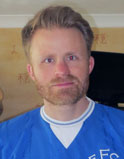 As a kid growing up Arsenal were the team that finally began to challenge Liverpool's domination on the league. I will never forget watching the last game of the 1988-89 season with my Arsenal mad friend and his dad and the goal by Michael Thomas to give them the most unlikely of titles in the last minute of the last game of the season. Then of course there was the era of Wenger dominance. Steve
Favourite player: Ian Wright – you have to love the story of non-league footballer turned world class striker!
Favourite kit: The 1992 Away Shirt – the classic 'bruised banana' shirt. Available from Classic Football Shirts (see below for link)

Buy From: Classic Football Shirts
About Classic Football Shirts
Classic Football Shirts set themselves apart from many other companies by the fact that their shirts are all original shirts from the dates listed, not reproductions trying to replicate a classic shirt. All shirts come with condition details – ie whether they are in Mint Condition, As New, etc, etc. The prices are slightly higher but you are really getting a piece of history.
1984 Home Shirt
They have a huge range of classic Arsenal shirts from the 70s to the present day. Amongst hundreds of shirts you can get the 1984-85 home shirt (above left) as worn by Charlie Nicholas, Kenny Sansom and Graham Rix when Don Howe was manager and the side finished 7th in Division One. That season Arsenal also unveiled a state-of-the-art videos screen for extra matchday entertainment – the first club to introduce such a piece of kit in English football.
There was one game that season the club will definitely want to forget, a 1-0 defeat FA Cup Fourth round defeat against third-tier York City. The game almost didn't go ahead, and it took a barrage of around 200 fans arriving and clearing the Bootham Crescent pitch of snow for the surface to be deemed playable. Arsenal's team cost £4.5million, whilst York City's had been put together for just £19,000.
The winner came courtesy of a last-minute penalty from Keith Houchen, who would go on to cement his place in FA Cup history with a diving header in Coventry's 1987 FA Cup Final victory over Spurs. York progressed to the fifth round, where they almost repeated their giantkilling, holding Liverpool to a 1-1 draw at home before losing 7-0 in the reply at Anfield a few days later.
1992 Away Shirt
Or there is the famous 'bruised banana' design 1992-93 away kit (above right), an iconic retro football kit, known as the 'bruised banana' shirt.
This was worn the season Arsenal, under George Graham, finished 10th in the League but won both the FA Cup and League Cup, beating Sheffield Wednesday in both finals.
The League Cup Final will be equally remembered for skipper Tony Adams dropping Steve Morrow, who scored the winning goal, in the after-match celebrations which saw Morrow break his arm.
>>> View the Classic Football Shirts selection of retro Arsenal shirts for sale <<<
**GET 10% OFF WHEN ORDERING FROM CLASSIC FOOTBALL SHIRTS THROUGH MY LINK**
Click on my link above and add something to your basket. Hover over the footballs hanging in the top right corner and click on 'Basket' from the subsequent menu that pops up.
Enter CFSPJ10 in the 'Discount Codes' box and receive 10% off of your order!
Buy From: Vintage Football Shirts
About Vintage Football Shirts
Vintage Football Shirts also offer original shirts rather than reproductions with each shirt marked for its condition – from BNIB (brand new in bag) to Excellent (may have tiny defect, may not be noticeable).
1997 Home Shirt
With more than 150 Arsenal shirts ranging from the 80s to the present day – their selection is huge. They include the home shirt worn from 1996 to 1998 (above right), when the club completed a Premier League and FA Cup double in Arsene Wenger's first full season in charge.
Despite being 12 points behind Manchester United at the end of February Arsenal won nine successive matches and clinched the title with a 4-0 defeat of Everton on 3 May 1998, a performance crowned with a glorious goal from Tony Adams who strode forward from the back to volley in a team passing move for the final goal. Rather remarkably in the 14 games that took Arsenal to the title they won 11, drew 1 and only conceded 2 goals.
2011 Away Shirt
There is also the 2011-12 125th Anniversary Away shirt (above left) worn when club legend Thierry Henry returned to the club in the January transfer window on a two-month loan deal.
The season ended trophyless for Arsenal though, they finished third in the League, a full 19 points behind the top two and only a point ahead of Tottenham.
They were eliminated from all three cup competitions by the quarter-final stage, the only success they had was skipper Robin Van Persie scoring 30 goals to take home the Premier League Golden Boot award.
>>> View the Vintage Football Shirts selection of retro Arsenal shirts for sale <<<
---
CLASSIC ARSENAL MOMENT
Who (over the age of 35) can ever forget this moment? The most dramatic end to a Football League season ever…
---
Buy from: Amazon
1971 Home Shirt
Amazon has a great selection of vintage Arsenal shirts from the 1971 home shirt they wore the season they did the double for first time – beating Tottenham at White Hart Lane to secure the title by just a point from Leeds United and defeating Liverpool 2-1, after extra time, in the FA Cup Final. This is the retro football shirt Charlie George was wearing when he scored the winner and then lay on his back on the Wembley turf waiting for his teammates to lift him up.
Ray Kennedy was Arsenal's top scorer this season with 19 goals to add to the 26 he scored the previous season. The 45 goals he scored across these two seasons represented almost a third of his entire career total of goals across the 17 seasons he played in. Kennedy went on to play for Liverpool and was one of the most decorated players of his generation winning six league titles, one FA Cup, one league cup and six European trophies. When Liverpool signed him from Arsenal in 1974 it was for a club-record fee at the time of £200,000. Bob Paisley went on to describe Kennedy as "one of Liverpool's greatest players and probably the most underrated". Kennedy was diagnosed with Parkinson's disease in 1984 at the age of 33 and died in 2001.
1988 Away Shirt
There is the 1988 away shirt that will forever be synonymous with Michael Thomas' last gasp goal in the last minute of the last game of the season against Liverpool to give Arsenal the title for the first time in 18 years.
This was the closest title race ever and by the final game of the season, Liverpool were 3 points ahead of Arsenal with a goal difference four better than Arsenal's. The Gunners needed to win by two goals to claim the title on goals scored.
Alan Smith put them 1-0 ahead in the second half, and then it was down to practically the last kick of the last game of the season to secure the title for Arsenal.
>>> View the selection of retro Arsenal shirts for sale on Amazon <<<
Buy from: TOFFS
About TOFFS
TOFFS (which stands for The Old Fashioned Football Shirt) specialises in handcrafted, vintage football shirts made to the highest quality in the North of England – with each shirt as close to the real thing as possible.
You can pick up some top-notch vintage Arsenal shirts here from the 1970s (above), as well as many more Arsenal products.
>>> View the TOFFS selection of retro Arsenal shirts for sale <<<
---
So there you have it. If, like me, you are a lover of football and all things retro there are a huge selection of classic Arsenal shirts you can pick up to revel in the nostalgia of days gone by!
>>> See what other classic football shirts are available <<<
---