Want to get a retro Fulham shirt? Read on…
Team Info
Team: Fulham Football Club
Nickname: The Cottagers
Team Colours: Black and White
Year Founded: 1879
Stadium: Craven Cottage
Location: London, England
---
Get Your Own Retro Fulham Shirt
If you want to relive the days of Haynes, Robson, Davies, Berbatov, Van Der Sar and Murphy and get your own retro Fulham shirt there are plenty of options available to you:
---
STEVE SAYS…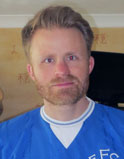 Fulham were struggling in the lower leagues of English football as I began to take notice of the game. It was around the time I went to Uni they enjoyed a renaissance under Micky Adams and suddenly became a glamour club when Mohamed Al-Fayed took over and Kevin Keegan became manager. Steve
Favourite player: Gary Brazil – a bit biased as we went to the same school and he lived next to door to my uncle when he was a boy!
Favourite kit: The 1984 Home Shirt – Pure 80s retro styling! Available from Classic Football Shirts (see below for link)

Buy From: Classic Football Shirts
About Classic Football Shirts
Classic Football Shirts set themselves apart from many other companies by the fact that their shirts are all original shirts from the dates listed, not reproductions trying to replicate a classic shirt. All shirts come with condition details – ie whether they are in Mint Condition, As New, etc, etc. The prices are slightly higher but you are really getting a piece of history.
1984 Home Shirt
This retro Fulham shirt was worn the season they finished 9th in the second tier of English football. One of the highlights of a fairly non-descript season for them was coming back from 4-0 down to draw 4-4 with Portsmouth. At the time there were mounting pressures on Fulham financially resulting in a number of their players being sold.
This was the start of a period of decline for the North London club and the following season they were relegated to the third tier of English football where they languished for six seasons, on two occasions finishing in the bottom four. The club would likely have gone out of business altogether were it not for the intervention of former-player Jimmy Hill and a consortium he put together.
1996 Away Shirt
This vintage Fulham shirt was worn the season after the club hit rock bottom and finished 17th in the bottom tier of English professional football, their lowest finish ever. Thankfully the Cottagers, guided by new manager Micky Adams, were on the up by now and finished second to gain their first promotion in 15 years. They actually finished level on points with champions Wigan, and with a better goal difference, but Wigan topped the league by virtue of having scored 12 more goals.
This truly was the start of Fulham's ascent. At the end of the season Mohamed Al Fayed took control of the club and just four years later Fulham were in the Premier League, their first season back in the top flight of English football in 34 years.
>>> View the Classic Football Shirts selection of retro Fulham shirts for sale <<<
**GET 10% OFF WHEN ORDERING FROM CLASSIC FOOTBALL SHIRTS THROUGH MY LINK**
Click on my link above and add something to your basket. Hover over the footballs hanging in the top right corner and click on 'Basket' from the subsequent menu that pops up.
Enter CFSPJ10 in the 'Discount Codes' box and receive 10% off of your order!
Buy From: Vintage Football Shirts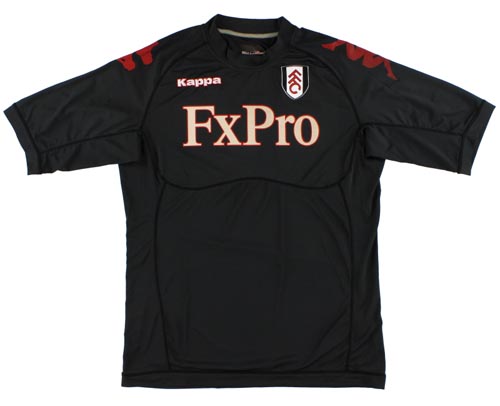 About Vintage Football Shirts
Vintage Football Shirts also offer original shirts rather than reproductions with each shirt marked for its condition – from BNIB (brand new in bag) to Excellent (may have tiny defect, may not be noticeable).
2011 Away Shirt
By 2011 Fulham were starting their 11th season in the top flight of English football, a record for them. They finished the season in 9th place, level on points with Liverpool and also recorded the joint highest home win of the season, beating Queens Park Rangers 6-0 in October 2011.
This classic Fulham shirt was worn by Clint Dempsey as he finished the fourth top scorer in the Premier League that season with 17 goals, only Robin van Persie, Wayne Rooney and Sergio Aguero scoring more. They also had three different players registering league hat-tricks that season – Dempsey along with Andrew Johnson and Pavel Pogrebnyak
>>> View the Vintage Football Shirts selection of retro Fulham shirts for sale <<<
---
CLASSIC FULHAM MOMENT
Not necessarily a moment but Fulham's greatest ever player and the first £100 a week footballer – Johnny Haynes.
---
Buy from: Amazon
1992 Home Shirt
Fulham finished slap bang in the middle of the third tier of English football when they sported this retro kit, coming 12th of 24 teams in Division Two. The club were in a period of decline that would last until Micky Adams took over as manager in 1996.
A less than successful season was masked as the Cottagers won five and drew two of their last seven games to move them up the table. The following season the club was relegated to the bottom tier of English football for the first-ever time.
1998 Home Shirt
By this time the club was on an undoubted up. Just two seasons after promotion from the bottom tier of English football they were champions of Division Two, getting 101 points in the process and finishing 14 points ahead of second-place Walsall and 19 points ahead of third-place Manchester City.
Such was the prominence of the club that, in February 1999, England appointed Fulham boss Kevin Keegan as its manager on a part-time basis. Instrumental in the club's rapid rise was Paul Peschisolido who Fulham signed for £1.1million from West Bromwich Albion and Chris Coleman who cost £2.1million from Blackburn Rovers and was the most expensive player outside the top two divisions of English football.
>>> View the selection of retro Fulham shirts for sale on Amazon <<<
Buy from: TOFFS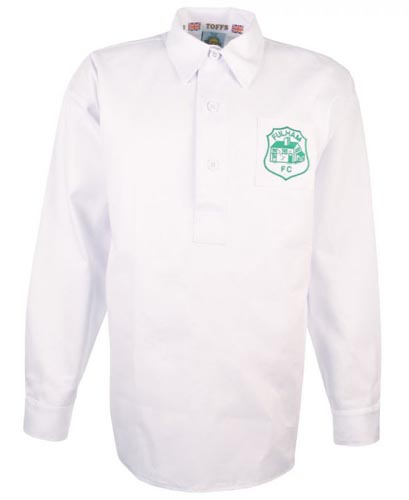 About TOFFS
TOFFS (which stands for The Old Fashioned Football Shirt) specialises in handcrafted, vintage football shirts made to the highest quality in the North of England – with each shirt as close to the real thing as possible.
1930s Home Shirt
This striking vintage white shirt was worn throughout the 1930s by Fulham. The club bounced between the second and third tiers of English football during this decade. The highlight of the period was reaching the semi-finals of the FA Cup in 1936.
Two goalscoring forwards were popular figures at Craven Cottage during this time. Jim Hammond and Ronnie Rooke both finishing as top scorer for four season each. Between 1928 and 1938 Hammond scored 150 goals in 342 games for the club, which at the time was a record. He was also an extremely talented cricketer, playing almost 200 times for Sussex and actually becoming a cricket umpire in his retirement.
Rooke scored 70 goals in 105 games for Fulham, including all six goals in a 6-0 FA Cup win over Bury. This remains a club record to this day. He made one war-time appearance for England as well. Hammond and Rooke both died in the same week in June 1985.
>>> View the TOFFS selection of retro Fulham shirts for sale <<<
---
So there you have it. If, like me, you are a lover of football and all things retro there is a huge selection of classic Fulham shirts you can pick up to revel in the nostalgia of days gone by!
>>> See what other classic football shirts are available <<<
---