Team Info
Want to get a Boca Juniors Retro Shirt? Read on…
Team: Club Atlético Boca Juniors
Nickname: Xeneizes (Genoese)
Team Colours: Blue and Gold
Year Founded: 1905
Stadium: Estadio Alberto J. Armando
Location: Buenos Aires, Argentina
---
Get A Retro Boca Juniors Shirt
Boca Juniors are ranked fourth in the world in terms of titles won and their youth system has produced many Argentian internationals like Carlos Tevez, Ever Banega and Fernando Gago. If you want to get a Boca Juniors retro shirt, then see what your options are:
---
STEVE SAYS…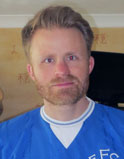 I don't know a huge amount about Boca, I associate them with the great Diego Maradona, as it was where he made his name before transferring to Barcelona for £5million in 1982. I do know that their rivalry with River Plate is one of the most heated in the world and their derby games are apparently a sight to behold. I love some of the South American kits though and Boca have had some great ones. Steve
Favourite player: Diego Maradona – The Hand of God aside, a footballing genius.
Favourite kit: The 1996 home shirt – lovely design that heralded Boca's 90th anniversary. Available from Classic Football Shirts (see below for link)

Buy From: Classic Football Shirts
About Classic Football Shirts
Classic Football Shirts set themselves apart from many other companies by the fact that their shirts are all original shirts from the dates listed, not reproductions trying to replicate a classic shirt. All shirts come with condition details – ie whether they are in Mint Condition, As New, etc, etc. The prices are slightly higher but you are really getting a piece of history.
1992 home shirt
They have a changing range of classic Boca Juniors shirts to choose from including an ultra-rare 1992 home shirt (above right). This was the year Boca finished four points ahead of bitter rivals River Plate to claim the title. It ended eleven years of misery for the club who had last won the title in 1981.
Much of the upturn was due to the appointment of Antonio Alegre as club president in 1985. At this point Boca were in danger of collapsing completely and going bankrupt. Alegre settled 153 lawsuits and mortgaged his own business to help the club survive and ultimately flourish again.
1996 home shirt
You can also get a vintage 1996 home shirt (above left) complete with Maradona 10 printed on the back. This retro football shirt was worn in the penultimate season of Maradona's career.
Maradona initially joined Boca in 1981 – signing for $4million and spent just over a year at the club helping them to win the league and scoring 28 goals in 40 games before leaving to join Barcelona for $7.6million after the 1982 World Cup. Maradona's career came full circle when in 1995, at the age of 35, he re-joined Boca spending two seasons at the club and scoring seven goals in 30 games.
Also making his debut this season was Juan Román Riquelme who, like Maradona, would go on to become a Boa Juniors legend. Across two spells at the club he made almost 400 appearances and won ten titles.
>>> View the Classic Football Shirts selection of retro Boca Junior shirts for sale <<<
**GET 10% OFF WHEN ORDERING FROM CLASSIC FOOTBALL SHIRTS THROUGH MY LINK**
Click on my link above and add something to your basket. Hover over the footballs hanging in the top right corner and click on 'Basket' from the subsequent menu that pops up.
Enter CFSPJ10 in the 'Discount Codes' box and receive 10% off of your order!
Buy From: Vintage Football Shirts
About Vintage Football Shirts
Vintage Football Shirts also offer original shirts rather than reproductions with each shirt marked for its condition – from BNIB (brand new in bag) to Excellent (may have tiny defect, may not be noticeable). Vintage Football Shirts have a changing catalogue of classic Boca Junior shirts for sale.
2011 Home Shirt (above left)
The 2011 season was the first after the retirement of legendary striker Martin Palermo and, although his boots proved hard to fill, this was a successful season. After three years with no honours the club won their 30th Apertura. They also only conceded six goals in 19 matches – a record. The team also made the final of the Copa Libertadores, but lost to Corinthians of Brazil 3-1.
Palermo has his place in the Guinness Book of World Records, although not for reasons he would want. In a 1999 Copa America match against Colombia he missed three penalties, one hit the crossbar, one went over and the final penalty was saved. Palermo also had an extremely protracted international career, making his debut in 1999 at the age of 26 and making 7 appearances that year. He then didn't feature again until 2010 when Diego Maradona recalled him to the international team and he went on to make 8 appearances over the next two years, scoring six goals. This included a goal in the 2010 World Cup, which at the age of 37 made him the oldest Argentina player to score a goal in the World Cup, taking the record from Diego Maradona.
1998 Away Shirt (above right)
The 1998-99 season saw Boca pick up their 24th title. Winning both the Apertura and Clausura with an almost identical record and losing only one game out of 38. This was the first season for coach Carlos Bianchi, and was also the first of what would become a record-breaking nine titles.
This eye-catching retro Boca Juniors shirt was worn as Argentinian international Martin Palermo top-scored with 32 goals in the league. Nicknamed 'Loco' for his questionable temperament, Palermo is Boca's all-time leading goalscorer with 236 goals.
>>> View the Vintage Football Shirts selection of retro Boca Junior shirts for sale <<<
---
CLASSIC BOCA JUNIORS MOMENT
Liverpool and Everton, Tottenham and Arsenal, Rangers and Celtic, Barca and Madrid might all think differently but many people see this game as the biggest and most intense derby match in world football:
---
Buy from: Amazon
Amazon has a small selection of Boca Juniors shirts including a 2005 home shirt worn during their centenary year.
The season was touched by controversy when, during a Copa Libertadores match, Boca coach Jorge Chino Benitez spat at an opposition player, causing a huge melee which led to the referee abandoning the game. Benitez was immediately sacked and replaced by Alfio Basile.
This proved to be a good move as under Basile, Boca won every tournament they were eligible for.
>>> View the selection of retro Boca Junior shirts for sale on Amazon <<<
Buy from: TOFFS
TOFFS (which stands for The Old Fashioned Football Shirt) specialises in handcrafted, vintage football shirts made to the highest quality in the North of England – with each shirt as close to the real thing as possible.
>>> View the TOFFS selection of retro Boca Junior shirts for sale <<<
---
So there you have it. If, like me, you are a lover of football and all things retro there are a huge selection of classic Boca Juniors shirts you can pick up to revel in the nostalgia of days gone by!
>>> See what other classic football shirts are available <<<
Save
Save
Save
Save
Save
Save
Save
Save
Save
Save
Save
Save
Save
Save