Want to get a Ajax Retro Shirt? Read on…
Team Info
Team: Amsterdamsche Football Club Ajax
Nickname: de Godenzonen (Sons of the Gods)
Team Colours: White and Red
Year Founded: 1900
Stadium: Amsterdam Arena
Location: Amsterdam, Holland
---
Get A Retro Ajax Shirt
World greats such as Neeskens, Rep, Van Basten, Suarez, Kluivert, Bergkamp and Cruyff have graced the famous red and white of Ajax. Get a retro Ajax Shirt to emulate these fantastic players.
---
STEVE SAYS…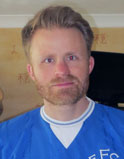 When I think of Ajax I think of total football, the Dutch philosophy that was so successful in the 70s. Perenially in the Champions League the last truly great Ajax team was that which won the Champions League in 1995. The list of great players they have produced is amazing – Cruyff, van Basten, Bergkamp, Davids, Kluivert, Rijkaard, etc, etc, plus they have had some great retro style kits. Steve
Favourite player: Marco van Basten – I am too young to appreciate Cruyff, but van Basten was one of the first world class strikers I remember.
Favourite kit: The 1989-91 home kit. Classic retro look! Available from TOFFS (see below for link)

Buy From: Classic Football Shirts
About Classic Football Shirts
Classic Football Shirts set themselves apart from many other companies by the fact that their shirts are all original shirts from the dates listed, not reproductions trying to replicate a classic shirt. All shirts come with condition details – ie whether they are in Mint Condition, As New, etc, etc. The prices are slightly higher but you are really getting a piece of history.
1985 Home Shirt
They have over 250 classic Ajax shirts from the 80s to the modern day to choose from including a lovely vintage 1985 home shirt (above left). What makes this classic football shirt extra special is that it is a match-worn shirt as worn by Arnold Muhren between 1985 and 1987.
The 1985 season was a remarkable one for Ajax as Johan Cruyff returned to the club as manager and in 34 games they scored 120 goals (including 37 in just 26 league games from the legendary Marco Van Basten, including one six-goal haul and one five-goal haul) but still finished second to PSV Eindhoven by 8 points! Unsurprisingly their results that season included a series of emphatic wins: 9-0 against Sparta Rotterdam, 8-1 against FC Twente, 8-2 against AZ Alkmaar, 8-1 and 7-0 against Heracles, 7-0 against VVV Venlo as well as scoring six and five on a number of occasions.
1991 Home Shirt
You can also pick up a retro 1991 home shirt (above right) worn when Louis Van Gaal became manager. As far as retro football shirts go this one is a classic with its simple striped design and timeless look.
In Van Gaal's first season in charge, the club finished second and won the UEFA Cup. They then finished third before dominating Dutch football for the following three seasons – winning three successive titles, a Champions League against AC Milan, a UEFA Super Cup, three Dutch Supercups and the Intercontinental Cup.
Academy graduates such as Frank and Ronald De Boer, Edwin van der Sar, Edgar Davids and Clarence Seerdorf were the backbone of the team.
>>> View the Classic Football Shirts selection of retro Ajax shirts for sale <<<
**GET 10% OFF WHEN ORDERING FROM CLASSIC FOOTBALL SHIRTS THROUGH MY LINK**
Click on my link above and add something to your basket. Hover over the footballs hanging in the top right corner and click on 'Basket' from the subsequent menu that pops up.
Enter CFSPJ10 in the 'Discount Codes' box and receive 10% off of your order!
Buy From: Vintage Football Shirts
About Vintage Football Shirts
Vintage Football Shirts also offer original shirts rather than reproductions with each shirt marked for its condition – from BNIB (brand new in bag) to Excellent (may have tiny defect, may not be noticeable).
1989 Away Shirt
Vintage Football Shirts have more than 30 classic Ajax shirts from the 80s to the present day. Including a 1989 away shirt (above left) worn as Ajax reclaimed the Eredivisie title after four successive second place finishes.
This was in no small part due to the emergence of Dennis Bergkamp. The then 20-year-old had made his debut three years previously but began to establish himself as a proven goalscorer at the turn of the decade scoring 25, 24 and then 26 league goals in the first three seasons of the 1990s.
1997 Home Shirt
You can also pick up a vintage 1997 home shirt (above right). This retro football shirt was worn during a fantastic season that saw the Amsterdam club finish 17 points clear of second place PSV to win the League, also beating PSV 5-0 in the Dutch Cup Final. They won 29 of 34 league games, scoring 112 goals and conceding only 22, ending the season with a mammoth goal difference of plus 90!
The following season Ajax suffered a complete turnaround in their performance and finished 6th, their second-lowest ever finish in the Eredivisie and also finished bottom of their Champions League Group.
>>> View the Vintage Football Shirts selection of retro Ajax shirts for sale <<<
---
CLASSIC AJAX MOMENT
Ajax win their third consecutive European Cup to cap a historic season that saw them also win the Eredivisie, UEFA Super Cup and Intercontinental Cup.
---
Buy from: TOFFS
About TOFFS
TOFFS (which stands for The Old Fashioned Football Shirt) specialise in handcrafted, vintage football shirts made to the highest quality in the North of England – with each shirt as close to the real thing as possible.
1950s Home Shirt
You can get four lovely replicas of Ajax shirts including a great 1950s home shirt (above right).
Despite the club being founded in 1900 – the club being named after the mythological hero Ajax, who fought in the Trojan War against Troy – professional football was not permitted in the Netherlands until 1956. Ajax duly claimed the first Eredivisie title. In the proceeding years, Ajax has had much success and was in fact the seventh-most successful European club of the 20th century.
1970 Home Shirt
You can also get a classic 1970-73 home shirt (above left) – a golden period in Ajax's history and one in which they began to establish themselves as a true force on the world stage. They won three successive European Cups in 1971, 1972 and 1973 – inspired by the genius of Johan Cruyff.
They also won the Eredivisie in 1971/72 and 1972/73 – winning 60 out of 68 league games over the two seasons, losing just five and scoring 224 goals! A big part of the club's goalscoring success was Ruud Geels. Despite not being an out and out striker, and more of an attacking midfielder, he was the league's top scorer in four successive seasons and register 123 goals in 131 games for Ajax as well as 11 in 20 caps for the Netherlands.
>>> View the TOFFS selection of retro Ajax shirts for sale <<<
---
So there you have it. If, like me, you are a lover of football and all things retro there are a huge selection of classic Ajax shirts you can pick up to revel in the nostalgia of days gone by!
>>> See what other classic football shirts are available <<<
---
Save
Save
Save
Save
Save
Save
Save
Save
Save
Save