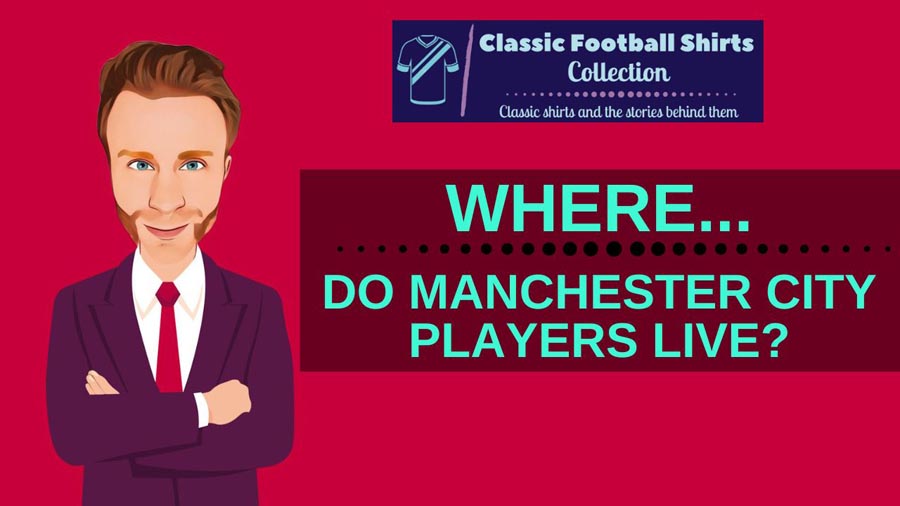 Manchester City is one of the wealthiest football clubs in the world.
And its players are suitably compensated for the services they offer to the club.
Kevin De Bruyne is said to earn £400,000 a week, Erling Haaland and Jack Grealish over £300,000 a week, Phil Foden, John Stones and Rodri over £200,000 a week.
Even 37-year-old third-choice goalkeeper Scott Carson reputedly earns £30,000 a week!
So with this much money, the players must live in some pretty posh pads right?
That is what we are going to look at today, where do Manchester City players live.
So let's get started…
Where Do Manchester City Players Live?
The majority of Manchester City players live in the leafy suburbs of Cheshire with Prestbury and Knutsford being particularly popular areas. A few players, along with manager Pep Guardiola, live in the city centre.
Erling Haaland
Earns £375k per week. Lives in Hale Barns, Cheshire.
According to media reports Erling Haaland moved into Paul Pogba's former home in Hale Barns, Cheshire after joining Manchester City.
The five-bedroom home includes a gym, heated swimming pool, sauna and an indoor pitch complete with goals and an electronic scoreboard.
The property is said to be worth £3million and commands a figure of around £30,000 a month in rent.
Source: Daily Mirror
Jack Grealish
Earns £300k per week. Location unknown.
Jack Grealish's stunning home is only described as being in the North-West, but with seven bedrooms, a fishing lake, golf tee and green, a tennis court and 20 acres of land, suffice to say it is big!
Grealish is said to have spent around £6million on the property which also includes a swimming pool, gym, wine cellar and a helipad.
Source: The Sun
RELATED ===> Revealed: The Best Retro Manchester City Shirts
John Stones
Earns £250k per week. Lives in a flat in Manchester, formerly lived in Knutsford
Back in 2017 John Stones splashed out almost £3.5million on a luxury mansion near Knutsford.
The six-bedroom home has a lake, indoor swimming pool, sauna, leisure complex, games room, underfloor heating and beautiful views.
However just before Christmas 2020, Stones split with his girlfriend and the mother to his daughter and moved to the same luxury apartment block that Pep Guardiola lives in close to the Etihad Stadium.
Source: Daily Mail and The Sun
Phil Foden
Earns £225k per week. Lives in Prestbury, Cheshire
In 2022 Phil Foden moved to Prestbury in Cheshire when he bought a £2.85million, six-bedroom house.
Details about the property are scarce, although it is known to be close to Wayne Rooney's former home.
Source: The Sun
Rúben Dias
£180k per week. Lives in Manchester City Centre.
Details around the home of the Portuguese international Ruben Dias are hard to come by, however in the October 2021 edition of Manchester City's official magazine he said:
"I live in the city centre, it is the place to work and the place to play football. I love it."
Source: City Magazine
Riyad Mahrez
£160k per week. Homes in Manchester City Centre and Wilmslow, Cheshire
Riyad Mahrez's £2million luxury flat in the centre of Manchester boasts stunning views across the city, and was purpose-built to his requirements.
In May 2022, it was also revealed he had a proper in Wilmslow, Cheshire where he hosted a baby shower to celebrate the pregnancy of his girlfriend Taylor Ward.
Source: The Sun and Cheshire Live
Kyle Walker
£160k per week. Home in Prestbury, Cheshire
Right-back Kyle Walker is another Manchester City player who lives in Prestbury.
The England international's five-bedroom home is said to be worth around £3.5million and features an underground swimming pool, cinema room and home gym.
Source: Ok Magazine
Final Thoughts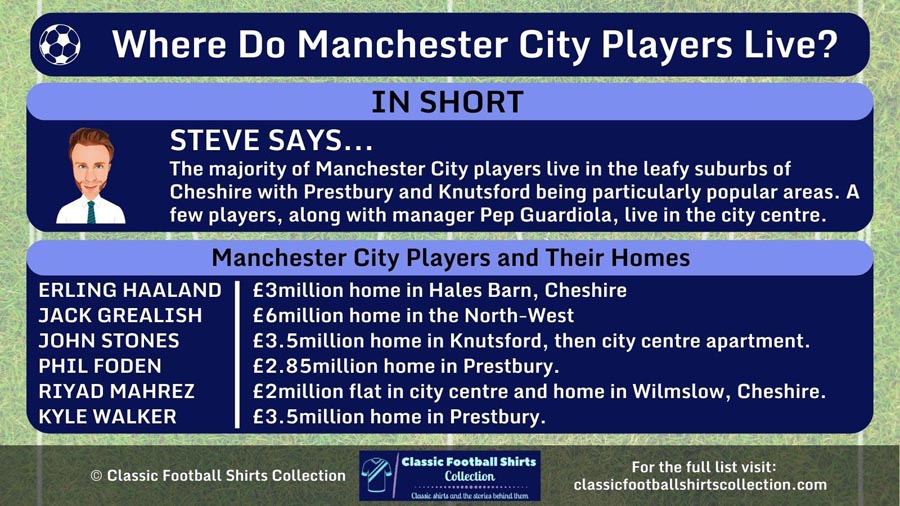 These are details of the homes of Manchester City players that we are aware of.
Many Manchester City players keep their private lives just that, private.
The players in this list here for the most part live outside the hustle and bustle of the city, in leafy Cheshire suburbs like Prestbury and Knutsford.
There are also some first-team players, like John Stones and Ilkay Gündoğan and manager Pep Guardiola who live in the city centre.
---