Want to buy some retro Preston North End shirts? Read on…
TEAM INFO
Team: Preston North End Football Club
Nickname: The Lilywhites
Team Colours: Blue and White
Year Founded: 1880
Stadium: Deepdale
Location: Preston, England
---
BROWSE RETRO PRESTON SHIRTS
If you want to relive the days of Finney, McKenna, Alexander, Nugent and Kendall and look at some retro Preston shirts there are plenty of options available to you:
---
STEVE SAYS…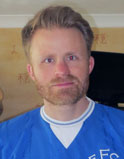 Preston were very much in the doldrums when I started following football, and in fact close to going out of the league altogether, quite a comedown for a team that had dominated English football many years before. They gradually re-established themselves in the upper echelons of football without ever making it back to the very top of the tree. Steve
Favourite player: Tom Finney – like most of us I was too young to see him play, but he is an iconic name in the game.
Favourite kit: 1964 Cup Final shirt. Beautifully simple, as shirts used to be. Available from TOFFS (see below for link)
---

Buy From: Classic Football Shirts
About Classic Football Shirts
Classic Football Shirts set themselves apart from many other companies by the fact that their shirts are all original shirts from the dates listed, not reproductions trying to replicate a classic shirt. All shirts come with condition details – ie whether they are in Mint Condition, As New, etc, etc. The prices are slightly higher but you are really getting a piece of history.
2002 Away Shirt
This retro Preston North End shirt was worn immediately after David Moyes' last season as manager, a position he had taken up in January 1998. Moyes was still playing for Preston at the time and took over a team struggling against relegation from the third tier of English football. He promptly injected a new lease of life into the team and they finished 15th, comfortably clear of relegation.
The next season he guided them to the play-offs, then the season after they convincingly won Division Two to go back up to the second tier of English football. In their first season back at that level in almost a decade, they surprised everyone by coming 4th and getting to the play-off final.
In the 2002-03 season, under new manager Craig Brown, Preston finished 12th, 15 points clear of relegation and 13 points off of the play-offs. A run of six defeats in seven games in December and January and then a further three in their last five at the end of the season ultimately put pay to any dreams of promotion via the play-offs.
2009 Away Shirt
This classic Preston shirt was worn as they finished a disappointing 17th in the Championship, just a season after making the play-off final. Manager Alan Irvine paid the price for a poor patch of form towards the end of the year when he was dismissed, with Darren Ferguson taking charge.
Ferguson couldn't oversee a change in form, despite his first match in the helm seeing Preston win 7-0 in the FA Cup at Colchester and following that up with two wins out of his first three games in the League. After that Preston won just four more games to finish seven points above the relegation zone.
>>> View the Classic Football Shirts selection of retro Preston shirts for sale <<<
**GET 10% OFF WHEN ORDERING FROM CLASSIC FOOTBALL SHIRTS THROUGH MY LINK**
Click on my link above and add something to your basket. Hover over the footballs hanging in the top right corner and click on 'Basket' from the subsequent menu that pops up.
Enter CFSPJ10 in the 'Discount Codes' box and receive 10% off of your order!
Buy From: Vintage Football Shirts
About Vintage Football Shirts
Vintage Football Shirts also offer original shirts rather than reproductions with each shirt marked for its condition – from BNIB (brand new in bag) to Excellent (may have tiny defect, may not be noticeable).
2003 Home Shirt
This retro Preston North End shirt was worn as the club finished in the middle of the First Division (second tier) of English football under the stewardship of former Scotland manager Craig Brown. Whilst ultimately Preston sat a long way from both promotion and relegation, the fans were treated to some entertaining football that season, only two teams scored more than their 69 league goals and only three let in more than their 71 goals conceded.
In the league, they scored three or more 9 times, but also conceded three or more 7 times and strike partners Ricardo Fuller and David Healy both finished in the Division's top 10 goalscorers list, and even full-back Graham Alexander netted nine times. However their last six league games summed up their campaign, they finished 3-3, 2-2, 1-5, 2-2, 2-3 and 3-3!
2010 Away Shirt
This classic Preston shirt was worn as the Lilywhites exited the second tier of English football after 15 seasons, finishing third from bottom to be relegated to League One. A tumultuous season saw them start by losing five of their first six games and 12 of their first 18 to be anchored at the bottom of the table at Christmas. This led to the departure of manager Darren Ferguson who was replaced by Phil Brown.
Results did pick up, but three consecutive defeats at the end of the season put pay to any thoughts of survival. North End were one of three teams who finished on 42 points and were relegated. Perhaps one high point in an otherwise bad season was a stunning 6-4 away win at Leeds. Preston had been 4-1 down after 40 minutes but stormed back to win an incredible game 6-4.
>>> View the Vintage Football Shirts selection of retro Preston shirts for sale <<<
---
CLASSIC PRESTON MOMENT
The last major final Preston reached and a classic game.
---
Buy from: Amazon
Amazon doesn't have many retro Preston shirts, but they do have a lot of retro Preston memorabilia that is well worth a look.
>>> View the selection of retro Preston memorabilia for sale on Amazon <<<
Buy from: TOFFS
About TOFFS
TOFFS (which stands for The Old Fashioned Football Shirt) specialise in handcrafted, vintage football shirts made to the highest quality in the North of England – with each shirt as close to the real thing as possible.
1964 FA Cup Final Shirt
The classic Preston shirt was worn during what was definitely the best year of the decade for Preston. After getting relegated from Division One in 1961, Preston spent the rest of the decade in Division Two and never finished higher than 10th, with the exception of the 1963-64 season when they finished 3rd, only just missing out on promotion back to the top flight.
They did however make it to the FA Cup Final, where they twice took the lead against a West Ham team containing Bobby Moore and Geoff Hurst, before suffering the heartbreak of conceding in the last minute with Ronnie Boyce scoring for West Ham. Preston's Howard Kendall made history, becoming the youngest player to play in an FA Cup Final at the age of 17 years and 345 days.
1970s Home Shirt
This vintage shirt was worn during a disappointing decade for the Lilywhites, despite some big-name managers. They started the decade with Alan Ball senior in charge, who was then succeeded by Bobby Charlton. After Charlton resigned in protest at the sale of John Bird to Newcastle, Harry Catterick took over just five years after winning the League with Everton. The club saw out the decade with Nobby Stiles at the helm.
Regardless of this, Preston spent the decade bouncing between the second and third tiers of English football and were promoted twice and relegated once during the decade. The club relied on Scottish sticker Alex Bruce for goals, he was top scorer in 7 seasons in his tenure at the club and won the League's golden boot in 1978 with 30 league goals.
>>> View the TOFFS selection of retro Preston shirts for sale <<<
---
So there you have it. If, like me, you are a lover of football and all things retro there are a huge selection of classic Preston shirts you can pick up to revel in the nostalgia of days gone by!
>>> See what other classic football shirts are available <<<
---
Save
Save
Save
Save
Save
Save