Want to go Stallone and don an Escape to Victory shirt? You can now!
TEAM INFO
Team: The Allied Prisoners of War
Team Colours: White, with thin blue and red stripes
Year Founded: 1944
The Film: Escape to Victory/Victory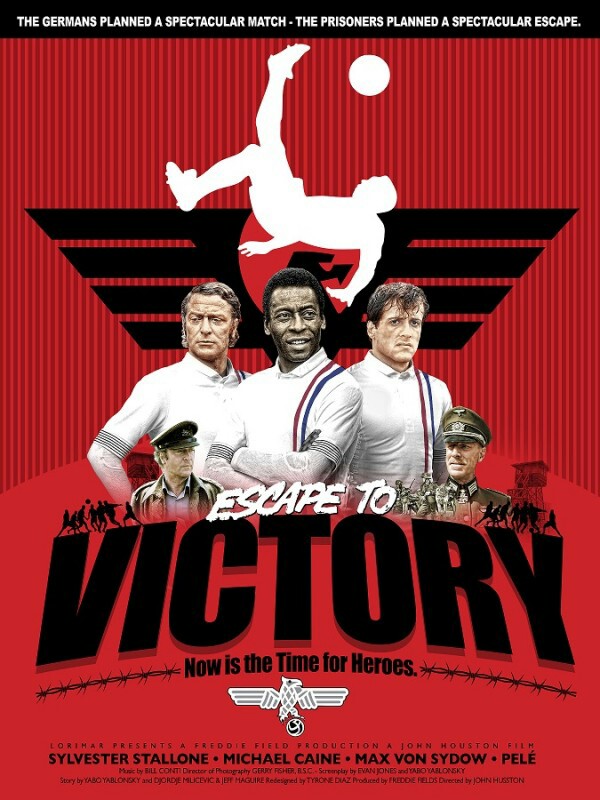 ---
STEVE SAYS…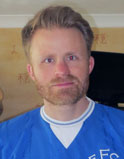 I loved this film growing up – when I watch it now I do cringe a bit about how much I liked it, but it is just so much fun to watch especially the match at the end of it all! Steve
Favourite player: Pele – it has to be! More for his footballing skills than his acting though!
Favourite kit: Both! Both the goalkeeper kit and outfield kit are simple but classic designs, I love them. Available from TOFFS (see below for link)
---

GET AN ESCAPE TO VICTORY SHIRT
How many times did Pele, Bobby Moore, Ossie Ardiles, Sylvester Stallone and Michael Caine play on the same team? Not many, but grab an Escape to Victory shirt and you can relieve the moment that they did!
THE FILM
Escape to Victory, or Victory as it is known in some places, tells the story of a group of Allied POWs preparing for a football game against the German National Team, which will be played in Nazi-occupied Paris. At the same time the French Resistance and British officers are making plans for the players to escape.
THE FOOTBALLERS
The film has an all star cast of professional football players:
Pelé as Corporal Luis Fernandez
Bobby Moore as Terry Brady
John Wark as Arthur Hayes
Osvaldo Ardiles as Carlos Rey
Kazimierz Deyna as Paul Wolchek
Søren Lindsted as Erik Ball
Paul Van Himst as Michel Fileu
Werner Roth as Baumann (The German Team Captain)
Mike Summerbee as Sid 'Buzzer' Harmor
Hallvar Thoresen as Gunnar Hilsson
Russell Osman as Doug Clure
Kevin O'Callaghan as Tony Lewis
Co Prins as Pieter van Beck
Laurie Sivell as Schmidt (German Goalkeeper)
Robin Turner as German Player
Kevin Beattie as stand-in for Michael Caine
Paul Cooper as stand-in for Sylvester Stallone
THE TRUE STORY
The film was based on the true story in which FC Dynamo Kyiv defeated German soldiers while Ukraine was occupied by German troops in the Second World War.
The myth is that as they won the FC Dynamo Kyiv players were shot. The true story is more complicated though. The team played a series of games against German teams, winning all of them before the players were sent to prison camps by the Gestapo. Four players were recorded as being killed by the Germans, but a long time after the matches they had won.
The film costed an estimated $10million to make and grossed just under $27.5million worldwide.
"Awful, and he couldn't even run twenty yards."
Osvaldo Ardiles on 47-year-old Michael Caine's soccer skills.
Buy from: TOFFS
If you love the film so much you want to get the shirt, then TOFFS have both the white outfield players shirt and the blue goalkeeper shirt (as worn by Sylvester Stallone!) shirt for sale. Both are great replicas of the shirts worn in the film and have a wonderful retro look.
>>> View the Escape to Victory shirts for sale on TOFFS <<<
Buy from: Amazon
At the time of writing you can buy the shirt from Amazon which genuine hand signed autographs from those involved in the film – a wonderfully rare piece of memorabilia. You can also buy some signed team photos as well.
>>> View the range of Escape to Victory memorabilia on Amazon <<<
ESCAPE TO VICTORY TRAILER
Check out the official trailer for this movie masterpiece. You can buy the movie on Amazon.
---
If, like me, you are a lover of football and all things retro there are a huge selection of retro football shirts you can pick up to revel in the nostalgia of days gone by!
>>> See what other classic football shirts are available <<<
Save
Save
Save
Save
Save
Save
Save
Save
Save
Save
Save
Save
Save