Team Info
Team: Leeds United Football Club
Nickname: The Whites
Team Colours: All White
Year Founded: 1919
Stadium: Elland Road
Location: Leeds, England
Want to browse some vintage Leeds United shirts? Read on…
---
Get Your Own Vintage Leeds United Shirt
If you want to relive the days of Bremner, Lorimer, Gray, Charles, Giles and Cantona and get your own vintage Leeds United shirt there are plenty of options available to you:
---
STEVE SAYS…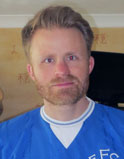 When I was at Uni in Sheffield I had a flatmate who was a mad Leeds United fan and it coincided with their regular top 5 finish in the league and strong European runs. I remember their midfield of Strachan, McAllister and a young Gary Speed, which was as good as any and then big signings like Jonathan Woodgate, Rio Ferdinand and Seth Johnson (?!). They had some real attacking talents from the thunderbolt footed Tony Yeboah to Mark Viduka, Michael Bridges and Jimmy Floyd Hasselbaink. Steve
Favourite player: Gordon Strachan – such infectious enthusiasm despite being almost 40!
Favourite kit: 1978 home shirt. Simple, retro and with the typical 70s collar. Available from Kitbag (see below for link)
---

Buy From: Classic Football Shirts
About Classic Football Shirts
Classic Football Shirts set themselves apart from many other companies by the fact that their shirts are all original shirts from the dates listed, not reproductions trying to replicate a classic shirt. All shirts come with condition details – ie whether they are in Mint Condition, As New, etc, etc. The prices are slightly higher but you are really getting a piece of history.
They have around 200 classic Leeds United shirts and pieces of kit from the early 80s to the present day.
1990 Home Shirt
These include the 1990-91 home shirt (above right) worn by Chapman, Batty, Speed and Strachan as the club return to the top flight of British football. It is notable for its Top Man sponsor too! Leeds first season back was a good one as they finished fourth and reached the semi-final of the League Cup.
Leeds got off to a storming start to the season and lost only three of their first 20 games. Unfortunately the New Year signalled a form change, with a 3-0 defeat to Liverpool on New Years' Day 1991 followed up by a 2-0 defeat to Norwich. In the second half of the season the club lost 9 games, including a thrilling 5-4 defeat to Liverpool, where Lee Chapman scored a hat-trick but finished on the losing side.
Four seasons at Leeds proved to be somewhat of an Indian summer for Chapman who by now was into his 30s. In the 1990-91 season his 21 league goals were only bettered by Arsenal's Alan Smith. In all Chapman scored 31 goals, the best of his career and earned a call-up to the England B Team. He carried the form over to the next season, scoring 16 league goals as Leeds went on to win the league.
1997 Away Shirt
Or there is the classic blue and yellow halves 1997-99 away shirt (above left), worn at the end of George Graham's reign and as David O'Leary began to mount some serious European challenges and the club began to splash the cash on big-money signings. After two mid-table finishes, Leeds promised much in 1997-98 and finished fifth, boosted by the goals of Jimmy Floyd-Hasselbaink who signed for £2million from Boavista. The following season Leeds went one better and finished fourth.
Hasselbaink would go on to become a member of the prestigious Premier League 100 club, scoring 127 goals in 288 games for four different teams, including 34 in 69 games for Leeds. Hasselbaink early football career was tarnished with controversy and as a teenager he joined a street gang and spent three months in a youth detention facility for stealing. He then joined the youth team at Amsterdam based DWS, but was sacked after stealing the watch of a first-team player. He was still a gang member when he made is professional debut for Telstar in 1990.
>>> View the Classic Football Shirts selection of retro Leeds United shirts for sale <<<
**GET 10% OFF WHEN ORDERING FROM CLASSIC FOOTBALL SHIRTS THROUGH MY LINK**
Click on my link above and add something to your basket. Hover over the footballs hanging in the top right corner and click on 'Basket' from the subsequent menu that pops up.
Enter CFSPJ10 in the 'Discount Codes' box and receive 10% off of your order!
Buy From: Vintage Football Shirts
About Vintage Football Shirts
Vintage Football Shirts also offer original shirts rather than reproductions with each shirt marked for its condition – from BNIB (brand new in bag) to Excellent (may have tiny defect, may not be noticeable).
With over 70 Leeds United shirts ranging from the 70s to the present day – you are sure to find something you like.
1976 Home Shirt
Amongst the options available is the 1976-81 home shirt (above right). This vintage Admiral kit features the old Leeds badge and was worn by Leeds legends such as Billy Bremner, Norman Hunter and Joe Jordan.
This period saw the slow decline of a team that just a couple of years previously had been dominating English football, between 1976 and 81 they finished 5th once, 9th twice, 10th and 11th before being relegated from the top flight in 1982. This was in stark contrast to the previous decade which saw the club win the League twice, finish as runners-up on three occasions, win the FA Cup twice, League Cup once and the Inter-Cities Fairs Cup twice. They also finish as runners-up on five occasions in cup competitions.
1992 Home Shirt
You can also get the 1992-93 home shirt (above left), worn as Leeds were reigning champions, the season they lost to Rangers in the Champions League in a clash billed as the Battle of Britain. Leeds actually failed to win an away game all season and stayed up by the skin of their teeth, finishing just three places and two points clear of relegation in 17th. Leeds only won only one game of their last 11 matches of the season. To compound matters, star striker Eric Cantona left to join Manchester United.
Interestingly one feat Leeds did achieve that season that no other Premier League team did, was the fact three different players all scored hat-tricks for them: Eric Cantona, Gordon Strachan and Rod Wallace.
>>> View the Vintage Football Shirts selection of retro Leeds United shirts for sale <<<
---
CLASSIC LEEDS UNITED MOMENT
Leeds started the 1973-74 season in scintillating form winning their first seven games, including this demolition of Birmingham. They didn't lose their first league game of the season until February as they won their second-ever league title
---
Buy from: Amazon
1950s Home Shirt
Amazon has a great selection of retro Leeds United shirts including a 1950s home shirt.
This retro football shirt was worn during a decade that saw the emergence of the great 'Gentle Giant' John Charles and the future World Cup winner Jack Charlton.
Between 1949 and 1957 Charles scored 157 goals in 297 games for Leeds, although he actually made his debut for the club at centre-back in a friendly against Queen of the South where he marked Billy Houliston, a well-known Scotland international. After the game Houliston called 17-year-old Charles 'the best center-half I've ever played against'.
1981 Home Shirt
Or you can get a great replica of the 1981 home shirt.
This classic shirt looks great but doesn't hold many happy memories for Leeds fans as it signalled the culmination of the club's downward spiral since Don Revie's departure in 1974 with them finishing 20th in the top flight and getting relegated after 18 years in the top flight.
>>> View the selection of retro Leeds United shirts for sale on Amazon <<<
Buy from: TOFFS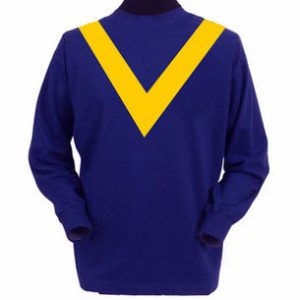 About TOFFS
TOFFS (which stands for The Old Fashioned Football Shirt) specialises in handcrafted, vintage football shirts made to the highest quality in the North of England – with each shirt as close to the real thing as possible.
1914 Home Shirt
You can pick up a small number top-notch retro Leeds United shirts here including a replica of the 1914-15 home shirt (above).
This lovely retro football shirt, in a deep blue with a yellow v, marked a dark time in the club's history – during the First World War there were a number of financial irregularities.
This included breaking the ban on paying players during the war. The club was expelled from the Football League and disolved, reforming the following year to enter the League again.
>>> View the TOFFS selection of retro Leeds United shirts for sale <<<
---
So there you have it. If, like me, you are a lover of football and all things retro there are a huge selection of classic Leeds United shirts you can pick up to revel in the nostalgia of days gone by!
>>> See what other classic football shirts are available <<<
---
Save
Save
Save
Save
Save