Want to buy some retro Millwall shirts? Read on…
TEAM INFO
Team: Millwall Football Club
Nickname: The Lions
Team Colours: Blue and White
Year Founded: 1885
Stadium: The Den
Location: Bermondsey, England
---
BROWSE RETRO MILLWALL SHIRTS
If you want to relive the days of Sheringham, Stevens, Horlock, Cahill and Kitchener and look at some retro Millwall shirts there are plenty of options available to you:
---
STEVE SAYS…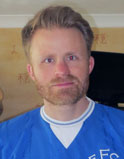 I remember Millwall having a brief foray in the top flight at the end of the 80s, when they had the potent Cascarino and Sheringham forward partnership and the hard-as-nails Terry Hurlock in midfield. That was their highpoint, but they have since made the FA Cup Final and some respectable league finishes. Steve
Favourite player: Tim Cahill – goalscoring midfielder, who was excellent in the air.
Favourite kit: 1998 away shirt. Harks back to the 70s with its single stripe and classic colours. Available from Classic Football Kits (see below for link)
---
Buy From: Classic Football Shirts
About Classic Football Shirts
Classic Football Shirts set themselves apart from many other companies by the fact that their shirts are all original shirts from the dates listed, not reproductions trying to replicate a classic shirt. All shirts come with condition details – ie whether they are in Mint Condition, As New, etc, etc. The prices are slightly higher but you are really getting a piece of history.
1996 Home Shirt
This retro Millwall shirt was worn as the club found themselves relegated to the third tier of English football just five months after they had been top of Division One. It was a turbulent time for the club as they were placed in financial administration for a short term until the intervention of new chairman Theo Paphitis. Whilst the fans were grateful for his financial investment they weren't so happy about his proposal that Millwall should play in a grey strip and the removal of the Rampant Lion crest.
On the pitch, Millwall finished 14th in Division Two, although they were much higher until a run of five defeats in their last six games, during which time they scored no goals. The club also suffered the indignity of losing to Conference side Woking at the Den in the FA Cup.
1998 Away Shirt
This classic Millwall shirt was worn as the club made its first-ever official Wembley appearance. The Lions reached the final of the Football League Trophy, a competition for all teams in the bottom two divisions of English football. Millwall lost a close game in the most heartbreaking of fashion, Wigan's Paul Rogers scored the winner in the third minute of injury time, one of only five goals he scored for Wigan in three years. It was estimated Millwall brought 47,000 of the 55,000 fans in attendance on the day.
In Division Two Millwall were placed between 9th and 11th from January through to May and ended up finishing 10th. It was a successful first season for future Millwall legend Neil Harris, who had signed from Cambridge City in March 1998. In his first full season at the club he was top goalscorer and was named player of the year for the club.
>>> View the Classic Football Shirts selection of retro Millwall shirts for sale <<<
**GET 10% OFF WHEN ORDERING FROM CLASSIC FOOTBALL SHIRTS THROUGH MY LINK**
Click on my link above and add something to your basket. Hover over the footballs hanging in the top right corner and click on 'Basket' from the subsequent menu that pops up.
Enter CFSPJ10 in the 'Discount Codes' box and receive 10% off of your order!
Buy From: Vintage Football Shirts
About Vintage Football Shirts
Vintage Football Shirts also offer original shirts rather than reproductions with each shirt marked for its condition – from BNIB (brand new in bag) to Excellent (may have tiny defect, may not be noticeable).
1995 Away Shirt
This vintage Millwall shirt was worn during a desperately disappointing season for the club and one that started so well. On 5 December 1995, 21 games into the Division One season, the Lions were top of the league. Come the end of the season they were third from bottom and relegated, slumping dramatically after manager Mick McCarthy left to take charge of the Republic of Ireland.
The rot started with a 6-0 defeat to 2nd place Sunderland on 9 December, as the club recorded just four wins in their last 25 games of the season. Despite this, if they had won rather than drawn their last game of the season against Ipswich they would have finished above Portsmouth and survived.
1997 Home Shirt
By the time Millwall donned this classic football shirt they had dropped from the upper echelons of Division One to the lower echelons of Division Two in just a couple of years. A disappointing campaign saw manager Billy Bonds sacked after just one season and the club finishing 18th, their lowest position in 15 years.
In fact, as it was Millwall suffered another dramatic second half of the season dip, going from 4th on 20 December 1997 to 18th at the end of the season. The Lions won just four of their 22 league games in 1998 to only finish five points above relegation.
>>> View the Vintage Football Shirts selection of retro Millwall shirts for sale <<<
---
CLASSIC MILLWALL MOMENT
Following a historic cup run, second-tier Millwall make their first-ever FA Cup Final in 2004.
---
Buy from: Amazon
Amazon doesn't have many retro Millwall shirts, but they do have a lot of retro Millwall memorabilia that is well worth a look.
>>> View the selection of retro Millwall memorabilia for sale on Amazon <<<
Buy from: TOFFS
About TOFFS
TOFFS (which stands for The Old Fashioned Football Shirt) specialise in handcrafted, vintage football shirts made to the highest quality in the North of England – with each shirt as close to the real thing as possible.
1960s Home Shirt
The 1950s had been a decade with little to cheer about for Millwall, as the club loitered in Division Three (South) for almost the entire ten years. The 1960s though saw the club lay the foundations for a successful period in the early 1970s. In fact from August 1964 to January 1967 the club set a record of 59 home games without defeat.
The club started the season in the newly formed Division Four, but gained promotion to Division Three in 1962. They briefly dropped back to Division Four for one season in 1964, but then gained successive promotions so just two years later they were in the second tier of English football where they set about building a quality side. Former player Benny Fenton was manager for much of this period.
1970s Away Shirt
The 1970s started in style for Millwall, with an 8th place finish in Division Two followed by a 3rd place finish, missing out on promotion to Division One by just one point. The side is remembered as "The Class of 71" by older Millwall fans and contained Barry Kitchener, who made a record 602 appearances for the club and has a stand at the ground named after him.
Millwall were never quite able to replicate the quality of the 1971-72 season but did spend most of the 70s in Division Two. They also made their own piece of history against Fulham in 1974 when they hosted the first professional game in England to ever be played on a Sunday.
The club got around laws at the time, by only admitting spectators who had a matchday magazine for the game against Fulham, selling them the team sheet with the wording 'Official Programme' at the gate.
>>> View the TOFFS selection of retro Millwall shirts for sale <<<
---
So there you have it. If, like me, you are a lover of football and all things retro there are a huge selection of classic Millwall shirts you can pick up to revel in the nostalgia of days gone by!
>>> See what other classic football shirts are available <<<
---
Save
Save
Save
Save
Save
Save