Want to get a New York Cosmos Retro Shirt? Read on…
TEAM INFO
Team: New York Cosmos
Nickname: The Cosmos
Team Colours: Green and White
Year Founded: 1970
Stadium: Variety including Yankee Stadium, Hofstra Stadium and the Giants Stadium
Location: New York, America
---
GET A NEW YORK COSMOS RETRO SHIRT
If you want to relive the days when Pele made football popular in America and get a New York Cosmos retro shirt then check the options available to you:
---
STEVE SAYS…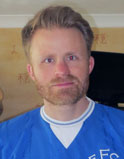 I simply associate New York Cosmos with Pele, the man who almost single-handedly made football popular in the States in the 70s. It wasn't until researching this though that I found out he was paid $1.4million a year and by the late 70s the Cosmos were getting average crowds of around 46,000. Steve
Favourite player: Pele – couldn't be anyone else
Favourite kit: 1978 home kit – the ultimate NASL kit. Available from TOFFS (see below for link)

Buy From: Classic Football Shirts
About Classic Football Shirts
Classic Football Shirts set themselves apart from many other companies by the fact that their shirts are all original shirts from the dates listed, not reproductions trying to replicate a classic shirt. All shirts come with condition details – ie whether they are in Mint Condition, As New, etc, etc. The prices are slightly higher but you are really getting a piece of history.
2011 Home Shirt
They have a small number of shirts and track jackets, including a 2011-12 home shirt (above left) worn when the club reformed 26 years after their dissolution in 1985.
The club started up again as the MLS became increasingly popular and for the 2011-12 season they played a series of friendlies and exhibition matches, Manchester United legend Eric Cantona was the club's Director of Soccer at this time and the following season the club joined the North American Soccer League – the second-tier of American football.
2011 Track Jacket
You can also get a 2011-12 track jacket (above right) – this stylish track jacket has an ultra retro look that harks back to the glory days of American football in the 70s.
The jacket is green – which was the color chosen by Cosmos general manager Clive Toye after the team was founded in 1970 as part of his strategy to lure Brazil legend Pele to the United States to play for them.
>>> View the Classic Football Shirts selection of retro New York Cosmos shirts for sale <<<
**GET 10% OFF WHEN ORDERING FROM CLASSIC FOOTBALL SHIRTS THROUGH MY LINK**
Click on my link above and add something to your basket. Hover over the footballs hanging in the top right corner and click on 'Basket' from the subsequent menu that pops up.
Enter CFSPJ10 in the 'Discount Codes' box and receive 10% off of your order!
Buy From: Vintage Football Shirts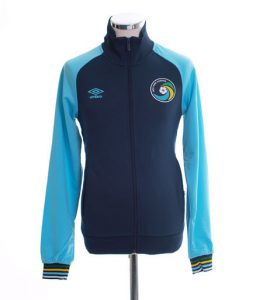 About Vintage Football Shirts
Vintage Football Shirts also offer original shirts rather than reproductions with each shirt marked for its condition – from BNIB (brand new in bag) to Excellent (may have tiny defect, may not be noticeable).
2011 Tracksuit Tops
They also have four pieces of New York Cosmos kit – all tracksuit tops from the 2011-12 season (above). Five years after refounding the club play in the North American Soccer League and legendary ex-player Pele is the honorary president of the revived club.
>>> View the Vintage Football Shirts selection of retro New York Cosmos shirts for sale <<<
---
CLASSIC NEW YORK COSMOS MOMENT
Every goal scored by possibly the world's greatest footballer for New York Cosmos.
---
Buy from: Amazon
New York Cosmos Anthem Jacket
Amazon has a few pieces of retro New York Cosmos memorabilia, the pick of which for me is a great New York Cosmos Anthem Jacket (above) which harks back to the seventies and the boom of soccer in America.
Cosmos went from having an average attendance of 3,500 in 1974 to one of just under 50,000 only four years later. This of course coincided with the arrival of foreign superstars such as Pele who signed in 1975.
1977 Home Shirt
You can also get a vintage 1977 retro home shirt – the seasons the Cosmos were forced to move to the newly built Giants Stadium due to rising attendances. The Cosmos duly beat the Seattle Sounders 2-1 in the very American-sounding Soccer Bowl '77 final.
One goal came from Giorgio Chinaglia, a former Italian international and the other came from Steve Hunt, a young Englishman from Aston Villa who would later go on to make two England appearances in 1984.
>>> View the selection of retro New York Cosmos shirts for sale on Amazon <<<
Buy from: TOFFS
About TOFFS
TOFFS (which stands for The Old Fashioned Football Shirt) specialise in handcrafted, vintage football shirts made to the highest quality in the North of England – with each shirt as close to the real thing as possible.
1978 Home Shirt
You can pick up some top-notch retro New York Cosmos shirts here – they have a big range. The highlights are a 1978 home shirt (above right) when the club won North American Soccer League (NASL) for the second season in a row.
In fact, the Cosmos set records for most wins and points in an NASL season this season – they won their first game 7-0 and continued to set the pace for the remainder of the season, winning 24 and losing six of their 30 games.
They won the Soccer Bowl 78 final 3-1 against Tampa Bay Rowdies, the attendance of 74,901 is to this day a record attendance at a North American football match.
1980 Away Shirt
Amongst many others, you can get a classic 1980 away shirt (above left), with the number 9 on it.
The number 9 shirt was worn by the New York Cosmos hero Giorgio Chinaglia who joined the club in 1976 from Lazio. He quickly became a legend scoring 193 goals in seven years – an all-time NASL record, including 50 goals in this season – 1980.
In 2014 the Cosmos retired the number 9 shirt in honour of Chinaglia's contribution to the club. In 2000 Chinaglia was also named the greatest player in Lazio's history.
>>> View the TOFFS selection of retro New York Cosmos shirts for sale <<<
---
So there you have it. If, like me, you are a lover of football and all things retro there are a huge selection of classic New York Cosmos shirts you can pick up to revel in the nostalgia of days gone by!
>>> See what other classic football shirts are available <<<
---
Save
Save
Save
Save
Save
Save
Save
Save
Save
Save
Save
Save
Save
Save
Save
Save
Save
Save
Save
Save
Save
Save
Save