Want to browse some retro West Ham shirts? Read on…
Team Info
Team: West Ham United Football Club
Nickname: The Hammers / The Irons
Team Colours: Claret and Blue
Year Founded: 1895 (as Thames Ironworks – 1900 as West Ham)
Stadium: London Stadium
Location: London, England
---
Browse Some West Ham Retro Shirts
If you want to relive the days of Moore, Hurst, Peters, Bonds, Dicks and Brooking take a look at the number of retro West Ham shirts you can own:
---
STEVE SAYS…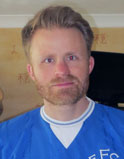 I think of West Ham being the best producer of young talent in my lifetime – Ferdinand, Cole, Carrick, Lampard, Johnson, Defoe – how they managed to get relegated with such a talented team in 2003 is beyond me! Before that I remember Cottee and McAvennie banging in the goals and under the seemingly eternal managerial reigns of John Lyall. Billy Bonds and Phil Parkes spring to mind as well – two club legends. Historically of course they will always be remember for Hurst, Moore and Peters and the 1966 World Cup. Steve
Favourite player: Joe Cole – such much skill and amazing technique when he burst onto the scene.
Favourite kit: 1976 home shirt. Really unusual and eye-catching retro design. Available from Amazon (see below for link)
---

Buy From: Classic Football Shirts
About Classic Football Shirts
Classic Football Shirts set themselves apart from many other companies by the fact that their shirts are all original shirts from the dates listed, not reproductions trying to replicate a classic shirt. All shirts come with condition details – ie whether they are in Mint Condition, As New, etc, etc. The prices are slightly higher but you are really getting a piece of history.
They have hundreds of classic West Ham shirts and pieces of kit from the 80s to the present day.
1980 Home Shirt
They include a vintage 1980-83 home shirt (above right) worn by the likes of Trevor Brooking and Billy Bonds as West Ham were promoted from Division Two and then finished a respectable 8th and 9th in the top flight. They also made it to the 1981 Milk Cup Final where they drew with Liverpool before losing in a replay.
They lost just four games in winning Division Two in 1981 and won the division by 13 points, when it was just two points for a win. Top scorer in the division was David Cross, whom West Ham signed for a club-record £180,000 in 1977
West Ham actually won the 1980 FA Cup Final when they were in the Second Division, beating Arsenal 1-0. They are still the last team outside of the top flight to win the trophy.
1993 Away Shirt
You can also get a 1993-95 away shirt (above left) worn when Harry Redknapp was manager, just after they had been promoted to the Premier League.
Under Redknapp the club finished 13th and 14th in the Premier League and saw an influx of overseas stars such as Marc-Vivien Foe, Igor Stimac and Eyal Berkovic.
However over these two seasons West Ham relied on some veteran strikers to score their goals. Trevor Morley (32), Lee Chapman (34) and Clive Allen (33) were all regular scorers in this period.
>>> View the Classic Football Shirts selection of retro West Ham shirts for sale <<<
**GET 10% OFF WHEN ORDERING FROM CLASSIC FOOTBALL SHIRTS THROUGH MY LINK**
Click on my link above and add something to your basket. Hover over the footballs hanging in the top right corner and click on 'Basket' from the subsequent menu that pops up.
Enter CFSPJ10 in the 'Discount Codes' box and receive 10% off of your order!
Buy From: Vintage Football Shirts
About Vintage Football Shirts
Vintage Football Shirts also offer original shirts rather than reproductions with each shirt marked for its condition – from BNIB (brand new in bag) to Excellent (may have tiny defect, may not be noticeable).
With around 50 West Ham shirts ranging from the 80s to the present day there is a great selection to choose from.
1989 Home Shirt
You can get a classic 1989-90 home shirt (above right) worn the season after the Hammers had been relegated to the second tier of English football which resulted in the sacking of long-term manager and club legend John Lyall after 34 years service to the club.
Lou Macari took over for the 89-90 season and in his one and only season in charge of the club they finished 7th in Division Two and rather unusually had a defender, Julian Dicks, as their top scorer. The club also had a mixed season in cup competitions, they were knocked out of the FA Cup in the 3rd round by Division 4 Torquay United but reached the semi-final of the League Cup, however they lost the first leg of a two-legged semi-final 6-0 to Oldham! A 3-0 win in the return leg at home was not enough to see them through.
1995 Home Shirt
You can also get the vintage 1995-97 home shirt (above left) that was worn during a particularly fruitful time for the club's youth system with Rio Ferdinand, Frank Lampard, Joe Cole and Michael Carrick all coming through the ranks.
West Ham legend Tony Cottee returned to the club and top-scored as they finished 10th and then 14th in the Premier League. In one of these seasons joint top league scorer again was left-back Julian Dicks.
>>> View the Vintage Football Shirts selection of retro West Ham shirts for sale <<<
---
CLASSIC WEST HAM MOMENT
It is 1980 and against all odds, Trevor Brooking's stooping header gives Second Division West Ham an FA Cup Final victory over Arsenal.
---
Buy from: Amazon
1980 FA Cup Final Shirt
Amazon have a good selection of retro West Ham shirts including a 1980 Cup Final shirt (above).
This retro football shirt was worn for what was the 99th cup final and one of the biggest shocks in modern times as second flight West Ham defeated top-flight Arsenal thanks to a now-iconic Trevor Brooking header.
The game is also remembered for Willie Young taking out a 17-year-old Paul Allen when he was clean through on goal with only Pay Jennings to beat, thus denying Allen – then the youngest player ever to appear in a FA Cup Final – a dream goal. Young only received a yellow card.
2000 Home Shirt
You can also get a 2000 home shirt.
The previous season West Ham had finished fifth in the Premier League and qualified for the Intertoto Cup – a shortlived competition that gave clubs the opportunity to qualify for the Europa League.
The Hammers beat Metz in the final which meant they qualified for European competition for the first time since 1980/81.
>>> View the selection of retro West Ham shirts for sale on Amazon <<<
Buy From: Kitbag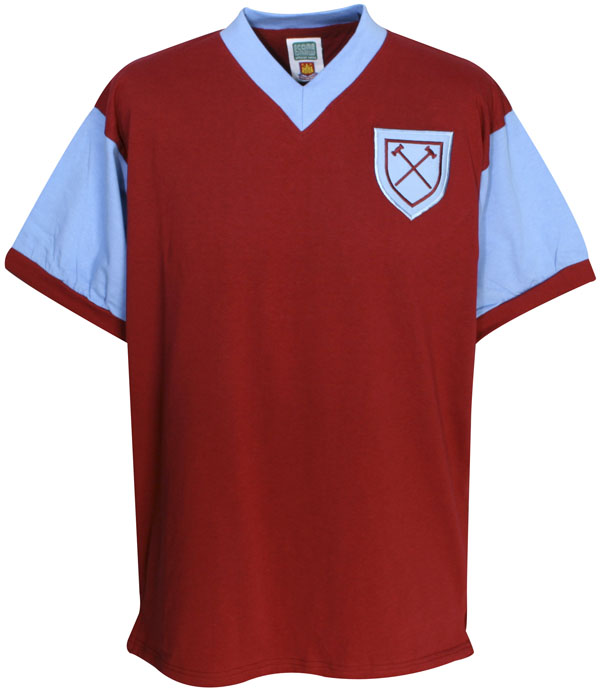 1975 FA Cup Final Shirt
The Kitbag range of West Ham shirts extends to seven retro shirts and a tracksuit jacket. You can pick up a 1975 Cup Final shirt.
This Cup Final saw West Ham beat Fulham 2-0 thanks to two Alan Taylor goals. West Ham's 11 players and one sub were all English, and they are currently the last all-English team to win the cup (a feat that looks unlikely to change now!). The Fulham team included West Ham legend Bobby Moore.
1958 Home Shirt
Or there is a 1958 home shirt (above) worn the season the aforementioned Bobby Moore made his West Ham debut – the first of 544 appearances for the Hammers.
The club finished 6th in Division One that season, their first season back in the top flight after 19 seasons in Division Two. The club would spend 20 seasons in the top tier before relegation to Division Two in 1978.
>>> View the Kitbag selection of retro West Ham shirts for sale <<<
Buy from: TOFFS
About TOFFS
TOFFS (which stands for The Old Fashioned Football Shirt) specialise in handcrafted, vintage football shirts made to the highest quality in the North of England – with each shirt as close to the real thing as possible.
1902 Home Shirt
You can get a classic 1902-03 home shirt (above left).
The club had been founded as Thames Ironworks in 1895 and then became West Ham United in 1900. They played in the Southern League for the first 15 years as West Ham before joining Division Two in 1919 after the end of the First World War.
1966 Home Shirt
Or you can get the iconic 1966 home shirt (above right) – one of the top retro football shirts around.
This year is of course associated with England winning the World Cup, a feat they achieved with three West Ham players – Bobby Moore, Geoff Hurst and Martin Peters – playing prominent roles.
West Ham had great cup success in the mid-60s, winning the FA Cup in 1964 and the European Cup Winners Cup in 1965, but finished in the mid to bottom half of Division One for the majority of seasons in the 60s.
>>> View the TOFFS selection of retro West Ham shirts for sale <<<
---
So there you have it. If, like me, you are a lover of football and all things retro there are a huge selection of classic West Ham shirts you can pick up to revel in the nostalgia of days gone by!
>>> See what other classic football shirts are available <<<
---
Save
Save
Save
Save
Save
Save
Save