Want to get a retro Italy Shirt? Read on…
TEAM INFO
Team: Italy National Team
Nickname: Gli Azzurri (The Blues)
Team Colours: Blue and White
Varies: play at stadiums throughout Italy
---
GET A RETRO ITALY SHIRT
Italy – one of the most successful national teams in the history of the World Cup – four titles and two runners up and the birthplace of footballing legends such as Maldini, Buffon, Pirlo, Baggio and Del Piero. Get a retro Italy shirt to copy your heroes.
---
STEVE SAYS…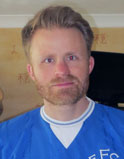 Rather unfortunately in my childhood Italy were associated with slow, dull play and play acting, but also a very good national team. The former assertions have definitely changed now as they play attractive football and are no worse for play acting that anyone else! I loved Italia 90 and, even though he was a fleeting part of Italian Football, Salvatore 'Toto' Schillaci! . Steve
Favourite player: Andrea Pirlo – just pips Francesco Totti, but two beautiful footballers to watch.
Favourite kit: The 1990 home shirt – great kit, great team. Available from all retailers (see below for links)
---

Buy From: Classic Football Shirts
About Classic Football Shirts
Classic Football Shirts set themselves apart from many other companies by the fact that their shirts are all original shirts from the dates listed, not reproductions trying to replicate a classic shirt. All shirts come with condition details – ie whether they are in Mint Condition, As New, etc, etc. The prices are slightly higher but you are really getting a piece of history.
1982 Home Shirt
They have over 500 pieces of football kit ranging including a lovely 1982 home shirt (above left) celebrating Italy's triumph in the World Cup that year against West Germany.
The Azzuri made a slow start to the competition drawing all three of their first round group games against Poland, Cameroon and Peru. This led to much criticism from Italian journalists which infuriate the Italian squad to the point they decided on a press black out with only coach Enzo Bearzot and captain Dino Zoff speaking to the press.
The 1982 World Cup had two group stages and in the second group stage Italy were drawn in the 'Group of Death' alongside Brazil and Argentina – they won both, with the second game, a 3-2 win against Brazil thanks to a Paolo Rossi hat-trick widely acknowledged as one of the greatest World Cup games ever.
Rossi scored two more goals as Italy defeated Poland in the semi-final and again in the final as Italy beat West Germany in the Final 3-1.
1992 Home Shirt
You can also get a 1992-93 home shirt (above right). This retro football shirt was worn during qualification for the USA 94 World Cup.
After drawing their first two matches against Switzerland and Scotland they then won seven of their next eight games, losing only to Switzerland to top their qualifying group, finishing a point above Switzerland and two above Portugal.
They played their part in World Cup history at the final themselves as all four teams in Group E – Italy, Mexico, Republic of Ireland and Norway finished on four points!
Italy progressed from the group as one of the best third-placed teams and then made it all the way to the Final, where for the first time ever a World Cup Final was decided on penalties – Brazil winning 3-2 after the divine ponytail himself, Roberto Baggio, missed the all-important spot kick.
>>> View the Classic Football Shirts selection of retro Italy shirts for sale <<<
**GET 10% OFF WHEN ORDERING FROM CLASSIC FOOTBALL SHIRTS THROUGH MY LINK**
Click on my link above and add something to your basket. Hover over the footballs hanging in the top right corner and click on 'Basket' from the subsequent menu that pops up.
Enter CFSPJ10 in the 'Discount Codes' box and receive 10% off of your order!
Buy From: Vintage Football Shirts
About Vintage Football Shirts
Vintage Football Shirts also offer original shirts rather than reproductions with each shirt marked for its condition – from BNIB (brand new in bag) to Excellent (may have tiny defect, may not be noticeable).
1986 Home Shirt
You can get the classic 1986-90 home shirt (above left), worn when Italy hosted the World Cup in 1990 and made it to the semi-final where they were knocked out on penalties by Argentina. This was after they kept clean sheets in their first five matches.
The star of the World Cup for Italy was Salvatore 'Toto' Schillaci, who won the Golden Boot after scoring six goals during the tournament. He made his Italy debut just two months before the tournament but remarkably scored only one other international goal for Italy outside of this World Cup!
1996 Away Shirt
You can also get the vintage 1996-97 away shirt (above right), worn during a disappointing campaign at Euro 96 in England.
Italy finished third in their group behind Germany and the Czech Republic, although they can take some comfort from the fact these two teams made the final where Germany won 3-2 thanks to an Oliver Bierhoff golden goal – the first time the final had been won by a golden goal.
>>> View the Vintage Football Shirts selection of retro Italy shirts for sale <<<
---
CLASSIC ITALY MOMENT
If I had ever scored in a World Cup Final – then this is how I would celebrate!

---
Buy from: Amazon
Amazon have a handful of retro Italy memorabilia, including some generic Italy national shirts. They aren't specific to any period, but are pretty nice and quite cheap!
>>> View the selection of retro Italy shirts for sale on Amazon <<<
Buy from: TOFFS
About TOFFS
TOFFS (which stands for The Old Fashioned Football Shirt) specialise in handcrafted, vintage football shirts made to the highest quality in the North of England – with each shirt as close to the real thing as possible.
1978 Home Shirt
They have some lovely retro football shirts, one of my favourites being the 1978 home shirt (above left), worn during the World Cup held in Argentina.
The World Cup was surrounded in controversy as Argentina suffered a military coup just two years before the Finals and over 5,000 people went 'missing'. A number of teams considered pulling out, but eventually they all competed.
Italy were the only team to beat the eventual winners, hosts Argentina, when a Roberto Bettega goal gave them a 1-0 win in the group stages.
Italy eventually finished fourth in the tournament, which saw future legend Paolo Rossi make his mark on the international stage with his first goal for Italy.
1970 Home Shirt
You can also get a great 1970 home shirt (above right) worn as Italy reached their first World Cup Final since 1938.
They lost one of the most famous finals ever 4-1 to a Brazil team at the peak of their powers but the semi-final saw them beat Germany 4-3 in what many dubbed the game of the century.
Leading 1-0 through an 8th minute goal by Roberto Boninsegna, they were pegged back by a last minute equaliser from Karl-Heinz Schnellinger. The game really came to life in extra-time, Gerd Muller gave Germany a 2-1 lead in the 94th minute, before Italy equalised four minutes later, Luigi Riva then gave Italy the lead again the 104th minute before Muller popped up again in the 110th minute later to level the game up. Just a minute later Gianni Rivera put Italy 4-3 ahead, which is how the game finished.
>>> View the TOFFS selection of retro Italy shirts for sale <<<
---
So there you have it. If, like me, you are a lover of football and all things retro there are a huge selection of classic New York Cosmos shirts you can pick up to revel in the nostalgia of days gone by!
>>> See what other classic football shirts are available <<<
---
Save
Save
Save
Save