Want to buy some retro Huddersfield Town shirts? Read on…
TEAM INFO
Team: Huddersfield Town Football Club
Nickname: The Terriers
Team Colours: Blue and White
Year Founded: 1908
Stadium: John Smith's Stadium
Location: Huddersfield, England
---
BROWSE RETRO HUDDERSFIELD TOWN SHIRTS
If you want to relive the days of Glazzard, Wilson, Worthington, Mooy and Booth and buy a retro Huddersfield Town shirt there are plenty of options available to you:
---
STEVE SAYS…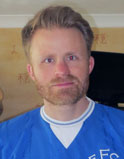 One of my first memories of Huddersfield would be them losing 10-1 to Manchester City when three different Manchester City players scored hat-tricks back in about 1987. For a long time they were barely on the radar, although I knew what they had achieved in the 1920s. It was their rise to prominence and surprise promotion from the Championship in the mid-2010s that put them back on the map. Steve
Favourite player: James Vaughan – I loved his never say die attitude.
Favourite kit: 2013 home shirt. Simple design, but great styling and colours. Available from Classic Football Kits (see below for link)
---

Buy From: Classic Football Shirts
About Classic Football Shirts
Classic Football Shirts set themselves apart from many other companies by the fact that their shirts are all original shirts from the dates listed, not reproductions trying to replicate a classic shirt. All shirts come with condition details – ie whether they are in Mint Condition, As New, etc, etc. The prices are slightly higher but you are really getting a piece of history.
1997 Away Shirt
Huddersfield Town have rarely had a season of contrasting halves like that of the 1997-98 season when this classic Huddersfield shirt was worn. In fact, the start of the season was the worst in the club's history, the club failing to register a victory in their first 14 games and sitting well and truly at the bottom of Division One.
After losing to Nottingham Forest on 3 October manager Brian Horton was sacked with the Terriers league record reading played 9, won 0, drawn 4, lost 5. His replacement was popular ex-player Peter Jackson. Jackson was given a good budget and brought in a series of experienced players as well as ex-Wales manager Terry Yorath as his assistant. Things got worse before they got better though, and in his first five games they lost four and drew the other, conceding 16 and only scoring 3.
Then on 1 November 1997 a win over Stoke sent them on a run of 16 games during which they only lost four. Eventually, they finished in 16th place and used a club-record 37 players during the season.
2013 Home Shirt
This vintage Huddersfield shirt was the first in the club's deal with new kit supplier Puma following the completion of their deal with Umbro. On-field the club finished in the middle echelons of the Championship, ending up 17th which was actually their lowest position of the season, but in reality they have been on a downward slide since the turn of the year. Starting with a 3-2 defeat to Burnley on 1 January 2014 Huddersfield lost 13 of their last 22 league games in contrast to eight of their first 14 games.
Huddersfield also broke their transfer record midway through the season to sign Nakhi Wells from Bradford City for £1.5million. Top goalscorer for the club was James Vaughan who had signed permanently following a successful loan the previous season when he had scored 14 goals in 33 games. Interestingly Huddersfield's away shirt this season had a different sponsor, Thornton & Ross, a pharmaceutical company based in Huddersfield.
>>> View the Classic Football Shirts selection of retro Huddersfield shirts for sale <<<
**GET 10% OFF WHEN ORDERING FROM CLASSIC FOOTBALL SHIRTS THROUGH MY LINK**
Click on my link above and add something to your basket. Hover over the footballs hanging in the top right corner and click on 'Basket' from the subsequent menu that pops up.
Enter CFSPJ10 in the 'Discount Codes' box and receive 10% off of your order!
Buy From: Vintage Football Shirts
About Vintage Football Shirts
Vintage Football Shirts also offer original shirts rather than reproductions with each shirt marked for its condition – from BNIB (brand new in bag) to Excellent (may have tiny defect, may not be noticeable).
1995 Away Shirt
This retro Huddersfield away shirt was worn during what can be considered a very successful season for the club. The previous season Huddersfield had been promoted from Division Two to be back in the second tier of English football for the first time in almost a decade. They went on to finish 8th at the end of the 1994-95 season and things could have been even better were it not for a dip in form in the last two months of the season and some poor away form.
At home, Huddersfield picked up 46 points, only one less than Champions Sunderland and four less than runners-up Derby but more than anyone else in the Division. Away from home they won just three of 23 games, collecting less points away from home than any other team in the league.
The real stumbling block though was losing nine of their last 14 games and falling away from 2nd place on 13 January 1996 to 8th by the end of the season. Top scorer was Andy Booth and he left for Sheffield Wednesday in a club-record £2.7million deal, after the season finished.
2015 Home Shirt
The 2015-16 season gave little hint of what was to follow the next season when Huddersfield gained promotion to the top flight of English football for the first time since 1972. In fact, for a while during the season it looked more likely Huddersfield could be exiting the Championship into League One.
The club were in the relegation zone in November following a run of results that had led to the departure of manager Chris Powell. David Wagner took up the reins and in doing so became the first coach to be born outside of the British Isles in Huddersfield's history. The Terriers actually lost his first three games in charge, before results improve sufficiently to see them move up from 22nd to 15th by February. In the end they finished in 19th, but a comfortable 11 points clear of relegation.
>>> View the Vintage Football Shirts selection of retro Huddersfield shirts for sale <<<
---
CLASSIC HUDDERSFIELD MOMENT
Unfortunately I couldn't find any footage of Huddersfield clinching their third successive Division One title in 1926, but this was the biggest recent moment in their history.
Buy from: Amazon
Amazon doesn't have many retro Huddersfield shirts, but they do have a lot of retro Huddersfield memorabilia that is well worth a look.
>>> View the selection of Huddersfield Town memorabilia for sale on Amazon <<<
Buy from: TOFFS
About TOFFS
TOFFS (which stands for The Old Fashioned Football Shirt) specialise in handcrafted, vintage football shirts made to the highest quality in the North of England – with each shirt as close to the real thing as possible.
1922 Cup Final Shirt
The 1920s saw a period of dominance from Huddersfield to rival any seen in the history of the English game. The architect of it all was Herbert Chapman who became Huddersfield's manager in 2021. In a period of seven seasons, from 1921 to 1928, they won Division One three times in succession, were runners-up twice, finished 3rd once and won the FA Cup and were runners-up once. In fact, Huddersfield would have won an unprecedented four successive league titles, but won just one of their last seven games in the 1926-27 season to give the title to Newcastle.
This vintage Huddersfield shirt was worn as the club defeated Preston North End 1-0 to win the FA Cup in April 1922. The Final was notable for two reasons, Preston keeper James Mitchell wore spectacles, the only time this has happened in an FA Cup Final and the game was decided by a penalty kick scored by William Smith. Controversy surrounded the penalty as newsreel footage confirmed the foul had occurred outside of the area.
1950s Home Shirt
For a brief period in the 1950s, Huddersfield looked like they might come close to replicating some of the success they had had in the 1920s, but it wasn't to be. This retro shirt was worn by Town legend Jimmy Glazzard who scored 142 league goals in 299 games for the club. Glazzard is tied with George Brown as the club's top league scorer, although Brown scored 5 more cup goals to take the honour overall.
Huddersfield's best season in this decade came in 1953-54, immediately after promotion from Division Two the previous season. The club finished 3rd in the league behind West Brom and Wolves and up until a run of three successive defeats in the last month of the season they were serious league title contenders. Unfortunately just two seasons, in 1956, later Huddersfield slipped back into Division Two and would remain there until 1970.
>>> View the TOFFS selection of retro Huddersfield Town shirts for sale <<<
---
So there you have it. If, like me, you are a lover of football and all things retro there are a huge selection of classic Huddersfield Town shirts you can pick up to revel in the nostalgia of days gone by!
>>> See what other classic football shirts are available <<<
---
Save
Save
Save
Save
Save
Save