Want to get a Southampton Retro Shirt? Read on…
Team Info
Team: Southampton Football Club
Nickname: The Saints
Team Colours: Red, White and Black
Year Founded: 1885
Stadium: St Mary's Stadium
Location: Southampton, England
---
Get A Retro Southampton Shirt
If you want to relive the days of Le Tissier, Paine, Channon, Benali, Wallace and Shearer and get a Southampton retro shirt, then see what your options are:
---
STEVE SAYS…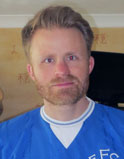 Who else doesn't automatically think about Matt Le Tissier when they think about Southampton? I could watch this guys goals over and over again, I don't think I've ever seen one player score so many great goals. They always had exciting attacking players – Le Tiss, Danny and Rod Wallace, Shearer, Beattie, but flirted with relegation from the top flight for so long as defensively they were always a bit dodgy. I am glad to see them back in top flight. Steve
Favourite player: Matt Le Tissier – the fact he was nicknamed 'Le God' by Saints fans says it all!
Favourite kit: 1985-86 home shirt. Such a great design and retro style. Available from Classic Football Shirts (see below for link)
---

Buy From: Classic Football Shirts
About Classic Football Shirts
Classic Football Shirts set themselves apart from many other companies by the fact that their shirts are all original shirts from the dates listed, not reproductions trying to replicate a classic shirt. All shirts come with condition details – ie whether they are in Mint Condition, As New, etc, etc. The prices are slightly higher but you are really getting a piece of history.
They have around a large selection of classic Southampton shirts from the 80s to the present day.
1980 Home Shirt
Among them are the 1980-83 home shirt (above left), which has a lovely vintage design and was sported by 1978 and 1979 Ballon D'Or Winner Kevin Keegan who joined the club in 1980.
Despite only spending two seasons at the club Keegan made his mark scoring 30 goals in his second season – the 81-82 season. In fact, during this season Southampton led the First Division from 30 January 1982 until 3 April 1982 – disappointingly the club won just two of their last nine games and finished seventh with Liverpool winning the League. The club had the very small consolation of having the Players' Player of the Year, Kevin Keegan and the PFA Young Player of the Year, Steve Moran. Keegan also finished as the Division's top scorer.
In the 1982-83 season the Saints again had a serious tail off of form being in the top five at the start of April, but being in 12th place the following month at the end of the season, although they were just a point behind 9th place Ipswich.
1985 Home Shirt
You can also pick up a 1985-86 home shirt (above right).
This lovely retro football shirt was worn during the Saints centenary season when they finished mid-table in the First Divison and reached the FA Cup Semi-Finals where they lost 1-0 to Everton.
The season was a disappointment though as in their two preceding seasons Southampton had finished fifth and second, in fact in three out of the four previous seasons they had competed in European competitions.
>>> View the Classic Football Shirts selection of retro Southampton shirts for sale <<<
**GET 10% OFF WHEN ORDERING FROM CLASSIC FOOTBALL SHIRTS THROUGH MY LINK**
Click on my link above and add something to your basket. Hover over the footballs hanging in the top right corner and click on 'Basket' from the subsequent menu that pops up.
Enter CFSPJ10 in the 'Discount Codes' box and receive 10% off of your order!
---
Buy From: Vintage Football Shirts
About Vintage Football Shirts
Vintage Football Shirts also offer original shirts rather than reproductions with each shirt marked for its condition – from BNIB (brand new in bag) to Excellent (may have tiny defect, may not be noticeable).
They have around 40 Southampton shirts ranging from the 80s to the present day.
1989 Away Shirt
They include a classic 1989-91 away shirt (above right) worn by Soton legends Matt Le Tissier, Jason Dodd and Alan Shearer.
The Saints finished 7th and 14th and had much to thank Le Tissier for as he scored 24 and then 23 league goals and was named PFA Young Player of the Year in the 89-90 season.
Le Tissier of course is generally acknowledged as Southampton's greatest ever player and scored 161 league goals from midfield in what was a struggling team for much of his time at the club.
1993 Away Shirt
Or you can get the vintage 1993-95 away shirt (above left) – this retro football shirt was the first worn by Southampton as they faced up to life without Alan Shearer after he was sold to Blackburn Rovers for a record fee of £3.6million.
They struggled and finished 18th and just one point above relegation despite Le Tissier having another great scoring season and getting 25 goals.
The following season was an improvement as they finished tenth, again this owed much to Le Tissier as he netted 29 times and became the first-ever Southampton player to win their Player of the Season award three times.
>>> View the Vintage Football Shirts selection of retro Southampton shirts for sale <<<
---
CLASSIC SOUTHAMPTON MOMENT
Not a moment, but a collection of moments from a Southampton legend and one of the most gifted British footballers ever.
---
Buy from: Amazon
Amazon has a small selection of retro Southampton shirts and memorabilia including a 1940s to 1950s home shirt.
For a couple of seasons during this period Southampton were forced to play their home games at local rivals Portsmouth's Fratton Park after a bomb landed on the Dell pitch during World War Two in 1940.
Aside from this, the period was of little note for the Saints as they struggled in Division Two before being relegated to Division Three in 1953.
>>> View the selection of retro Southampton shirts for sale on Amazon <<<
Buy from: TOFFS
About TOFFS
TOFFS (which stands for The Old Fashioned Football Shirt) specialise in handcrafted, vintage football shirts made to the highest quality in the North of England – with each shirt as close to the real thing as possible.
1960s Home Shirt
You can pick up some top-notch retro Southampton shirts here including a beautiful replica of a 1960s home shirt (above right).
The 60s were a decade of progression for the South-Coast team who were promoted to the Second Division in 1960 after almost a decade in the third tier of English football. They spent six seasons in the second tier before gaining promotion back to the top flight in 1966.
Prominent through the entire decade was Terry Paine – a Southampton legend who played 816 games for the club – a record and in fact 200 more than Mick Channon who is second on the list with 607 appearances!
1975 Away Shirt
You can also get a fantastic 1975-78 away shirt (above left) which was worn when Southampton won the FA Cup as a Second Division team in 1976, beating the much-fancied Manchester United in the Final 1-0 thanks to a goal from Bobby Stokes.
In the last of these seasons, they gained promotion back to the First Division and Southampton would remain in the top tier of English football for the next 27 years.
At the center of the Southampton team during this period was Mick Channon, who made his debut for the club in 1966. He went on to make 607 appearances for the club, scoring 228 goals in two separate spells. This makes him Southampton's record goalscorer, just ahead of Matt Le Tissier and second in their appearances list, a long way behind Terry Paine who played 816 games for the club.
>>> View the TOFFS selection of retro Southampton shirts for sale <<<
---
So there you have it. If, like me, you are a lover of football and all things retro there are a huge selection of classic Southampton shirts you can pick up to revel in the nostalgia of days gone by!
>>> See what other classic football shirts are available <<<
---
Save
Save
Save
Save
Save