Want to buy a retro Blackburn shirt? Read on…
Team Info
Team: Blackburn Rovers
Nickname: Rovers
Team Colours: Blue and White
Year Founded: 1875
Stadium: Ewood Park
Location: Blackburn, England
---
Check Out Some Retro Blackburn Shirts
If you want to relive the days of Fazackerley, Garner, Douglas, Shearer and Dunn then take a look at the number of retro Blackburn shirts you can own:
---
STEVE SAYS…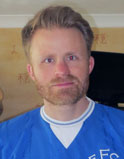 Blackburn were the first super club, in terms of spending, in my memory. At the time the fees they were forking out were astronomical but it won them the league. Since then they have yo-yo'ed between the top two divisions, but my everlasting memory will be of the team containing Shearer, Sutton, Hendry, Sherwood, et al. Steve.
Favourite player: Alan Shearer – one of the greatest centre-forwards of my era.
Favourite kit: 1995 Home Shirt – elegant and simple shirt. Great team. Available from Classic Football Shirts (see below for link)

Buy From: Classic Football Shirts
About Classic Football Shirts
Classic Football Shirts set themselves apart from many other companies by the fact that their shirts are all original shirts from the dates listed, not reproductions trying to replicate a classic shirt. All shirts come with condition details – ie whether they are in Mint Condition, As New, etc, etc. The prices are slightly higher but you are really getting a piece of history.
1995 Home Shirt
This classic Blackburn shirt was worn in the wake of the greatest season in Blackburn Rover's modern-day history. The 1994-95 season saw Blackburn win the Premier League by a one-point margin over Manchester United. Rovers had led the league for most of the season but suddenly faltered with the finishing line in sight. They lost three of their last five games, including a last-day defeat to Liverpool, meaning if Manchester United beat West Ham they would take the title. However, the game finished in a 1-1 draw to give Blackburn their first title since 1914.
The 1995-96 season, when they donned this classic blue and white kit, was a real disappointment in comparison. In fact, for the first half of the season, it looked like being a disaster, not just a disappointment. When Blackburn lost 5-0 to Coventry on 9 December 1995, they had lost eight of their first 17 games, more than in the entirety of the previous season, and relegation looked like more of a possibility than the title. They did pick up sufficiently to finish 7th, but performed poorly in the FA Cup, League Cup and Champions League. To compound matters, Alan Shearer, who scored 31 of their 61 league goals (the next top scorer was Graham Fenton on 6) was sold to Newcastle at the end of the season for a British transfer record of £15million before the start of the following season.
2005 Home Shirt
The 2005 shirt was another retro Blackburn shirt that signified an upturn in form for the Lancashire club. After finishing 15th and struggling against relegation the two previous seasons, Mark Hughes took Blackburn to 6th in his first full season in club management. In fact, such was Blackburn's end-of-season form they came extremely close to a top-four spot and Champions League football for the first time since 1995.
Rovers again started the season slowly and were in 12th place going into the new year, but then a series of good results propelled them up the table to finish two points behind Tottenham in 5th and four behind Arsenal in 4th. A large part of this was down to new signing Craig Bellamy who scored 13 league goals in 22 starts and Norwegian midfield Morten Gamst Pedersen who rattled in nine from midfield. At the end of his sole season at Ewood Park Bellamy moved to Liverpool for £6million.
>>> View the Classic Football Shirts selection of retro Blackburn shirts for sale <<<
**GET 10% OFF WHEN ORDERING FROM CLASSIC FOOTBALL SHIRTS THROUGH MY LINK**
Click on my link above and add something to your basket. Hover over the footballs hanging in the top right corner and click on 'Basket' from the subsequent menu that pops up.
Enter CFSPJ10 in the 'Discount Codes' box and receive 10% off of your order!
Buy From: Vintage Football Shirts
About Vintage Football Shirts
Vintage Football Shirts also offer original shirts rather than reproductions with each shirt marked for its condition – from BNIB (brand new in bag) to Excellent (may have tiny defect, may not be noticeable).
1992 Away Shirt
This classic Blackburn shirt was the shirt worn as they competed in the inaugural Premier League season after winning promotion via the play-offs the previous season. The foundation of this was the backing given by lifelong supporter and local steelworks owner Jack Walker who took over the club in 1990.
In the first season following his takeover Blackburn finished 19th in the Second Division, but Walker then appointed Kenny Dalglish as manager and made millions available to him to strengthen the squad. It resulted in Rovers finishing sixth in the Second Division in 1991-92 and winning the play-off final against Leicester.
Rovers' first season back in the top-flight in 26 years was an excellent one, buoyed initially by Alan Shearer who they signed from Southampton for a British record fee of £3.3million. He scored 16 goals in 21 league games before snapping his cruciate ligament. Blackburn still finished 4th, only three points behind 2nd placed Aston Villa and their 68 goals was the most in the division that season.
1998 Away Shirt
After seven seasons in the Premier League, this vintage Blackburn shirt was the one worn the season the club suffered relegation back to Division One.
The previous season Blackburn had finished 6th with new manager Roy Hodgson guiding them to UEFA Cup football and hopes were high for the 1998-99 season. However, they made a dreadful start to the season and in December a 2-0 defeat at home to bottom team Southampton dumped them into the relegation zone. Brian Kidd came in as manager, but couldn't halt the slide and Blackburn finished 19th and were relegated.
They started the next season poorly too, and Brian Kidd was sacked in October with them just above the Division One relegation zone.
>>> View the Vintage Football Shirts selection of retro Blackburn shirts for sale <<<
---
CLASSIC BLACKBURN MOMENT
Blackburn Rovers win the Premier League on a dramatic last day of the season in 1995.
---
Buy from: Amazon
Amazon doesn't have any retro Blackburn shirts, but they do have a lot of retro Blackburn memorabilia that is well worth a look.
>>> View the selection of retro Blackburn shirts for sale on Amazon <<<
Buy from: TOFFS
TOFFS (which stands for The Old Fashioned Football Shirt) specialises in handcrafted, vintage football shirts made to the highest quality in the North of England – with each shirt as close to the real thing as possible.
1960 Home Shirt
This vintage Blackburn Rovers shirt was worn at the start of a decade that would see Rovers in the top flight of English football again after spending almost all of the 1950s in the Second Division. Blackburn got promoted back to Divison One in the 1957-58 season and they stayed there until 1966.
Blackburn went into the 1960-61 season buoyed by having reached their first FA Cup Final in 32 years in 1960. The Final was notable for a couple of reasons. Firstly, it was one of the warmest ever recorded and many spectators had to be treated for fainting, and secondly, just before half-time Rover's full-back (and future Wigan owner) Dave Whelan, broke his leg. With no substitutes at that time, the ten men of Blackburn fatigued in the heat and Wolves ran out 3-0 winners.
The 1960-61 season was largely a good one for Rovers. They finished 8th, their highest finish since 1934. Unfortunately, Blackburn were relegated in 1966 and didn't return to the top division until 1992.
>>> View the TOFFS selection of retro Blackburn shirts <<<
---
So there you have it. If, like me, you are a lover of football and all things retro there are a huge selection of classic Blackburn shirts you can pick up to revel in the nostalgia of days gone by!
>>> See what other classic football shirts are available <<<
---
Save
S