---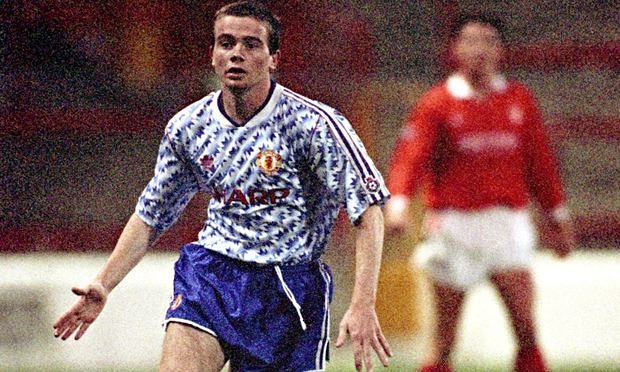 ---
All football fans have heard of the Class of 92, the prodigious products of the Manchester United youth system that all appeared on the scene in the early to mid 90s – David Beckham, Ryan Giggs, the Neville brothers, Nicky Butt and Paul Scholes.
But did you know that in the same youth team that produced Giggs there was a player, who played on the opposite wing, who was reckoned by most to be at least Giggs' equal if not better? Who actually broke in to the first team squad at the age of 16 before Giggs?
That player was Adrian Doherty and this is the sad story of Manchester United's great lost talent…
---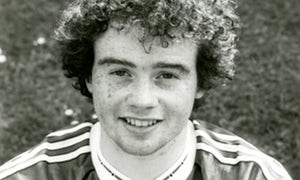 ---
From Strabane to Manchester
---
Doherty was born in the Northern Irish town of Strabane on 10 June 1973 – the middle of two brothers and with a younger sister. Despite the troubles plaguing Northern Ireland in the late 70s and early 80s the family had a happy childhood and it soon became obvious that in Adrian they had an exceptional footballer.
After progressing through the usual route of local and school teams he moved upto the Derry and District Under-14 team where he continued to shine. Doherty was signed up to play for Moorfield Boys' club based in Derry.
Moorfield was a serious club who would send teams to the Northern Ireland Milk Cup to compete alongside Liverpool and Manchester United. Their coach at the time was Matt Bradley, who had worked in football for decades, coaching in Northern Ireland and scouting for Celtic and various English clubs.
---
"He was incredible – off the cuff, no fear. He was, and I mean this, the nearest thing I have seen to another George Best".

Matt Bradley – Adrian Doherty's coach
---
Before long Doherty's talent was being recognised outside of the provinces – first he went for a trial to Nottingham Forest, then weeks later at Arsenal. Both were set to offer him a YTS contract when Manchester United fan Matt Bradley wrote to Alex Ferguson telling him he had at his club the most exciting player he had seen since George Best and that he was about to sign for Arsenal.
United sent their Northern Ireland scout Eddie Coulter to watch Doherty's next match. He watched for ten minutes and his mind was made up. Later that day Jimmy Doherty, Adrian's dad, got a call from Coulter – "We'll get him over to Manchester for the school holidays" Coulter said, "Do not sign for anyone else in the meantime. We want him at Manchester United".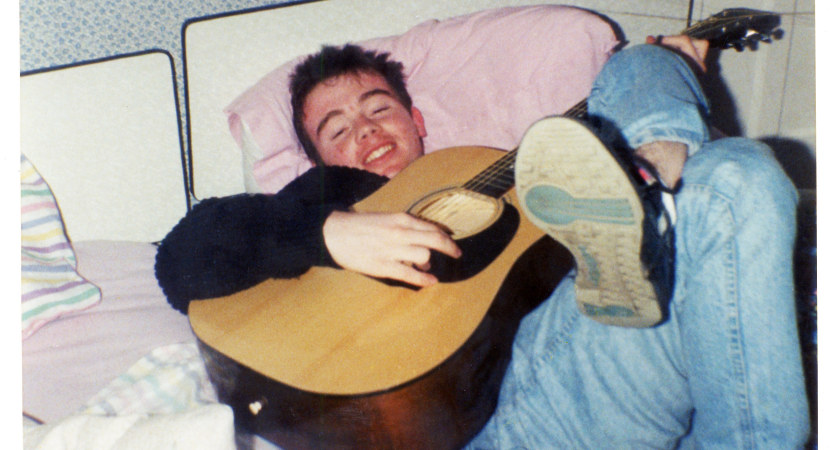 ---
Music, poetry and books
---
Doherty was far from your stereotypical footballer. He wasn't interested in the latest clothes or trying to sneak into a pub in the way most 16 years old would be, instead his contemporaries speak of someone who would turn up in torn jeans and a jumper with his boots in a carrier bag.
He loved to read and write poetry – he read about politics, theology, French existentialism – in 1990 when he was doing his apprenticeship at Old Trafford he started writing his own book – The Adventures of Humphrey and Bodegard – a surrealist tale of two drifters.
Where Doherty's real love fell though was music – an avid Bob Dylan fan, when he moved to Manchester he bought himself a guitar to while away his time. When his fellow apprentices would head out on the town Doherty would stay in and practise his guitar playing and songwriting.
In fact on a Saturday morning the apprentices, after finishing their morning duties, who all be given tickets to watch the first team play when they were at Old Trafford. Whilst all the others would snap them up and make their way to the ground Doherty would frequently give his away and then take his guitar into the City Centre and go busking.

Above: Adrian Doherty performing his beloved Bob Dylan
---
First Team call up at 16
---
Despite a rocky start when Doherty suffered from homesickness he soon settled in the United Youth team and began making a name for himself. With Doherty on one wing and a certain Ryan Wilson (who would later become Ryan Giggs) on the other the team were almost unbeatable and Doherty began to make an impression on those around him:
"I've never seen anything like him before. Once he was out on the pitch, he was incredible. He was the quickest I had ever seen and he was so brave as well. He was an incredible talent. Incredible"

Ryan Giggs
In March 1990, at the age of sixteen years and 287 days Doherty was called up to travel with the First Team Squad for a game against Southampton. Neil Webb and Danny Wallace were taking fitness tests on the eve of the game and should either of them fail Doherty would be on the bench.
As it was both were fit and in the days of just two substitutes Doherty didn't make the bench, but it was obvious it was only a matter of time before he would make his first team bow. The team won and Doherty received a £200 win bonus for being part of the squad – and what did he use it to buy? A new typewriter!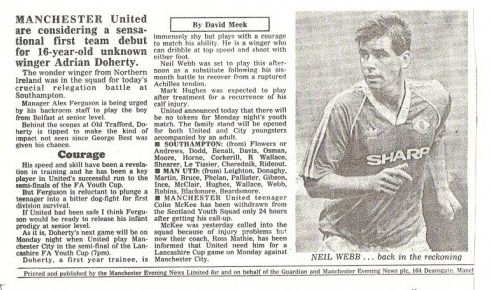 ---
A lucrative five year deal at 17
---
Perhaps the maverick nature of Doherty is best illustrated when at the end of the 1989/90 season just before his 17th birthday he was called into the office of Alex Ferguson to discuss his future.
Ferguson told Doherty how he was hugely excited by his progress and prospects and how, even though his YTS contract had another year to run, they wanted to tear it up and give him a five year professional contract worth £200 a week and a five-figure signing on fee payable at the end of every season, plus separate lump sun bonuses based on appearances for his club and country.
It was at the time the longest and most lucrative contract Manchester United had offered a player before his 17th birthday.
Doherty thought about it for a moment and then told Ferguson, "I don't think I want to sign for five years". He wanted to sign for one or two years he said. Ferguson was taken aback and told Doherty there were a number of 18 year old apprentices who would be grateful for a one year professional deal and here was a 16 year old turning down a five year deal!
In the end they came to a compromise and Doherty signed for three years.
---
The debut
---
After being called up to the first team at such a young age Doherty had to bide his time, with his next call up coming over a year later on 19 January 1991 – Doherty was by now 17 and a half. He was undoubtedly on the verge of his debut as Alex Ferguson admitted himself.
The big day happened on 2 March 1991, an injury ravaged United team were trailing 2-0 to Everton when the younger prodigy got his bow as a substitute. The thing was, it was a 17 year old Ryan Giggs that we are talking about not Doherty.
A week earlier, on 23 February 1991, Doherty had taken to the field for the Manchester United A Team against Carlisle United reserves. Midway through the game he went in for a 50-50 challenge and his knee went. Doherty didn't know it then, but at the same time as his knee went his chance of playing for the United First Team would also go, permanently.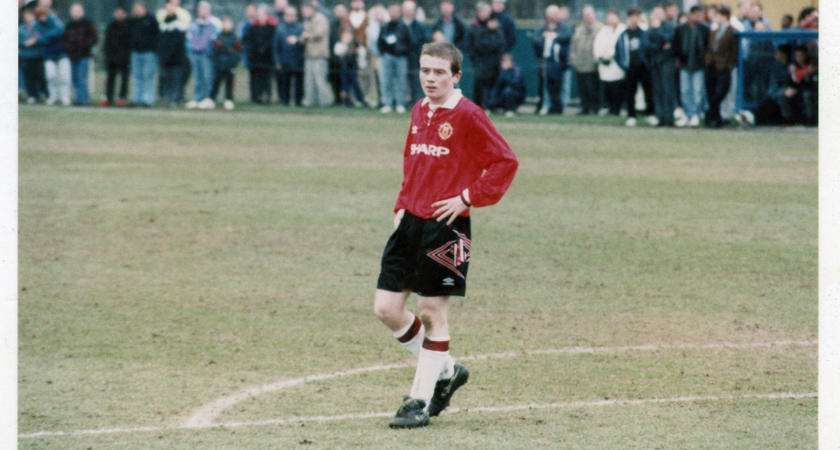 ---
Broken dreams
---
In a glowing letter to the Doherty family Alex Ferguson confirms that Adrian would have made his first team debut if he had not suffered the injury:
"On the pitch he was a fast and skilful player who was excellent with both feet. Adrian was a complete natural with a football. It came easily to him. Sadly just before Adrian was to make his debut, whilst playing in an A-team fixture, his knee gave way and he sustained a serious injury."
The knee injury was initially thought to be nothing too serious, but it soon became apparent it was more than just ligament damage as was the first diagnosis. Despite this there was no operation – just physiotherapy and work done to strengthen the muscles.
On 7 December 1991 Doherty attempted a comeback for United's B team against Marine Youth. His knee gave way completely – after months of tortuous rehab he had last mere minutes on the pitch.
He had surgery to repair the damaged cruciate ligament – the injury every footballer fears – on 17 February 1992. But it was to prove a futile attempt at salvaging a career that hadn't even started.
It took until January 1993 for Doherty, known as Doc, to make his comeback – a B-Team match against Blackburn Rovers, he played a handful of A-Team and B-Team games, but the injuries had taken their toll. Doherty could not even straighten his leg completely.
On 13 April Doherty started a reserve team game against Stoke – he even set up two goals in a 3-3 draw, but it was not enough to earn him an extension on his three year contract at United that expired that summer.
---
Tragedy
---
After being released by United Doherty lived a nomadic lifestyle. He worked in a chocolate factory in Preston, made three appearances for Derry City back in Ireland and then gave up football for good.
He drifted to Galway and worked in a hotel there, all the time keeping up with his guitar playing and songwriting – he was a free spirit, with no interest in material posessions, but immensely comfortable in his own skin.
Then in April 2000 he made the fateful decision to move to the Hague in Holland where he started work for a furniture company.
One morning, on his way into work, he slipped into a canal. He was in a coma for a month and died on 9 June 2000 – the day before his 27th birthday.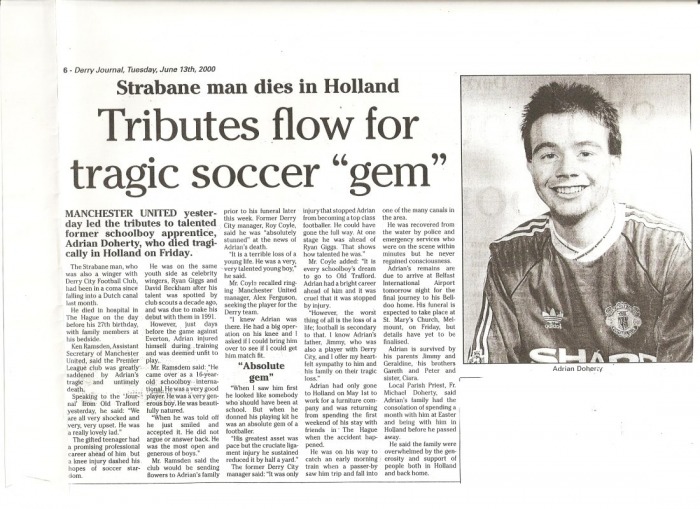 ---
'He had everything'
---
United ran a tribute in the Inside United magazine in 2007 in which Ryan Giggs, described him as "formidable". Tony Parks, an avid follower of the United Youth Team, who has watched them at that level since the late 70s, says in all that time he has only ever seen four absolute certainties to make it at the top level – Norman Whiteside, Paul Scholes, Ryan Giggs and Adrian Doherty.
"Imagine a bit of Giggs, a bit of Andrei Kanchelskis and a bit of Cristiano Ronaldo, then put it all together; Doherty had everything"

Tony Parks, follower of Manchester United Youth Team since the 70s.
The final word probably should go to the much maligned former United goalkeeper Jim Leighton. Brendan Rodgers, who had been a schoolboy footballer in the same Northern Irish team as Doherty, recalls Leighton being sent on loan to Reading when Rodgers was playing for them.
Rodgers was chatting to him about some youth players he knew at United – he gave Leighton a few names and asked if he knew of them – the answer was the same, he'd heard of them or knew them vaguely.
Then Rodgers mentioned he had been friends with Adrian Doherty in Northern Ireland – did Leighton know him?
Leighton's eyes lit up – "The Doc?" he said, "The Doc is a legend."
---
Find out more about Adrian Doherty
---
Save
Save
Save
Save
Save
Save