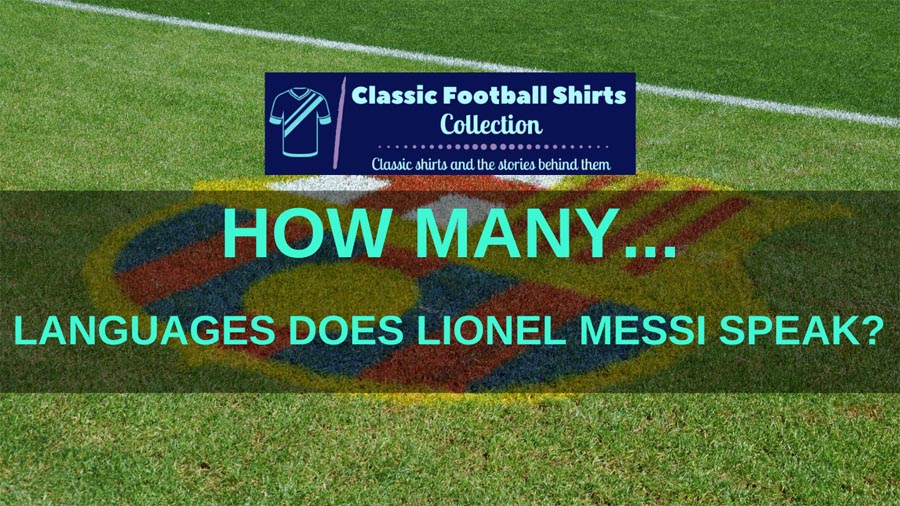 Lionel Andres Messi is widely acknowledged as one of the greatest, if not the greatest, footballers of all time.
Born and raised in Argentina, he moved to Spain at the age of 13 in 2001, where he spent the next 20 years of his life before joining Paris St Germain in 2021.
With such a high profile there are plenty of questions not definitively answered about the little magician, including "how many languages does Lionel Messi speak?".
We take a look at his linguistic abilities in this article.
How Many Languages Does Lionel Messi Speak?
Spanish is the only language Lionel Messi speaks fluently. He himself has said he also understands Catalan, but has only ever once spoke it publicly, very briefly in drunken celebrations for the La Liga title in 2009! In 2021 he said he had been learning English for 18 months, but that he understood it rather than spoke it.

Does Lionel Messi Speak Spanish?
The one language we can say, without all doubt, that Lionel Messi speaks is Spanish.
Messi was born in Rosario, Argentina on 24 June 1987. Argentina doesn't actually have an official language, but essentially it is Spanish, spoken by almost all Argentinians.
The language is used in all public establishments, so Messi would have grown up speaking Spanish.
Then of course in February 2001 he moved to Barcelona, where again Spanish is the main language.
RELATED ===> Is Lionel Messi Religious?
So all of his adult life, up until his 2021 move to PSG, was spent in a Spanish-speaking country.
I am not an expert in Spanish but, I have read several people who speak Spanish say they find it hard to understand Messi.
This is mainly because he has retained his heavy Argentinian accent; there are five main dialectal variants of Spanish in Argentina that are quite distinct from that spoken in Spain.
So Messi's Spanish does sound different to that you might hear from someone born and bred in Spain, but obviously he is fluent in the language.
Does Lionel Messi Speak Catalan?
Ok so this is where things immediately get a little more unclear.
Barcelona is a city in the region of Catalonia, which has its own language, called Catalan.
According to a census in 2013 Catalan is understood by 95% of the population of Barcelona whilst around 72% of the population over the age of 2 can speak it, 79% can read it and 53% can write it.
As of the 2009 Catalan Education Act, it is also the main language at schools and colleges in Barcelona.
With Lionel Messi moving to Barcelona in February 2001, when he was 13, and having lived there until 2021, it would seem sensible to assume he does speak Catalan, except for one thing…
With one minor occurrence aside, Messi has never been recorded speaking Catalan.
That one occurrence was when Barca were celebrating the 2009 La Liga title with an open-top bus parade.
A drunk Messi grabbed the microphone (below) and shouted in Catalan: "Visca el Barça, visca Catalunya there aguante Argentina, la concha de su madre!", which means "Long Live Barca, Long live Catalonia, and Argentina!"
Also in an interview on Spanish TV (below) Messi himself says he can speak Catalan, but just prefers to speak Spanish.
In a newspaper interview in 2018, Messi was asked about his relationship with Barcelona and the area.
He talked about his two children (the interview was just before the birth of his third child Ciro), and how whilst they "have Argentine roots but all their routines are Catalan."
When asked if they speak Catalan at home he commented "Yes, the little one [Mateo], he says a lot of things. Thiago less. I understand it all. "
To add more confusion to the matter in 2019 Catalan journalist Marc Mosull was talking about the tensions in Catalonia and its impact on Spanish football when he said:
"Nobody expects Messi to say anything about independence or the right to decide. In fact, he doesn't speak Catalan."
RELATED ===> What Kind of Education Did Lionel Messi Have?
So Lionel Messi himself says he can speak Catalan, but prefers to speak Spanish.
But in light of the fact he has only once ever been recorded speaking it, and then just a couple of sentences, it might be more accurate to go with his quote when he was speaking about his children.
He understands Catalan, but doesn't speak it fluently.
Does Lionel Messi Speak English?
This one might be a bit more clear-cut. It definitely seems to be a case that Messi can understand English and even speak rudimentary sentences in basic English, but that is as far as it goes.
In fact Messi himself confirmed this as he was preparing with Spanish journalist Guillem Balague for an interview he was about to conduct with Messi.
As they were chatting before the interview (below) started in earnest the conversation went something like this (in Spanish):
Guillem Balogue: "You also wouldn't have had time to learn English".
Lionel Messi: "I've been learning English for a year and a half… when you're there in England you get to learn it through necessity".
Guillem Balogue: "So you understand it more than you speak it?"
Lionel Messi: "Yeah, exactly. I understand it but I don't speak it".
Around the same time Messi's former teammate at Barcelona, Sergino Dest, said he had heard Messi speaking broken English.
Interestingly the interview with Balogue was in 2021. It seems Messi's ability to understand and speak limited English might have improved in the past few years as, in 2015 at the Ballon d'Or ceremony, Ronaldo joked that he translated for both Messi and Neymar when they were on stage, saying:
"When we were up there on the stage neither Messi or Neymar speaks English, and I was their translator. I spoke with them later and told them not to forget to pay me later for the translation."
So I think it is safe to conclude he now understands English, and can speak a few words, but it would be a stretch to say he "speaks" the language.
Does Lionel Messi Speak French?
It seems like Lionel Messi doesn't speak French and has limited knowledge of the language at all.
French journalist Geoffroy Garétier did reveal Messi and his family were taking French lessons, but there is no evidence he speaks the language or understands it widely.
RELATED ===> Is Lionel Messi Left-Handed?
It used to be a requirement that all Paris Saint-Germain players speak French, but that requirement is no longer in place.
Maybe, if Messi stays at the Parc des Princes, he will learn how to understand and speak French, but for now it is safe to say he is limited on both capacities.
Does Lionel Messi Speak Any Other Languages?
No, 'La Pulga' as he is known, doesn't not speak any other languages.
Final Thoughts
For such a hugely talented player, Messi is very shy and introverted and much prefers to shun the spotlight than be in the centre of it as some players do.
As such, his determination to stay out of the limelight does make it difficult to say with certainty which languages he definitely speaks.
We do know he has never conducted an interview in anything else than his native Spanish, and both his English and French are very basic.
He most probably does understand a lot of Catalan, but again has never spoken it publicly (aside from one drunken moment!).
So we can safely conclude he speaks and understands Spanish well and understands Catalan and speaks it probably to a basic/intermediate level.
But who needs to speak multiple languages when your feet can talk like Messi!
---
Interested in Buying a Lionel Messi Shirt?
Check out the range of retro Barcelona shirts for sale. Or view all retro shirts you can choose from.
---