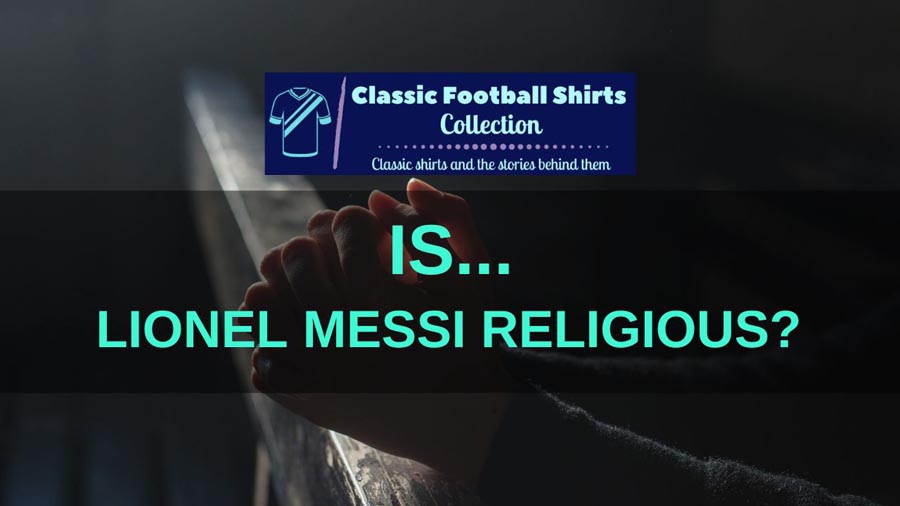 It is somewhat ironic that a question often asked about a man many people call God, is 'is Lionel Messi religious?'
For lots of people, Messi transcends football to an almost mythical level.
This, combined with Messi's introverted nature and lack of public comment on his spirituality, means the question has also been a source of conversation for some since he burst onto the scene in 2003.
Here we look at the issue of his religion and answer the question once and for all.
Is Lionel Messi Religious?
Yes, Lionel Messi is Catholic. He has a large tattoo of Jesus Christ on his right arm and stated in an interview just after his move to PSG that without the help of God he would "not have gotten anywhere". He also was born and raised in Argentina, a predominantly Roman Catholic country.

Recently we looked at why Lionel Messi isn't on Twitter.
The question was a little difficult to answer. Messi is notorious for keeping himself to himself and rarely doing interviews and we could only take an educated guess on that particular subject.
Now whilst Messi has rarely talked specifically about his religion, the question of whether Lionel Messi is religious is a bit easier to answer.
Even Messi's Wikipedia page states that he is a "devout Catholic".
Now, of course, anyone can edit a Wikipedia page, and whilst 'devout' might be pushing it, the Argentinian maestro is without doubt Catholic.
RELATED ===> What Kind of Education Did Lionel Messi Have?
He Celebrates His Goals By Looking Up and Pointing to the Sky
Admittedly this isn't totally to do with his Catholic faith, in fact it is something that is a tribute to his late grandmother, Celia.
Celia was Messi's biggest supporter and responsible for getting Messi his first ever competitive game of football.
The story goes that when Messi was four he would go with his grandma to the neighbourhood club Grandoli, where his brothers and cousin would play.
He wanted to play but was considered too young and too small.
His grandmother sensed his frustration and told young Messi "They need you. They have no idea how good you are. So we will show them."
At the next game, she convinced the coach to let Messi play.
When little Leo scored he could hear his grandmother cheering his name, and looked over at her and smiled and raising two fingers in the air, as if to say: 'that was for you, grandma'.
Celia died when Messi was 11, and ever since then he has celebrated every goal by looking up and pointing to the sky and then marking the sign of a cross.
His Tattoos Suggest He is a Catholic
Messi has a large tattoo of Jesus Christ on his upper right arm, and a tattoo of the Rose Window, a window located in the Sagrada Familia Church – a Roman Catholic church in Barcelona, on his right elbow.
He Had A Catholic Ceremony at His Wedding
Messi's wedding to his childhood sweetheart Antonella Roccuzzo in 2017 did cause some controversy.
The couple had intended to tie the knot at a purpose built chapel on the premises of the City Center Casino Complex, south of Rosario in Argentina.
The local archbishop denied the building of the chapel, but allowed them to keep the tradition of the Catholic church by having a priest facilitate the ceremony at the complex.
RELATED ===> How Many Languages Does Lionel Messi Speak?
He Said He Would Make a Pilgrimmage if Argentina Won the World Cup
In 2017, in an interview with an Argentine TV network, Messi said he would run 30 miles from his boyhood home in Rosario to the Sanctuary of Our Lady of the Rosary of San Nicolas if Argentina won the World Cup the following year.
As it was he never got the chance to do so.
Argentina lost in the last 16, defeated 4-3 by France in a thrilling game.
France went on to beat Croatia in the World Cup Final.
He Comes From a Predominantly Roman Catholic Country
Messi was born and raised in Argentina, which is a predominantly Roman Catholic Country.
Estimates put the figure of Roman Catholics in Argentina anywhere between 60% to 90% but, either way, it is the prevailing religion in the country and in South America.
This would suggest Messi too is a Roman Catholic, even if he is a non-practicing one.
He Said God Was Responsible for His Success
Perhaps the definitive comment on the matter came from Messi himself in a rare interview just after his move from Barcelona to Paris St. Germain.
"Obviously he (God) gave me that gift, I have no doubt about that. He chose me and, obviously, I then did everything possible to try to improve myself and achieve success," said Messi as he talked about his footballing talent.
"But obviously, without His help, I would not have gotten anywhere," he concluded.
Is Lionel Messi A Muslim Now?
A number of years ago a rumour began to circulate that Lionel Messi had converted to Islam.
"The best player in the world is a Muslim. For some time now, the rumour has been circulating on the networks that Lionel Messi had accepted Islam. We can now say that the information is 99% true."
RELATED ===> Is Lionel Messi Left-Handed?
The rumour was started by French digital outlet Webislam, and is most definitely false.
Webislam has previously claimed Leonardo da Vinci, Christopher Columbus and Michael Jackson have all converted to Islam.
The rumour came well before the interview mentioned above where Messi said God was responsible for his supreme talent.
Final Thoughts
With Messi being such a quiet person off of the pitch there will always be discussion around many aspects of his life.
But the huge tattoo of Jesus on his arm is probably proof enough alone that Lionel Messi is Catholic.
Comments in his recent interview on the Lord have backed this up.
Now how devout he is can justifiably be debated, and that is something probably only his closest friends and family will know.
But we can definitely say Lionel Messi is Catholic.
---