Want to get a retro Crystal Palace shirt? Read on…
Team Info
Team: Crystal Palace Football Club
Nickname: The Eagles
Team Colours: Blue and Red
Year Founded: 1905
Stadium: Selhurst Park
Location: London, England
---
Get Your Own Retro Crystal Palace Shirt
If you want to relive the days of Wright, Martyn, Sansom, Thomas, Hinshelwood or Salako and get your own retro Crystal Palace shirt there are plenty of options available to you:
---
STEVE SAYS…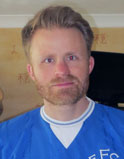 Palace have been pretty much a yoyo club in my lifetime bouncing between the top tier and second tier. However my fondest memory is the 1989-90 season when Liverpool thrashed Palace 9-0 at Anfield, but the Eagles got their revenge in one of the greatest FA Cup semi-finals ever beating Liverpool 4-3 at Villa Park. The FA Cup Final was equally scintillating, Palace drawing 3-3 with Manchester United before losing 1-0 in the replay. Steve
Favourite player: Ian Wright – you have to love the story of non-league footballer turned world class striker!
Favourite kit: The 1989 Home Shirt – I love this iconic shirt, with the striking red and blue stripes. Available from Classic Football Shirts (see below for link)

Buy From: Classic Football Shirts
About Classic Football Shirts
Classic Football Shirts set themselves apart from many other companies by the fact that their shirts are all original shirts from the dates listed, not reproductions trying to replicate a classic shirt. All shirts come with condition details – ie whether they are in Mint Condition, As New, etc, etc. The prices are slightly higher but you are really getting a piece of history.
1989 Home Shirt
They have a good range of classic Crystal Palace shirts. Amongst their selection you can get the 1989-90 home shirt, their first season back in the top flight after eight seasons in the second tier. Palace finished 15th in the league, a comfortable five points clear of the relegation zone and actually on the same amount of points as Alex Ferguson's Manchester United.
The season was most memorable for two games involving Champions elect Liverpool though. Early in the season they suffered a humiliating 9-0 defeat against them at Anfield, only to beat them 4-3 in one of the most memorable FA Cup Semi-Finals ever. They contended the Final against Manchester United in a similarly exhilarating game which ended 3-3 before United won the replay 1-0.
1998 Away Shirt
This vintage Crystal Palace shirt was worn when Palace were back in the second tier of English football following relegation from the Premier League. The season was to be another disappointing one as they finished 14th. Terry Venables started the season as Palace coach but stood down in January 1999 with Steve Coppell returning to the club.
Despite boasting many of the squad that had served Palace in the Premier League, including Attilio Lombardo, Clinton Morrison and Matt Jansen the club struggled with a final day 6-0 defeat against QPR summing up their season.
>>> View the Classic Football Shirts selection of retro Crystal Palace shirts for sale <<<
**GET 10% OFF WHEN ORDERING FROM CLASSIC FOOTBALL SHIRTS THROUGH MY LINK**
Click on my link above and add something to your basket. Hover over the footballs hanging in the top right corner and click on 'Basket' from the subsequent menu that pops up.
Enter CFSPJ10 in the 'Discount Codes' box and receive 10% off of your order!
Buy From: Vintage Football Shirts
Vintage Football Shirts also offer original shirts rather than reproductions with each shirt marked for its condition – from BNIB (brand new in bag) to Excellent (may have tiny defect, may not be noticeable).
1971 Home Shirt
They have a wide selection of retro Crystal Palace shirts over the recent years. They include this the highly collectable home shirt worn from 1971-72 as the Eagles scrapped against relegation from Division One. They finished 20th on 29 points and one place above the relegation zone.
This was a period of perennial fights against relegation, after getting promoted to the top tier of English football in 1969, they finished one place clear of relegation, three places clear of relegation and then one place clear of relegation again before eventually getting relegated in the 1972-73 season. They then suffered the ignominy of getting relegated from Division Two the following season.
2008 Away Shirt
This classic yellow away shirt marked Palace's fourth successive season in the second tier of English football. The previous season had seen them make the play-offs, but they could only manage 15th place in 2008-09.
The club used 44 players in the league that season and were docked one point for fielding Rui Fonte in a game against Sheffield United when his loan period had actually expired. The club loiter in the bottom half of the Championship until the 2012-13 season when they finished 5th and made it to the Premier League via the play-offs.
>>> View the Vintage Football Shirts selection of retro Crystal Palace shirts for sale <<<
---
CLASSIC CRYSTAL PALACE MOMENT
One of the most memorable FA Cup Semi-Finals ever…
---
Buy from: Amazon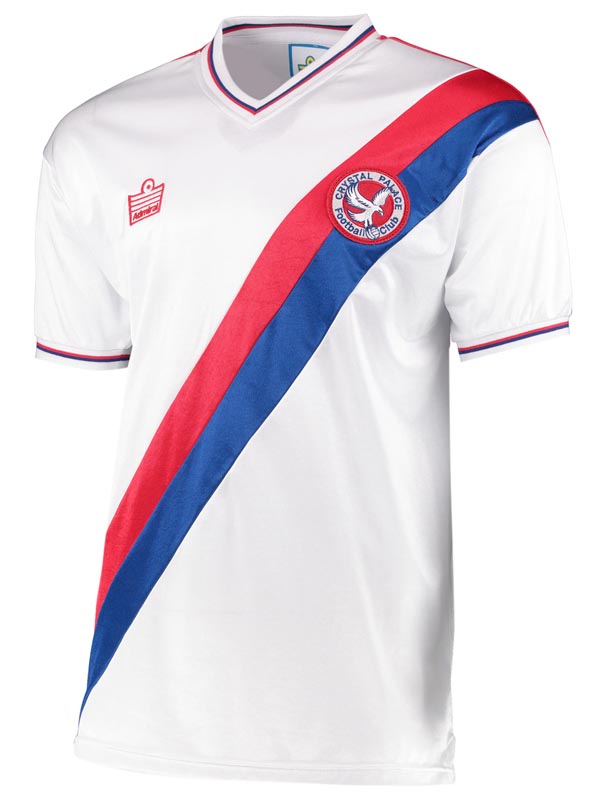 1978 Away Shirt
Amazon have a selection of Crystal Palace memorabilia including this classic 1978 away shirt, that many of the players who would become known as 'The Team of the Eighties' wore.
Lead by a young Terry Venables, Palace won Division Two finishing one point clear of Brighton and Hove Albion and Stoke City who occupied the other two promotion places and three points clear of Sunderland who finished 4th. Their young side was expected to challenge for honours at the very highest level and were, for a short time, top of the whole football league the following season.
>>> View the selection of retro Crystal Palace shirts for sale on Amazon <<<
Buy from: TOFFS
About TOFFS
TOFFS (which stands for The Old Fashioned Football Shirt) specialise in handcrafted, vintage football shirts made to the highest quality in the North of England – with each shirt as close to the real thing as possible.
1969 Home Shirt
You can pick up some great retro Crystal Palace shirts here including this replica of the 1969 Palace home shirt. Palace struggled in their first season in top-flight, but managed to finish 20th, one place and one point clear of relegation. As mentioned it was their first-ever season at the top level of English football having been in the bottom rung just a decade before.
1948 Home Shirt
This vintage Crystal Palace shirt still sports their original colours – the claret and blue of Aston Villa, adopted as a result of the role in the club's formation in 1905 played by Edmund Goodman, an Aston Villa employee who appointed the first manager and found the first chairman. Two seasons after their formation he became manager and remained in that position for 18 years.
Goodman himself was a promising player who got an injury playing for Aston Villa reserves that eventually lead to him having his leg amputated.
>>> View the TOFFS selection of retro Crystal Palace shirts for sale <<<
---
So there you have it. If, like me, you are a lover of football and all things retro there are a huge selection of classic Crystal Palace shirts you can pick up to revel in the nostalgia of days gone by!
>>> See what other classic football shirts are available <<<
---