Want to get a retro Germany shirt? Read on…
Team Info
Team: Germany National Football Team
Nickname: Nationalelf (national eleven) Die Mannschaft (The Team)
Team Colours: White and Black
Stadium: Varies – the team rotate stadiums
---
Get Your Own Retro Germany Shirt
Oh Germany, Germany – ultra-efficient and ultra-successful. Four World Cups, plus four runners-up, three European Championships and three runners-up, one of the most successful national teams in the world. If you want to get a retro Germany shirt see what the options are:
---
STEVE SAYS…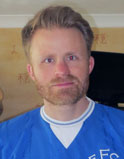 It is hard not to admire the German national team – a bad tournament for them means getting knocked out in the quarter-finals! For as long as I remember they have dominated international football, they rarely have the best player in the world, but nearly always the best team. They have also been responsible for the two most painful defeats for me as a football fan – Italia '90 and Euro '96. Steve
Favourite player: Miroslav Klose – Germany's record goalscorer and the record World Cup goalscorer
Favourite kit: The 1988-90 home shirt. This classic design reminds me of German dominance! Available from Classic Football Shirts and Vintage Football Shirts (see below for links)
Buy From: Classic Football Shirts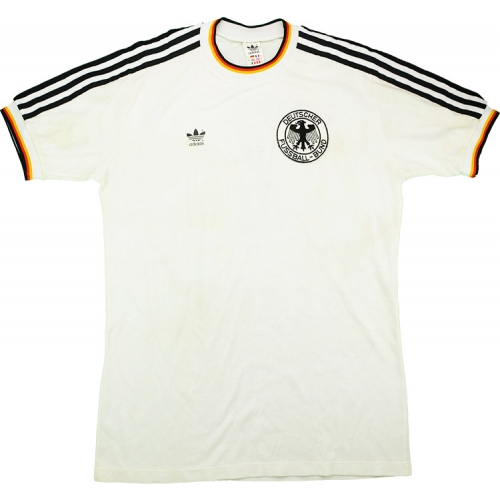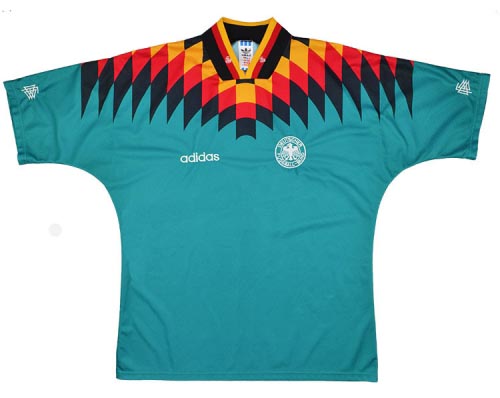 About Classic Football Shirts
Classic Football Shirts set themselves apart from many other companies by the fact that their shirts are all original shirts from the dates listed, not reproductions trying to replicate a classic shirt. All shirts come with condition details – ie whether they are in Mint Condition, As New, etc, etc. The prices are slightly higher but you are really getting a piece of history.
1987 Match Worn Home Shirt
They have over 300 classic Germany shirts and pieces of kit from the 70s to the present day. One of the most sought after shirts is a 1987 home match worn shirt (above left). This lovely retro footballs shirt was worn by Germany and FC Koln legend Pierre Littbarski when Germany played Denmark on 23 September 1987.
The Germans won 1-0 with a goal from him of the permed hair Rudi Voller and this exerted revenge on a talented Danish team that had beaten Germany 2-0 during the World Cup in 1986.
Littbarski was a huge favourite with the fans for his quick feet and dribbling abilities and his humorous attitude and played in three World Cups with Germany, winning one and finishing as a runner-up in two.
1994 Away Shirt
Or you can pick up the 1994-96 away shirt (above right) worn when Germany reached the Final of Euro 96 after beating England on penalties and also getting revenge on Bulgaria in the Group Stages (Bulgaria had knocked them out in the Quarter-Final stages of the 1994 World Cup).
They beat the Czech Republic in the Euro 96 Final thanks to the first golden goal in the history of the competition from Oliver Bierhoff. It was the first title reunified Germany had won.
>>> View the Classic Football Shirts selection of retro Germany shirts for sale <<<
**GET 10% OFF WHEN ORDERING FROM CLASSIC FOOTBALL SHIRTS THROUGH MY LINK**
Click on my link above and add something to your basket. Hover over the footballs hanging in the top right corner and click on 'Basket' from the subsequent menu that pops up.
Enter CFSPJ10 in the 'Discount Codes' box and receive 10% off of your order!
Buy From: Vintage Football Shirts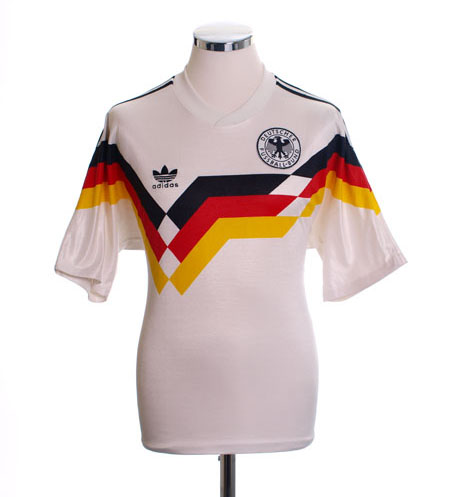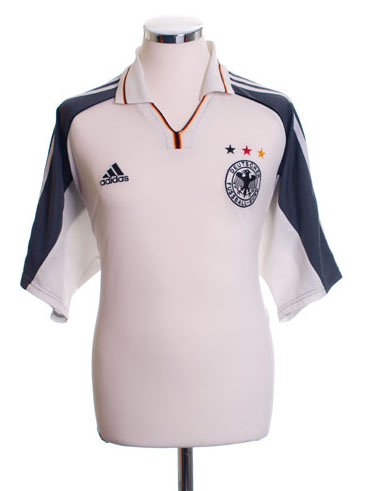 About Vintage Football Shirts
Vintage Football Shirts also offer original shirts rather than reproductions with each shirt marked for its condition – from BNIB (brand new in bag) to Excellent (may have tiny defect, may not be noticeable).
1988 Home Shirt
With almost 150 Germany shirts ranging from the 80s to the present day – they have a fantastic selection. This includes the 1988-1990 home shirt (above) – this iconic retro football shirt was worn during Italia 90 when Germany defeat England on penalties in the Semi-Final and then beat Maradona's Argentina in the final thanks to an Andreas Brehme penalty.
This was Germany's third successive World Cup Final – the first time that had been achieved and Franz Beckenbauer became the first man to win the World Cup as a player and a manager.
2000 Home Shirt
You can also pick up the 2000-02 home shirt, that was worn during a rare period of disappointment for the Germans as they finished bottom of their Euro 2000 Group, drawing to Romania, losing to England and then losing 3-0 to Portugal who fielded a team full of reserves having already got through the group.
Coach Erich Ribbeck resigned and was due to be replaced by Christoph Daum, but a drug scandal meant he lost the opportunity to become national team manager and instead ex striker Rudi Voller picked up the reins.
>>> View the Vintage Football Shirts selection of retro Germany shirts for sale <<<
---
CLASSIC GERMANY MOMENT
Germany have won four World Cup and three Euro Championships – but surely their great perfomance has to be this one?
---
Buy from: Amazon
Amazon have a selection of retro Germany t-shirts, but no real retro Germany national shirts.
>>> View the selection of retro Germany memorabilia for sale on Amazon <<<
---
So there you have it. If, like me, you are a lover of football and all things retro there are a huge selection of classic Germany shirts you can pick up to revel in the nostalgia of days gone by!
>>> See what other classic football shirts are available <<<
---
Save
Save
Save
Save
Save
Save