Want to get a vintage Newcastle shirt? Read on…
Team Info
Team: Newcastle United Football Club
Nickname: The Magpies
Team Colours: Black and White
Year Founded: 1892
Stadium: St James' Park
Location: Newcastle, England
Get Your Own Vintage Newcastle Shirt
Want to relive the days of Beardsley, Shearer, Gascoigne, Keegan, Ginola and Ferdinand and get a vintage Newcastle shirt? See the options available to you:
---
STEVE SAYS…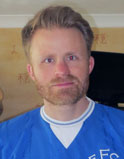 When I was at Uni the first person I met, who went on to become a great friend was a Geordie and a huge Newcastle fan. At this point (mid to late 90s) they were a lot of people's favourite team – who could not love a team who had had Shearer, Ferdinand, Cole and Asprilla up front at one time or another, that isn't to mention other flair players like Ginola, Beardsley and Albert. My abiding memory will be sat in the Uni bar watching Tino Asprilla score a hat-trick against Barcelona in the Champions League in a 3-2 win! Steve
Favourite player: Peter Beardsley – such a clever, talented and underrated player.
Favourite kit: 1984 home shirt. I love the mid 80s kits, especially this with the huge star! Available from Amazon (see below for link)
---

Buy From: Classic Football Shirts
About Classic Football Shirts
Classic Football Shirts set themselves apart from many other companies by the fact that their shirts are all original shirts from the dates listed, not reproductions trying to replicate a classic shirt. All shirts come with condition details – ie whether they are in Mint Condition, As New, etc, etc. The prices are slightly higher but you are really getting a piece of history.
They have around 500 classic Newcastle shirts and pieces of kit from the 70s to the present day.
1978 Home Shirt
These include the 1978-80 home shirt (above right) worn when the club were managed by Bill McGarry and finished mid-table in the old Second Division both seasons. These two seasons were McGarry's only in charge before he was sacked and replaced by Arthur Cox.
Cox was at Newcastle for four seasons and the club showed improvement year on year finishing 11th, 9th, 5th and then 3rd (to gain promotion) in the old Second Division. He also made some important signings bringing Kevin Keegan to the club, signing Peter Beardsley and convincing a 19-year-old Chris Waddle to give up his job in a sausage-making factory and sign fo the club from non-league Tow Law Town for £1,000.
1985 Away Shirt
You can also get the rare 1985-87 away shirt (above left). This retro football shirt was worn when Newcastle were back in the top flight and the mercurial talent of Paul Gascoigne was emerging.
Gascoigne made his debut at the age of 18 on 13 April 1985, at the end of a season that was Newcastle's first back in the First Division.
The future looked bright for Newcastle with Peter Beardsley, Chris Waddle and Gascoigne all gracing the first team. However Waddle left for Tottenham, Beardsley for Liverpool and then Gascoigne for Tottenham and Newcastle were relegated again in 1989.
>>> View the Classic Football Shirts selection of retro Newcastle shirts for sale <<<
**GET 10% OFF WHEN ORDERING FROM CLASSIC FOOTBALL SHIRTS THROUGH MY LINK**
Click on my link above and add something to your basket. Hover over the footballs hanging in the top right corner and click on 'Basket' from the subsequent menu that pops up.
Enter CFSPJ10 in the 'Discount Codes' box and receive 10% off of your order!
Buy From: Vintage Football Shirts
About Vintage Football Shirts
Vintage Football Shirts also offer original shirts rather than reproductions with each shirt marked for its condition – from BNIB (brand new in bag) to Excellent (may have tiny defect, may not be noticeable).
1988 Away Shirt
With over 100 Newcastle shirts ranging from the 80s to the present day there is a great selection to choose from. They include the 1988-90 away shirt (above right) worn during a period of struggle for the Tynesiders.
The departure of Gascoigne, Waddle and Beardsley, as mentioned above, had left some big holes to fill and whilst big money was spent acquiring players such as Dave Beasant, Andy Thorn and John Hendrie relegation ensued in 1989. Manager Willie McFaul was sacked and Jim Smith brought in. The Magpies missed out on promotion back to the top flight by one place in 1989-90 but did have the Division's top scorer Micky Quinn, who they signed for £680,000 at the start of the season and finished with 34 league goals, including four on his debut.
1995 Home Shirt
You can also get the classic 1995-97 home shirt (above left).
This retro football shirt has a vintage granddad style collar and will forever be associated with a Newcastle team who had a 12 point league at the top of the table in January 1996 with just 15 games remaining.
However, they lost 5 games in 8 matches and second place Manchester United kept winning, overtaking Newcastle in March and winning the League by four points. This was also the season of Keegan's now infamous "I'd love it" rant as the pressure mounted!
>>> View the Vintage Football Shirts selection of retro Newcastle shirts for sale <<<
---
CLASSIC NEWCASTLE MOMENT
Newcastle have been a little starved of top level success in recent years (well since 1927 actually) but this man came as close as anyone to bringing the good times back.
---
Buy from: Amazon
1976 Home Shirt
Amazon have a good selection of retro Newcastle shirts including the 1976 home shirt (above).
This shirt was worn during a mediocre First Division campaign when Newcastle finished 15th under new boss Gordon Lee, they also reached the League Cup Final where they lost to Manchester City.
The following season Newcastle had a storming start to the League and were actually in contention for the title when Lee walked out to take over at Everton.
After pressure from the players coach Richard Dinnis was given the managers job and the whilst the team fell away a little this still managed a 5th place finish.
1970 Home Shirt
You can also get a 1970 home shirt. Newcastle finished 12th in Division One this season under manager Joe Harvey.
After winning the Inter-Cities Fairs Cup (a pre-cursor to the UEFA Cup in 1969) the ensuing couple of seasons left Newcastle fans with little to get excited about until the summer of 1971 saw the arrival of Malcom 'SuperMac' MacDonald for £180,000 from Luton.
MacDonald would go on to cement himself as one of the greatest Newcaslte players of the era bagging 95 goals in 187 games before leaving to join Arsenal for the unusual sum of £333,333.34!
>>> View the selection of retro Newcastle shirts for sale on Amazon <<<
Buy From: Kitbag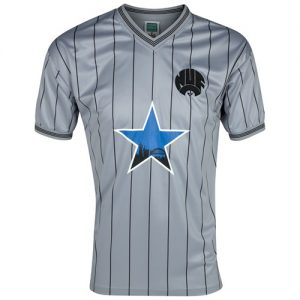 Kitbag have a small range of retro Newcastle shirts.
1984 Home Shirt
These include a 1984 home shirt (above) which was notable for three reasons – 1) Newcastle wore the shirt the season they finished third in the Second Division and got promoted back to the top flight, 2) It marked the final league appearance of Kevin Keegan, who retired after the final game of the season. Keegan notched 28 goals during the season, and 3) It was the shirt worn by Paul Gascoigne as he made his first ever appearances in professional football.
>>> View the selection of retro Newcastle shirts for sale on Kitbag <<<
Buy from: TOFFS
About TOFFS
TOFFS (which stands for The Old Fashioned Football Shirt) specialise in handcrafted, vintage football shirts made to the highest quality in the North of England – with each shirt as close to the real thing as possible.
1927 Home Shirt
You can pick up some top notch retro Newcastle shirts here including a 1927 home shirt (above right) – the season Newcastle last won the top flight, thanks mainly due to the goals of Hughie Gallacher.
Gallacher was Newcastles record signing when he joined from Airdrie in 1925 for £5,500. Gallacher inspired Newcastle to the title and was top scorer for each of the five seasons he was with the club. He left in 1930 having scored 133 goals in 160 games.
Gallacher's story has a tragic end, after the sudden death of his wife in 1950 he became depressed and lonely. In May 1957 he returned home after a night of drinking, he got in an argument with his 14-year-old son Mattie and threw an ashtray at his son which struck him drawing blood.
His son was taking into the care of his Aunt Dolly and Gallacher was taken to court on an assault charge. He was due in Gateshead Magistrates Court on 12 June 1957, the day before he stepped in front of an express train and was instantly killed. He was just 54-years-old.
1974 Away Shirt
You can also get a great 1974 away shirt as worn by the great Malcolm MacDonald (above left).
SuperMac inspired Newcastle to two Cup Finals in 1974 and 1976 and inbetween that he set an international record when he grabbed all five goals for England in an international against Cyprus in April 1975.
>>> View the TOFFS selection of retro Newcastle shirts for sale <<<
---
So there you have it. If, like me, you are a lover of football and all things retro there are a huge selection of classic Newcastle shirts you can pick up to revel in the nostalgia of days gone by!
>>> See what other classic football shirts are available <<<
---
Save
Save
Save
Save