Want to get a retro Scotland shirt? Read on…
Team Info
Team: Scotland National Football Team
Colours: Dark Blue and White
Stadium: Hampden Park
---
Get Your Own Retro Scotland Shirt
Ok so of late Scotland might not have the best record in qualifying for major championships but for a while in the 70s and 80s they were mainstays in World Cups and European Championships and of course they were 'unofficial world champions in 1967'. Check out the range of retro Scotland shirts here
---
STEVE SAYS…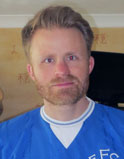 Scotland is really a story of gallant failure in my lifetime, however at least in the 80s and early 90s they qualified regularly for tournaments, even if they never progressed past the group stages. The games I remembered were either embarrassing defeats (1-0 to Costa Rica in Italia 90) or gallant defeats (usually against Brazil ie 1990 or 1998). Steve
Favourite player: Ally McCoist – scored lots of goals and bet he'd be fun on a night out
Favourite kit: The 1982 home shirt. I really love these early 80s kits. Available from Classic Football Shirts (see below for links)
---

Buy From: Classic Football Shirts
About Classic Football Shirts
Classic Football Shirts set themselves apart from many other companies by the fact that their shirts are all original shirts from the dates listed, not reproductions trying to replicate a classic shirt. All shirts come with condition details – ie whether they are in Mint Condition, As New, etc, etc. The prices are slightly higher but you are really getting a piece of history.
1982 World Cup Home Shirt
They have over 200 hundreds of Scotland shirts and pieces of kit. You can get the vintage 1982 World Cup home shirt (above left) with the FIFA World Cup Spain 82 embroidery below the national badge. This rare home shirt was worn when Scotland went out on goal difference in the group stages after facing Brazil, USSR and New Zealand.
Scotland faced a tough qualifying group to get through to the finals, being drawn against Northern Ireland, Sweden, Portugal and Israel, but Scotland actually went into the last game of the group unbeaten and having qualified. A 2-1 defeat to Portugal proved academic and they topped the group with Northern Ireland 2nd.
At the World Cup itself Scotland got off to the best possible start going 3-0 up against New Zealand inside the first 30 minutes and eventually winning 5-2. They even continued this form into their second group game against Brazil, opening the scoring with a wonderful goal from David Narey that wouldn't have been out of place coming from a Brazilian. However, Brazil soon struck back and won 4-1. This meant it all came down to the last group game between Scotland and USSR to see who would finish second. With the Russians ahead on goal difference, Scotland needed a win, but they couldn't manage it and finished third in the group after the game ended in an entertaining 2-2 draw.
1988 Away Shirt
Or you can get the unusual 1988-91 away shirt (above right) with navy and white hoops. This retro football shirt was worn at World Cup Italia 90 against Costa Rica, where Scotland suffered an embarrassing 1-0 defeat as Costa Rica competed in their first-ever World Cup.
Scotland immediately made amends in their next game beating Sweden 2-1 meaning they went into their last group game with a change of qualifying. The only problem was that game was against Brazil! Scotland put up a gutsy performance but a penalty by Muller ten minutes from time gave Brazil the win. On the same day Costa Rica beat Sweden and surprisingly finished second in the group.
>>> View the Vintage Football Shirts selection of retro Scotland shirts for sale <<<
**GET 10% OFF WHEN ORDERING FROM CLASSIC FOOTBALL SHIRTS THROUGH MY LINK**
Click on my link above and add something to your basket. Hover over the footballs hanging in the top right corner and click on 'Basket' from the subsequent menu that pops up.
Enter CFSPJ10 in the 'Discount Codes' box and receive 10% off of your order!
Buy From: Vintage Football Shirts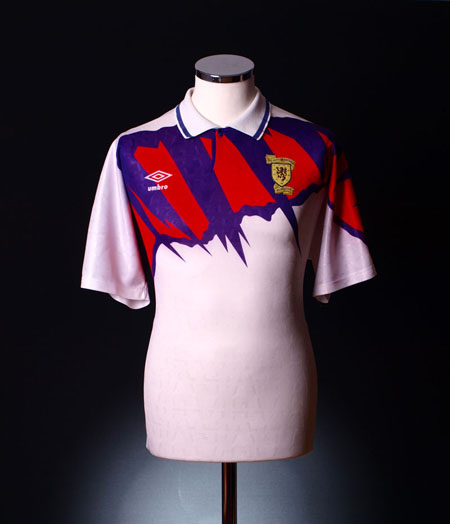 About Vintage Football Shirts
Vintage Football Shirts also offer original shirts rather than reproductions with each shirt marked for its condition – from BNIB (brand new in bag) to Excellent (may have tiny defect, may not be noticeable).
1991 Away Shirt
There are over 20 Scotland shirts. They include the 1991-93 away shirt (above) with its unusual design that was worn by the likes of Pat Nevin, Stuart McCall and Ally McCoist as Scotland qualified top of their group for the 1992 European Championships.
Scotland finished one point ahead of both Switzerland and Romania on 11 points to qualify for a European Championship for the first time, where they finished third in a tough group behind Holland and Germany. Unfortunately at the tournament Scotland couldn't progress from their group, losing to both the Netherlands and Germany before convincingly beating CIS in the final game of the group.
1998 Home Shirt
There is also the 1998-00 home shirt worn in the opening game of France 1998 against the former world champions Brazil which ended in a narrow 2-1 defeat.
This retro football shirt was worn in the last tournament the Scots have qualified for and again they went out in the group stages, losing to Brazil and Morocco and drawing against Norway. This was the eighth time they failed to advance beyond the group stages of the World Cup – a record. Scotland did leave the World Cup with one record, they had the oldest player in the tournament, goalkeeper Jim Leighton who was just a month shy of his 40th birthday.
>>> View the Vintage Football Shirts selection of retro Scotland shirts for sale <<<
---
CLASSIC SCOTLAND MOMENT
A stunning goal by Archie Gemmill in the 1978 World Cup against Holland as featured in the film Trainspotting!
---
Buy from: Amazon
1950s Home Shirt
Amazon has a more limited selection of retro Scotland shirts, but it does include a 1950s home shirt (above), worn during a rather disastrous 1954 World Cup Finals campaign which saw Scotland send only 13 players to the tournament, despite FIFA allowing 22-man squads.
Scotland lost 1-0 to Austria in their first game – manager Andy Beattie resigned and they then lost 7-0 to Uruguay!
1986 World Cup Home Shirt
You can also get a classic 1986 World Cup home shirt as Scotland qualified for their fourth World Cup in tragic circumstances.
Almost immediately after a 1-1 draw against Wales in their last qualification match ensured Scotland progressed to a two-legged play-off against Australia manager Jock Stein died of a heart attack.
His assistant Alex Ferguson presided over the tournament itself which saw Scotland again eliminated at the group stages.
>>> View the selection of retro Scotland shirts for sale on Amazon <<<
---
Buy from: TOFFS
About TOFFS
TOFFS (which stands for The Old Fashioned Football Shirt) specializes in handcrafted, vintage football shirts made to the highest quality in the North of England – with each shirt as close to the real thing as possible.
1900 Home Shirt
You can pick up some classic retro Scotland shirts here including a fantastic 1900 home shirt (above left) in distinctive primrose and pink hoops.
These were the colours of the racehorse owner Archibald Philip Primrose, the 5th Earl Rosebery. He was a patron of the game and Hon. President of the SFA and of Hearts FC. Scotland wore these colours on at least nine occasions between 1881 and 1951.
1967 Goalkeeper Shirt
Or you can get a 1967 goalkeeper shirt (above right) – worn by Scottish debutant Ronnie Simpson when Scotland took on the then World Champions England in April 1967. Scotland won 3-2 and proclaimed themselves the 'unofficial World Champions'. The game itself saw plenty of action in the last 12 minutes when all but one of the goals was scored.
Unfortunately for Simpson, this was not the start of an illustrious international career as he made only four more international appearances.
>>> View the TOFFS selection of retro Scotland shirts for sale <<<
---
So there you have it. If, like me, you are a lover of football and all things retro there are a huge selection of classic Scotland shirts you can pick up to revel in the nostalgia of days gone by!
>>> See what other classic football shirts are available <<<
---
Save
Save
Save
Save