Want to peruse retro Manchester United shirts? Read on…
Team Info
Team: Manchester United Football Club
Nickname: The Red Devils
Team Colours: Red and White
Year Founded: 1878
Stadium: Old Trafford
Location: Manchester, England
---
Get Your Own Retro Manchester United Shirt
If you want to relive the days of Charlton, Law, Best, Giggs, Scholes, Edwards and Cantona and get your own retro Manchester United shirt there are plenty of options available to you:
---
STEVE SAYS…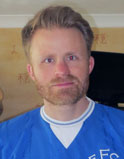 When i was growing up United hadn't won the League in 25 years when they eventually won it in 1993, that United team rolls off the tongue Schmeichel, Pallister, Bruce, Irwin, etc, etc etc. I knew whenever Everton played them we would get nothing – they were unbeatable. The 9-0 demolition of Ipswich sticks in my mind as of course does the incredible comeback in the 1999 Champions League Final. Steve
Favourite player: Ryan Giggs – possibly the great player in the history of the Premier League?
Favourite kit: The 1968 European Cup Final Shirt. The colour is unusual but the kit is classic. Available from TOFFs (see below for links)
---

Buy From: Classic Football Shirts
About Classic Football Shirts
Classic Football Shirts set themselves apart from many other companies by the fact that their shirts are all original shirts from the dates listed, not reproductions trying to replicate a classic shirt. All shirts come with condition details – ie whether they are in Mint Condition, As New, etc, etc. The prices are slightly higher but you are really getting a piece of history.
1980 Home Shirt
They have over a whole host of classic Manchester United shirts and pieces of kit from the 80s to the present day. These include an extremely rare 1980 to 82 home shirt (above left) with a great vintage design as worn by Lou Macari, Sammy McIlroy and Kevin Moran when Ron Atkinson took over as manager and the side finished eighth and then third in the league.
In the first season, 1980-81, manager Dave Sexton paid a club-record fee of over £1million to buy Garry Birtles from Nottingham Forest. The move turned out to be a disaster though with Birtles not scoring a league goal in 25 appearances.
Sexton was sacked and his replacement, Ron Atkinson immediately broke the British transfer record, buying England midfielder Bryan Robson from West Bromwich Albion for £1.5million and his influence played a big part in United's third-place finish.
1992 Third Shirt
Or there is the 1992-94 third shirt (above right), which is instantly recognisable for it its green and gold lace-neck and was based on a version worn 100 years earlier when Manchester United were known as Newton Heath. The period brought two successive titles, the emergence of Ryan Giggs and the arrivals of Eric Cantona and Roy Keane. In fact from 1992 to 2001, a period of nine seasons, they won seven league titles and finished as runners-up on the other seasons.
The 1992-93 season was the first-ever season of the Premier League and saw United's first top-tier title in 27 years. The club were tenth in November, but then they signed Eric Cantona from Leeds and within a month they were top of the league, sealing the title with seven successive wins at the end of the season.
>>> View the Classic Football Shirts selection of retro Manchester United shirts for sale <<<
**GET 10% OFF WHEN ORDERING FROM CLASSIC FOOTBALL SHIRTS THROUGH MY LINK**
Click on my link above and add something to your basket. Hover over the footballs hanging in the top right corner and click on 'Basket' from the subsequent menu that pops up.
Enter CFSPJ10 in the 'Discount Codes' box and receive 10% off of your order!
Buy From: Vintage Football Shirts
About Vintage Football Shirts
Vintage Football Shirts also offer original shirts rather than reproductions with each shirt marked for its condition – from BNIB (brand new in bag) to Excellent (may have tiny defect, may not be noticeable).
With over 500 Manchester United shirts ranging from the early 80s to the present day – their selection is huge.
1990 Away Shirt
Amongst the masses of options available is the 1990-92 away shirt (above right). This rather jazzy blue and white was worn as United's upturn under Sir Alex Ferguson really took shape with the club finishing sixth and then second as well as winning the 1992 League Cup.
They also won the European Cup Winners' Cup in 1991 – United's first trophy since winning the European Cup in 1968.
Players such as Denis Irwin, Peter Schmeichel, Paul Parker and Andrei Kanchelskis all arrived in these two years as United built the foundations of a team that would dominate English football for years to come.
1995 Away Shirt
You can also get one of the most famous, and most shortlived, United's shirts of recent years – the grey 1995-96 away shirt (above left).
United wore this retro football shirt when they took on Southampton at the Dell, however upon finding themselves 3-0 down at half-time, the players blamed their performance on not being able to pick each other out due to the grey kit. Sir Alex told them to change to their blue and white striped kit, which they did and signalled a slight improvement in the second half with Ryan Giggs grabbing a late consolation. This grey kit became truly invisible – it was never seen again…
This was the season when pundit Alan Hansen stated United "wouldn't win anything with kids" after an opening day 3-1 defeat to Aston Villa and when Kevin Keegan famously blew his top with his "I would love it" rant. The aforementioned defeat to Southampton was United's only blemish in their last eight leagues games, they won the other seven and became the first English team to do the double-double beating Liverpool in the FA Cup Final.
>>> View the Vintage Football Shirts selection of retro Manchester United shirts for sale <<<
---
CLASSIC MANCHESTER UNITED MOMENT
No United fan will ever forget the last three minutes of the 1999 European Cup Final – up there with the most amazing turnarounds ever in the competition.

---
Buy from: Amazon
1977 Home Shirt
Amazon has a great selection of retro Manchester United shirts including the 1977 home shirt that was worn during what would be the last season under the stewardship of Tommy Docherty, who had been in charge of the club for four and a half years and had revived the club following years of decline.
He was sacked by the club after revealing his love affair with the wife of the club's physiotherapist!
1985 FA Cup Winners Shirt
They also have several fantastic signed and framed retro football shirts – including Bryan Robson's 1985 FA Cup Winners shirt – worn in their 1-0 win over Everton, courtesy of a great Norman Whiteside goal.
United finished the season fourth in the First Division, although if they had won their last game of the season rather than lose it 5-1 they would have been runners-up.
Their Cup Final victory was all the more remarkable as they beat runaway champions Everton with ten men – Kevin Moran being the first player ever to be sent off in a Cup Final.
>>> View the selection of retro Manchester United shirts for sale on Amazon <<<
Buy from: TOFFS
About TOFFS
TOFFS (which stands for The Old Fashioned Football Shirt) specialise in handcrafted, vintage football shirts made to the highest quality in the North of England – with each shirt as close to the real thing as possible.
1968 European Cup Final Shirt
You can pick up some top-notch retro Manchester United shirts here including 1968 European Cup Final Shirt (above).
This blue shirt is not a colour associated with the Red Devils, but it will forever hold a place in English footballing history as United, thanks to the fifth Beatle George Best and Bobby Charlton, Denis Law, et al, became the first English team to win the European Cup with a 4-1 win after extra-time over Benfica.
The Final was one of the most eagerly anticipated in the history of the competition, played at Wembley in front of a crowd of 92,225 with a European television audience of 250million. There were rumours that tickets that had been priced at £2 were selling for £20 on the day (the equivalent of around £1,850 in 2022). Whilst United were known for their marquee players such as George Best, Bobby Charlton and Brian Kidd, the official Man of the Match in the Final was United's young left-winger John Aston.
Read our focus on the Manchester United 1968 European Cup Final shirt and find out why they played in blue that day.
1920s Home Shirt
If you want to step back even further you can pick up a 1920s home shirt – another unusual colour, white with a red v. This kit was introduced by John Chapman, when he took over the Managers job at United after arriving from Airdrieonians. The colours match those worn by his former Scottish club.
>>> View the TOFFS selection of retro Manchester United shirts for sale <<<
---
So there you have it. If, like me, you are a lover of football and all things retro there are a huge selection of classic Manchester United shirts you can pick up to revel in the nostalgia of days gone by!
>>> See what other classic football shirts are available <<<
---
Save
Save
Save
Save
Save
Save
Save
Save
Save
Save
Save
Save
Save
Save
Save
Save