Want to buy a retro Portsmouth shirt? Read on…
TEAM INFO
Team: Portsmouth Football Club
Nickname: Pompey
Team Colours: Blue and White
Year Founded: 1898
Stadium: Fratton Park
Location: Portsmouth, England
---
GET A RETRO PORTSMOUTH SHIRT
If you want to relive the days of Dickinson, Knight, Awford, Whittingham, Primus or Kanu and get a retro Portsmouth shirt there are plenty of options available to you:
---
STEVE SAYS…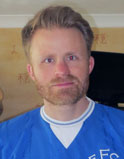 I like Portsmouth as their fans seem to truly appreciate great football and I remember them applauding Thierry Henry off of the pitch after one particularly deadly display where Arsenal destroyed Portsmouth at Fratton Park. They have also had a surprising number of great centre-forwards in my time – Micky Quinn, Yakubu, Peter Crouch, Jermaine Defoe, Kanu. It has been sad to see them slip down the leagues, but hopefully they are on the way up now. Steve
Favourite player: Linvoy Primus – the nicest man in football!
Favourite kit: The 1985-87 home shirt – so simple, so retro, so good! Available from Classic Football Shirts (see below for links)
---

Buy From: Classic Football Shirts
About Classic Football Shirts
Classic Football Shirts set themselves apart from many other companies by the fact that their shirts are all original shirts from the dates listed, not reproductions trying to replicate a classic shirt. All shirts come with condition details – ie whether they are in Mint Condition, As New, etc, etc. The prices are slightly higher but you are really getting a piece of history.
1983 Away Shirt
They have numerous Portsmouth shirts from the 80s to the present day including the classic 1983-85 away shirt (above left) worn when the World Cup winning Alan Ball became Portsmouth manager.
Pompey were emerging from a dismal period, when just three years previously they had been in the bottom tier of English football. When Ball joined two promotions in four seasons had put them back in the second flight.
In the first of these two seasons they finished 16th thanks mainly to the goals of Mark Hateley who they signed for a club-record fee of £180,000 on 6 June 1983.
Just over one year and 25 league goals later, they sold him to AC Milan for £915,000 on 28 June 1984. In 1984-85 they finished fourth, missing out on promotion back to Division One on goal difference.
2000 Home Shirt
You can also get a classic 2000-02 home shirt (above right), worn during a turbulent time in Portsmouth history.
They were in the second flight of English football and finished 20th, escaping relegation by a point, and then 17th, four points above relegation.
This two year period started with Tony Pulis as manager, who was then replaced by player-manager Steve Claridge, who was then replaced by Graham Rix, who was then replaced by Harry Redknapp!
Tragically Portsmouth goalkeeper Aaron Flahavan was killed in a car crash before the start of the 2001-02 season.
>>> View the Classic Football Shirts selection of retro Portsmouth shirts for sale <<<
**GET 10% OFF WHEN ORDERING FROM CLASSIC FOOTBALL SHIRTS THROUGH MY LINK**
Click on my link above and add something to your basket. Hover over the footballs hanging in the top right corner and click on 'Basket' from the subsequent menu that pops up.
Enter CFSPJ10 in the 'Discount Codes' box and receive 10% off of your order!
Buy From: Vintage Football Shirts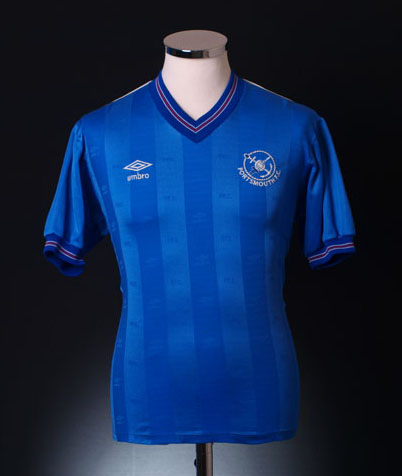 About Vintage Football Shirts
Vintage Football Shirts also offer original shirts rather than reproductions with each shirt marked for its condition – from BNIB (brand new in bag) to Excellent (may have tiny defect, may not be noticeable).
1985 Home Shirt
With a number of Portsmouth shirts ranging from the 80s to the present day – you are sure to find something you like such as the retro style 1985-87 home shirt (above) worn by the likes of Paul Mariner, Micky Quinn and Nicky Morgan.
This was a great time to be a Portsmouth fan, as with World Cup winner Alan Ball at the helm, they finished fourth in the Second Division and then second to gain promotion to the top flight of English football for the first time since 1958-59.
They were buoyed by the goals of Quinn, whose 22 goals made him the top scorer in the Second Division, despite the fact he missed three games in February whilst in prison for driving whilst disqualified.
1995 Away Shirt
Or you can get the 1995-97 away shirt. This retro football shirt was worn when Terry Venables arrived at the club as a consultant, following his resignation from the England manager job.
During this period Venables also bought a 51% share of the club to become chairman.
The club was managed by ex-England international Terry Fenwick and just avoided relegation in the first season and then just missed out on the play-offs the season after.
>>> View the Vintage Football Shirts selection of retro Portsmouth shirts for sale <<<
---
CLASSIC PORTSMOUTH MOMENT
A hop back in time to 1939 and Pompey thrash Wolves to win the FA Cup!
---
Buy from: Amazon
1962 Home Shirt
Amazon have a great selection of retro Portsmouth shirts including the 1962-66 home shirt (above).
During this period the club were financially restricted, but managed to stay in the second flight of English football – largely down to shrewd dealings of manager George Smith and, for the first couple of these seasons, the goals of Ron Saunders – he scored 145 goals in 236 games for Pompey and was leading scorer for six consecutive seasons before moving on to Watford in 1964.
This retro football shirt has a beautifully simple design, in plain blue with the Portsmouth crescent and moon star crest in the centre of the shirt. The moon and star crest comes from the Portsmouth town (then) coat of arms and are believed to date back as far as the time of Richard I.
>>> View the selection of retro Portsmouth shirts for sale on Amazon <<<
Buy from: TOFFS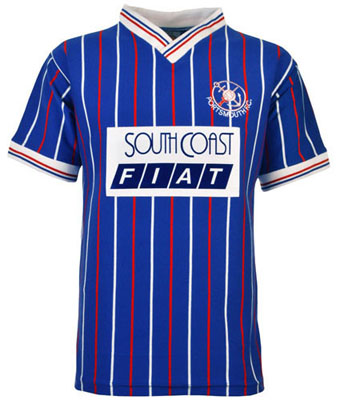 About TOFFS
TOFFS (which stands for The Old Fashioned Football Shirt) specialise in handcrafted, vintage football shirts made to the highest quality in the North of England – with each shirt as close to the real thing as possible.
1987 Home Shirt
They have a classic 1987-88 home shirt (above), with a lovely design and great South Coast Fiat sponsors logo across the front – this was the club's first-ever shirt sponsor.
This was the season Portsmouth returned to the top flight of English football after 28 seasons away – and it was to be a shortlived return as they finished 19th and were immediately relegated again.
The season started with midfielder Mick Kennedy being fined £5,000 for claiming in a national newspaper that he was 'the hardest man in football and proud of my reputation'!
1939 FA Cup Final Shirt
You can also get a 1939 FA Cup Final Shirt, as Portsmouth defeated Wolves 4-1 at Wembley.
This led to Pompey being able to claim they have held the FA Cup for the longest time as the competition was then suspended for seven years during the Second World War. Just under 100,000 fans watched Portsmouth upset the odds, by beating Wolves who were second in the league whilst Portsmouth were in the relegation zone.
Manager Jack Tinn reputedly kept the FA Cup safe under his bed during the war!
>>> View the TOFFS selection of retro Portsmouth shirts for sale <<<
---
So there you have it. If, like me, you are a lover of football and all things retro there are a huge selection of classic Portsmouth shirts you can pick up to revel in the nostalgia of days gone by!
>>> See what other classic football shirts are available <<<
---
Save