Want to buy some classic Middlesbrough shirts? Read on…
TEAM INFO
Team: Middlesbrough Football Club
Nickname: The Boro or Smoggies
Team Colours: Red and White
Year Founded: 1876
Stadium: Riverside Stadium
Location: Middlesbrough, England
---
Browse Classic Middlesbrough Shirts
If you want to relive the days of Clough, Mowbray, Slaven, Juninho or Ravenelli and look at classic Middlesbrough shirts there are plenty of options available to you:
---
STEVE SAYS…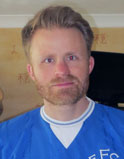 Middlesbrough never really occupied a place in my consciousness until around 1994 when Bryan Robson took charge and all of a sudden they started signing genuinely top quality players like Juninho, Ravanelli, Ince, Boksic and Ziege. For a few years they were a fashionable club, but then they went back down to the Championship and things started to unravel. Steve
Favourite player: Juninho – could never tire of watching him and played with a smile on his face.
Favourite kit: 1984-85 home shirt. Retro, retro, retro, oh and stylish! Available from Classic Football Shirts (see below for link)

Buy From: Classic Football Shirts
About Classic Football Shirts
Classic Football Shirts set themselves apart from many other companies by the fact that their shirts are all original shirts from the dates listed, not reproductions trying to replicate a classic shirt. All shirts come with condition details – ie whether they are in Mint Condition, As New, etc, etc. The prices are slightly higher but you are really getting a piece of history.
They have over 80 classic Middlesbrough shirts from the 80s to the present day including my favourite, a lovely, match issue 1984-85 home shirt (above left).
1984 Home Shirt
This really retro football shirt was worn by Middlesbrough legend Heine Otto in his final season at the club. Otto joined Middlesbrough from FC Twente in 1981 and went out to make 166 appearances for the club – 155 of them consecutively.
He is fondly remembered by Middlesbrough fans despite him playing in a poor team that was relegated from the top flight and then finished 16th, 17th and 19th in Division Two.
Otto gained one Dutch cap in unusual circumstances. In 1975 he gave teammate and Dutch international, Jan Jongbloed, a lift to Amsterdam Airport for a game against Yugoslavia.
As he got there the Dutch manager George Knobel told him someone hadn't shown up and he should go home and get his kit and come back to the airport. That he did and a few days later he earned his only international cap coming on as a substitute in the game.
1992 Home Shirt
They also have an equally great 1992-94 home shirt (above right) worn by Jamie Pollock as Middlesbrough were relegated in the inaugural season of the Premier League.
Pollock made his debut for Middlesbrough at 16 and made 155 appearances for the club before leaving briefly for a spell in Spain with Osasuna.
He returned after just two games and went on to play for Bolton, Manchester City, Crystal Palace and Birmingham City.
>>> View the Classic Football Shirts selection of retro Middlesbrough shirts for sale <<<
**GET 10% OFF WHEN ORDERING FROM CLASSIC FOOTBALL SHIRTS THROUGH MY LINK**
Click on my link above and add something to your basket. Hover over the footballs hanging in the top right corner and click on 'Basket' from the subsequent menu that pops up.
Enter CFSPJ10 in the 'Discount Codes' box and receive 10% off of your order!
Buy From: Vintage Football Shirts
About Vintage Football Shirts
Vintage Football Shirts also offer original shirts rather than reproductions with each shirt marked for its condition – from BNIB (brand new in bag) to Excellent (may have tiny defect, may not be noticeable).
1990 Home Shirt
With around 25 Middlesbrough shirts ranging from the early 90s to the present day – you are sure to find something you like such as the special edition 1990 home shirt (above right) – worn for the 1990 Zenith Data Systems Wembley final.
The Zenith Data Systems Cup was a cup competition held in English football from 1985 to 1992 – during the period English clubs were banned from European competition. It was for clubs in the top two divisions of English football.
Middlesbrough, who had finished 21st in the Second Division that season (escaping relegation by just two points), took on Chelsea who had finished fifth in the First Division. The game was decided by a Tony Dorigo free-kick giving Chelsea a 1-0 win.
1997 Away Shirt
There is also an eye-catching 1997-98 away shirt (above left). This retro football shirt was split into blue and white thirds.
This was a successful season for Middlesbrough – after relegation from the Premier League the season before they finished second in Division One to gain promotion back to the top flight. A lot of this was down to top scorer Paul Merson, who the club signed at the start of the season for £4.5million from Arsenal – a record for a club outside the top flight.
Middlesbrough also reached the League Cup Final for a second successive season where they lost to Chelsea 2-0 – both goals coming in extra-time.
>>> View the Vintage Football Shirts selection of retro Middlesbrough shirts for sale <<<
---
CLASSIC MIDDLESBROUGH MOMENT
2004 and after 138 years Middlesbrough finally win a major trophy!
---
Buy from: Amazon
1970s Home Shirt
Amazon has a great selection of retro Middlesbrough shirts. I like the 1970s home shirt, which was worn as the club returned to the top flight of English football in 1974.
This coincided with future Republic of Ireland manager Jack Charlton taking over at the helm. They also won their first silverware as a professional side in the 1975-76 season, the very prestigious Anglo-Scottish Cup! They beat Fulham 1-0 in the Final.
The Anglo-Scottish Cup ran for six seasons. The 1975-76 competition started on 2 August and ended on 9 December! Middlesbrough beat Aberdeen, Mansfield and then Fulham in the two-legged Final.
>>> View the selection of retro Middlesbrough shirts for sale on Amazon <<<
Buy from: TOFFS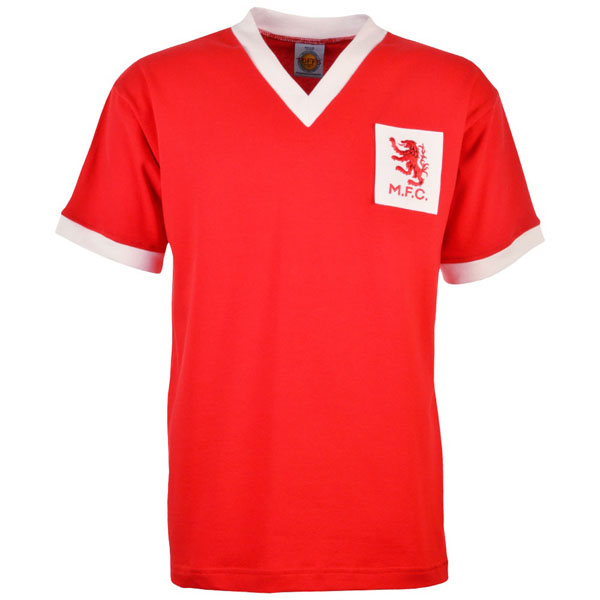 About TOFFS
TOFFS (which stands for The Old Fashioned Football Shirt) specialises in handcrafted, vintage football shirts made to the highest quality in the North of England – with each shirt as close to the real thing as possible.
1950s Home Shirt
TOFFS has some great vintage Middlesbrough shirts. In particular, I like the 1950s home shirt (above). It was this decade that saw the club slip into the second tier of English football in 1954, where they remained until 1974.
However, the decade saw the emergence of one of the most prolific British strikers ever, a certain Brian Clough, who was top scorer every season from 1956 to 1961, scoring 40, 42, 43, 40 and then 36 goals. Clough moved across the Tees to Sunderland in 1961 where he continued his amazing goalscoring exploits.
In all he scored 197 goals in 213 games for Middlesbrough and 54 in 61 games for Sunderland – his 251 goals from 274 league starts make him the third most prolific striker in English League football ever. Unfortunately, a cruciate ligament injury sustained playing for Sunderland forced him to retire at the age of 29.
>>> View the TOFFS selection of retro Middlesbrough shirts for sale <<<
---
So there you have it. If, like me, you are a lover of football and all things retro there are a huge selection of classic Middlesbrough shirts you can pick up to revel in the nostalgia of days gone by!
>>> See what other classic football shirts are available <<<
---
Save
Save
Save
Save
Save