Want to buy some retro Luton Town shirts? Read on…
TEAM INFO
Team: Luton Town Football Club
Nickname: The Hatters
Team Colours: Orange or Black and White
Year Founded: 1885
Stadium: Kenilworth Road
Location: Luton, England
---
BROWSE RETRO LUTON TOWN SHIRTS
If you want to relive the days of Harford, Stein, Foster, Walsh, Hill and Donaghy and buy a retro Luton Town shirt there are plenty of options available to you:
---
STEVE SAYS…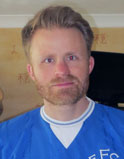 In the mid-1980s, when I was old enough to take notice of football Luton Town weren't just a top-flight side, they were a good top-flight side and I distinctly remember them beating Arsenal in 1988 League Cup Final and consistently finishing in the top 10 of the league. They then nosedived with three successive relegations to non-league football but are now on their way back up. Steve
Favourite player: Mick Harford – Must have been a nightmare to play against!
Favourite kit: 1982 home shirt. Fond memories of a bygone era with this retro shirt. Available from Vintage Football Kits (see below for link)
---

Buy From: Classic Football Shirts
About Classic Football Shirts
Classic Football Shirts set themselves apart from many other companies by the fact that their shirts are all original shirts from the dates listed, not reproductions trying to replicate a classic shirt. All shirts come with condition details – ie whether they are in Mint Condition, As New, etc, etc. The prices are slightly higher but you are really getting a piece of history.
1991 Home Shirt
This classic Luton shirt effectively signalled an end of an era for the club, as it was worn as they were finally relegated from the top-flight of English football after ten successive seasons there. This included a spell where they finished 9th, 7th and 9th and got to the semi-final of the FA Cup and won the League Cup, probably the most successful period in their history.
However, the writing was probably on the wall, as prior to the 1991-92 season Luton has escaped relegation on the last day of the season for three years running. In fact, the previous season the expansion of the top flight to 22 teams meant Luton avoided relegation despite finishing third from bottom as only two teams were relegated.
For the 1991-92 season David Pleat returned as manager, but the season started badly with Luton not winning any of their first five games, scoring one goal and conceding 11. Whilst results did improve Luton remained fighting relegation all season, yet if they had won their last game of the season, away to already relegated Notts County, they would have once again clinched survival on the last day of the season. They did not however, and finished one place and two points below Coventry to finally drop back into the second tier of English football.
1996 Away Shirt
This vintage Luton shirt was worn during a rare bright spot for the club during an otherwise miserable period, as they finished 3rd in Division Two. With the exception of this season, from 1988 to 2002 Luton never finished higher than 12th in any of the divisions they were playing in.
Finishing 3rd wasn't enough to gain the Hatters promotion though, only qualifying them for the play-offs. Unfortunately, they were knocked out in the semi-finals by Crewe, who went on to beat Brentford in the final and gain promotion to Division One. Luton owed much of their success to Tony Thorpe who finished as the division's top scorer with 28 goals. In close season Thorpe left the club to join Fulham for £800,000. He was followed out of the door by teenage defender Matt Upson who, despite having just two games under his belt at the time, left to join Arsenal for £2million.
>>> View the Classic Football Shirts selection of retro Luton Town shirts for sale <<<
**GET 10% OFF WHEN ORDERING FROM CLASSIC FOOTBALL SHIRTS THROUGH MY LINK**
Click on my link above and add something to your basket. Hover over the footballs hanging in the top right corner and click on 'Basket' from the subsequent menu that pops up.
Enter CFSPJ10 in the 'Discount Codes' box and receive 10% off of your order!
Buy From: Vintage Football Shirts
About Vintage Football Shirts
Vintage Football Shirts also offer original shirts rather than reproductions with each shirt marked for its condition – from BNIB (brand new in bag) to Excellent (may have tiny defect, may not be noticeable).
1982 Home Shirt
This lovely retro Luton Town shirt signalled the start of a halcyon period in the club's history, worn as they return to the top division of English football for the first time since 1974. They had romped to the Division Two title the previous season when they were top of the table for all but one week from October onwards.
Under manager David Pleat Luton had developed a reputation for playing free-flowing attacking football and this was shown through the season. They scored the second-most away league goals (only one less than Champions Liverpool) and their tally of 65 goals in total was only bettered by four teams.
However, Luton only survived relegation on a very memorable last day of the season, when they took on fellow relegation rivals Manchester City at Maine Road. City just needed a point to stay up whilst Luton needed to win. Unsurprisingly the game was tense and tight until Luton substitute Raddy Antic scored the winner to ensure Luton's survival and see Manchester City drop into the relegation zone for the first time in the entire season. It prompted a now-infamous jig of joy across the pitch from David Pleat.
>>> View the Vintage Football Shirts selection of retro Luton Town shirts for sale <<<
---
CLASSIC LUTON MOMENT
The above-mentioned celebration by David Pleat as Luton ensured their survival in Division One in the 1982-83 season.
Buy from: Amazon
Amazon doesn't have many retro Luton Town shirts, but they do have a lot of retro Luton Town memorabilia that is well worth a look.
>>> View the selection of Luton Town memorabilia for sale on Amazon <<<
Buy from: TOFFS
About TOFFS
TOFFS (which stands for The Old Fashioned Football Shirt) specialise in handcrafted, vintage football shirts made to the highest quality in the North of England – with each shirt as close to the real thing as possible.
1973 Home Shirt
The 1973-74 season was a very successful season for Luton as they finished 2nd in Division Two to gain only a second ever promotion to the top division of English football. The previous instance was in 1955 when they spent five seasons in Division One. The Hatters finished a full 15 points behind league winners Middlesbrough, quite a distance considering it was two points for a win at this time, and they were joined in England's top league by Carlisle, who finished 3rd.
Second place to 6th that season were all separated by just three points, but thankfully for Luton they had secured promotion with a game to spare, so a last-day defeat to Sunderland was of no significance. It was the third promotion in seven seasons for the Hatters, but their stay in the top-flight was a short one, they finished 20th, sandwiched between Tottenham and Chelsea and were relegated straight back to Division Two.
>>> View the TOFFS selection of retro Luton Town shirts for sale <<<
---
So there you have it. If, like me, you are a lover of football and all things retro there are a huge selection of classic Luton Town shirts you can pick up to revel in the nostalgia of days gone by!
>>> See what other classic football shirts are available <<<
---
Save
Save
Save
Save
Save
Save