Want to get a retro Real Madrid shirt? Read on…
Team Info
Team: Real Madrid Club de Fútbol
Nickname: Blancos (Whites)
Team Colours: All White
Year Founded: 1902
Stadium: Santiago Bernabéu Stadium
Location: Madrid, Spain
---
Get Your Own Retro Real Madrid Shirt
Some of the all time greats have graced the white of Real Madrid – Di Stefano, Puskas, Kopa, Zidane, Raul, Sanchez and Ronaldo. Take a look at the retro Real Madrid shirts you can get to emulate your heroes:
---
STEVE SAYS…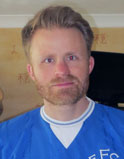 Despite being maybe the most successful team in world football and hugely dominant in European football in recent years, Real's period of winning five successive European Cups from 1956 to 1960 means that I still remember that amazing team being talked about growing up. In the more recent past I remember Michael Owen and Steve McManaman both having relatively successful spells there. Steve
Favourite player: Ronaldo – could be either but the Portuguese for his unbelievable goal haul.
Favourite kit: The 1986-88 home shirt. Pure, simple, classic hummel design. Available from Vintage Football Shirts (see below for links)

Buy From: Classic Football Shirts
About Classic Football Shirts
Classic Football Shirts set themselves apart from many other companies by the fact that their shirts are all original shirts from the dates listed, not reproductions trying to replicate a classic shirt. All shirts come with condition details – ie whether they are in Mint Condition, As New, etc, etc. The prices are slightly higher but you are really getting a piece of history.
They have hundreds of classic Real Madrid shirts and pieces of kit.
1986 Home Shirt
These include the 1986-88 home shirt (above left). This classic Hummel shirt was worn by Real legends Emilio Butragueno and Hugo Sanchez as their strike partnership fired Real to three successive titles in a period of real dominance.
The 1986-87 season was the longest ever in the club's history, owing to a new league format the Spanish footballing authorities implemented. In the first phase, all 18 members of La Liga played each other home and away. There was then a second phase of fixtures that saw the top six teams go into the Championship Group, the next six into the Intermediate Group and the bottom six in to the Relegation Group. All teams in their respective groups played each other twice in this phase. This meant that Real Madrid's season started on 30 August 1986 and didn't end until 20 June 1987!
The 1987-88 season saw the league return to its normal format where all teams played each other twice. Real Madrid started the season with a 4-0 win away at Cadiz, then followed up with a 7-0 win at home to Sporting Gijon and a 7-1 win away at Real Zaragoza. This meant were top of the table from the very first week right through until the last, finishing 11 points clear of Real Sociedad (at a time when it was two points for a win).
Real Madrid legend Hugo Sanchez was the top scorer both of these seasons and when he left the club in 1992 at the age of 34 he had scored 164 goals in 207 games. In the 1989-90 season he notched 38 league goals. All of them scored with a single touch!
1994 Away Shirt
You can also get the 1994-96 away shirt (above right). This eye-catching designed away shirt, with its bright colours was worn when ex Argentina international Jorge Valdano was the coach. It was also the retro football shirt that youth-academy player Raul wore when on 29 October 1994, at the age of 17, he made his debut for Madrid. Raul went on to play 550 times for Madrid, scoring 228 goals and becoming a true club legend.
In the first of these two seasons Real won La Liga finishing four points clear of Deportivo La Coruna. The goals behind the title came from Ivan Zamorano, the Chilean striker scored 28 goals in 38 games including a hat-trick as Real Madrid crushed Barcelona 5-0. The following season was the club's worst in 20 years, they finished sixth in the League and didn't qualify for Europe, something that has only happened twice since 9154.
>>> View the Classic Football Shirts selection of retro Real Madrid shirts for sale <<<
**GET 10% OFF WHEN ORDERING FROM CLASSIC FOOTBALL SHIRTS THROUGH MY LINK**
Click on my link above and add something to your basket. Hover over the footballs hanging in the top right corner and click on 'Basket' from the subsequent menu that pops up.
Enter CFSPJ10 in the 'Discount Codes' box and receive 10% off of your order!
Buy From: Vintage Football Shirts
About Vintage Football Shirts
Vintage Football Shirts also offer original shirts rather than reproductions with each shirt marked for its condition – from BNIB (brand new in bag) to Excellent (may have tiny defect, may not be noticeable).
With around 120 Real Madrid shirts there is a huge selection to choose from.
1989 Home Shirt
You can pick up the 1989-90 home shirt (above right). This shirt was worn when Welsh coach John Toshack saw Madrid retain their La Liga title but lose out on the double after losing the Copa del Rey to arch-rivals Barcelona 2-0.
The club scored smashed in an amazing 107 goals in 38 games. They racked up 7 goals in a game twice, 6 goals in game once, 5 goals in a game five times and 4 goals in a game five times. The strike partnership contributed to 48 of these league goals, with Hugo Sanchez scoring 38 and Emilio Butragueno scoring 10, Rafael Vaquez chipped in with 14 league goals from midfield.
At the time this was the most goals Real Madrid had scored in a league campaign. However in 2011 they broke this record, scoring 121 goals, in fact this was in a middle of a run that saw them score over 100 league goals in eight successive seasons.
1999 Third Shirt
Or there is the rare 1999-00 third shirt (above left).
This retro football shirt was worn during a topsy turvy season that saw Madrid actually finish fifth in La Liga but win the Champions League, beating Spanish rivals Valencia 3-0 in the final with goals from Morientes, Raul and Steve McManaman.
The was the first trophy for coach Vicente Del Bosque, the first final between two teams from the same nation and featured Man of the Match McManaman becoming the first English player to lift the trophy with a foreign club.
>>> View the Vintage Football Shirts selection of retro Real Madrid shirts for sale <<<
---
CLASSIC REAL MADRID MOMENT
Real Madrid have had more glorious moments than pretty much any club, but this is the feather in their cap – 2014 and they achieve 'La Decima'.
---
Buy from: Amazon
Amazon doesn't have any retro Real Madrid shirts – although they do have a large range of other Real Madrid shirts and memorabilia.
>>> View the selection of retro Real Madrid shirts for sale <<<
---
So there you have it. If, like me, you are a lover of football and all things retro there are a huge selection of classic Real Madrid shirts you can pick up to revel in the nostalgia of days gone by!
>>> See what other classic football shirts are available <<<
---
Save
Save
Save
Save
Save
Save
Save