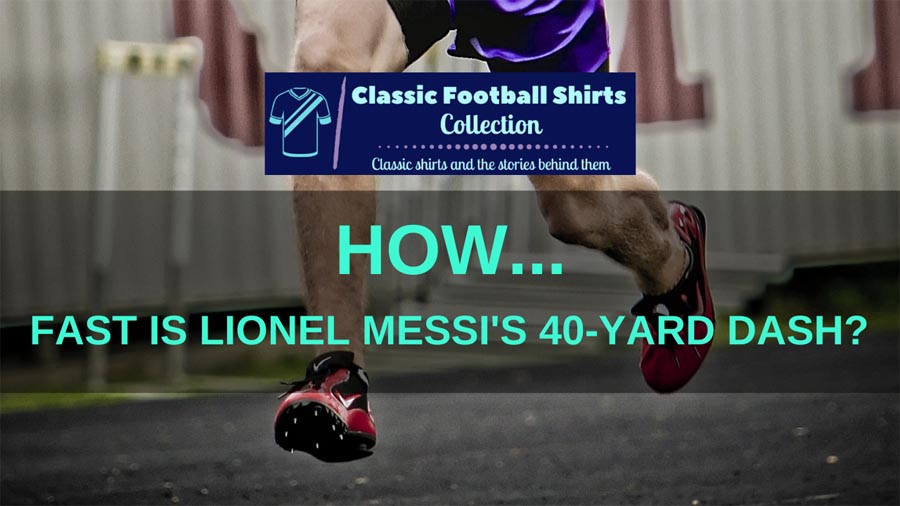 Lionel Messi is a player of so many talents sometimes it is easy to overlook his speed.
There is a tendency to focus on his fantastic touch and dribbling abilities, his exceptional passing range and his incredible goal-scoring record (ok, up until his move to PSG…)
But he has certainly never been no slouch either and it got me thinking, how fast is Lionel Messi's 40-yard dash?
We answer that here, along with a few other sprinting-based questions…
How Fast is Lionel Messi's 40-yard Dash?
Based on his top recorded speed at his peak of 21.4mph (34.47km/h) Lionel Messi's 40-yard dash time would be around 4.7seconds, whilst his 100m time would probably be somewhere around 12.1seconds. In his prime, Messi's rapid acceleration and ability to change direction at top speed were almost unmatched.

I think it is fair to say that Lionel Messi has long been thought of as a freak in footballing terms.
And I mean that in the nicest possible way.
Even though he is now entering the twilight of his career he has maintained almost impossible levels of performance for two decades.
He is also one of the few players who seems as fast, if not faster, with the ball at his feet, than without it.
We will look at Messi's top speed later in the article, which acts as the basis for this calculation, but at his peak, Lionel Messi's 40-yard dash time would probably be somewhere around 4.6 to 4.7 seconds.
The 40-yard dash is actually not particularly talked about in football, although it is one of the most coveted events in an American Football draft so I have been told.
So that is an estimated time for Messi based upon his top speed in his prime, and of course, it must be remembered that top speed was recorded in football boots on turf.
How does that compare to other sportsmen? We will talk about the fastest footballers at the end of this article, but as far as other sports go:
4.12: Olympic sprinter Christian Coleman in 2017 on turf
4.22: Usain Bolt in running shoes and tracksuit at a promo event 18 months after he retired
4.22: NFL player John Ross at 2017 NFL Scouting Combine (fastest recorded time by an NFL player)
4.22: Rugby Union player Carlin Isles at a Detroit Lions workout in 2013
How Fast is Lionel Messi in Mph (And Km/h)?
Ok so let's now dig down into things a bit deeper.
Lots of people think his fast speed recorded on a football pitch was 20.2mph (32.5km/h). But that isn't quite accurate.
RELATED ===> How Tall Was Messi At 19?
That was his fastest speed recorded running with the ball.
In 2014 he recorded a top speed of 21.4mph (34.47km/h) at the start of the La Liga season.
Rather unusually for a player synonymous with the attacking side of the game, it was recorded sprinting back to defend against Barcelona's opponent Elche.
I even read some suggestions that he recorded 22.35mph (36km/h) in the 2010-11 season against Osasuna, but have not been able to find any concrete proof of that.
So Lionel Messi's top recorded speed on a football pitch is 21.4mph (34.47km/h)
How Fast is Lionel Messi Over 100m?
Messi's top recorded speed of 21.4mph on the football pitch equates to running 100m in 10.45 seconds.
But…
Obviously when Messi recorded his top speed, he didn't go from standing still to 21.4mph instantly, it would take a couple of seconds to hit that top speed.
So taking that into account, in his prime Lionel Messi probably would have run 100m in somewhere around 12.1 seconds.
Not quite the 9.58 seconds Usain Bolt achieved, reaching 27.79mph (44.72km/h) on the way to the 100m world record in 2009, but still pretty impressive.
How Fast Can Lionel Messi Accelerate?
This is more difficult to accurately assess but when Lionel Messi scored an amazing goal in the 2015 Copa del Rey Final he went from 0 to 19.5mph (31.4km/h) in 2.7 seconds.
So the answer is he can accelerate very fast!
RELATED ===> How High Can Messi Jump?
Whilst other players might be quicker over a prolonged period, Messi's speed off the mark, when he was in his prime, was remarkable.
As we have mentioned previously, what makes it even more impressive is that there is little difference in his speed and acceleration whether he has the ball or not.
Like his Argentinian compatriot Diego Maradona, Lionel Messi measures in at just under 1.7m.
And, like Maradona, this short stature gives him a lower centre of gravity and a shorter, choppier running style.
What this means is, as well as being able to accelerate very quickly, he can also decelerate and change direction exceptionally fast.
So any defender trying to compete with him not only has to deal with his speed of foot, but also his unpredictable movement, close control and speed of thought!
Research conducted by the School of Human Sciences at Liverpool John Moores University revealed that Messi's unorthodox and unpredictable playing style actually is more physically tiring than a straight sprint down the wing.
Meaning not only is he blessed with speed and skill, but he is also gifted with endurance.
Who is Faster Messi or Ronaldo?
The bare facts suggest Messi is faster.
We have already ascertained that Messi reached a top speed on a football pitch of 21.4mph (34.47km/h) against Elche in 2014.
The top recorded speed I could find for Ronaldo was 21.25mph (34.2km/h), although what is remarkable about this is that it was recorded in 2021 when Ronaldo was 36!
But then in 2011 Ronaldo competed against Spanish professional sprinter Angel David Rodriguez in a 25m sprint.
Ronaldo clocked a time of 3.61 seconds (Rodriguez managed 3.31seconds).
Afterward Rodriguez estimated Ronaldo could possibly run 100m in 11.6 seconds
"He is fast and very good at lateral movement. He clearly trains a lot. I took three tenths from him, which is quite a lot. If it was 100 metres, he may be able to get 11.6," said Rodriguez.
RELATED ===> How Fast Can Lionel Messi Kick A Soccer Ball?
This is quite a bit quicker than our estimated time for Messi of around 12.1seconds, albeit Ronaldo's time came on a professional athletic track whilst Messi's is based upon his speed on a field.
Either way, both are very fast.
I would suggest Messi has the edge in terms of acceleration but Ronaldo probably has the edge in terms of overall pace endurance.
So if it were a 100m race I'd expect to see Messi come out of the blocks fastest, but Ronaldo to eventually win the race.
Who Are the World's Fastest Footballers?
How does Messi's top speed of 21.4mph (34.47km/h) compare in the grand scheme of things?
The fastest speed recorded by a top-level player was Arjen Robben's 23mph (37km/h) against Spain during the 2014 World Cup (above).
This is slightly faster than Alphonso Davies who recorded a top speed of 22.69mph (36.51km/h) in a Bundesliga game for Bayern Munich against Werder Bremen in 2020.
If you search for the world's fastest footballers then Messi generally appears in the list.
Final Thoughts
It is evident that physical speed is just one of many attributes Messi has.
I should add that these statistics are taken when Messi was at his peak, his top speed in 2022 had dropped to 19.1mph (30.8km/h), still impressive enough.
What sets Messi apart from many of his compatriots is his initial acceleration and the fact that the ball doesn't really seem to slow him down, as it does most players.
When you have a brain that works as quick as Lionel Messi's then you need feet that work pretty quickly too and thankfully they do!
---
Interested in Buying a Lionel Messi Shirt?
Check out the range of retro Barcelona shirts for sale. Or view all retro shirts you can choose from.
---