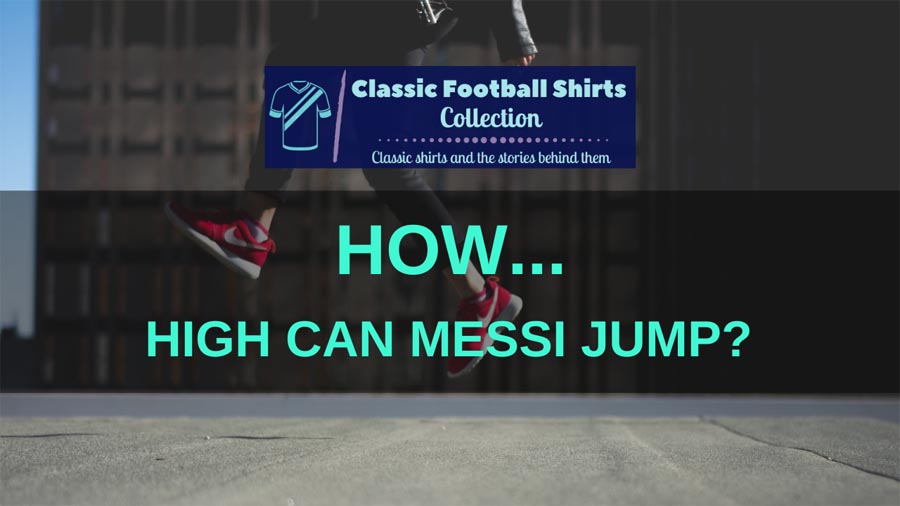 Probably one of the facets of Lionel Messi's game we pay the least attention to is his aerial ability.
We know all about his incredible goalscoring record, his dribbling ability, passing range, and even his pace, but something people rarely ask is 'how high can Messi jump?'.
I mean why focus on that when he can do so many other things, right?
Well, it is always worth examining in further detail the abilities of possibly the greatest player ever.
Especially those that are rarely discussed.
So let's jump (pun intended) in.
How High Can Messi Jump?
When Lionel Messi scored a header in the 2009 Champions League Final it is estimated his vertical leap was 41 inches, for a total jump height of 2.74m, which works out at 108 inches or 9 feet. This is exactly the same as Ronaldo's leap height when he scored in 2013 against Manchester United.

The opportunity to study the jumping ability of Lionel Messi doesn't present itself as often as that of his great rival Cristiano Ronaldo.
Messi is only 5'7, so naturally is never going to be as dominant in the air as Ronaldo who stands over half a foot taller at 6'2.
However, he is most definitely no slouch in the air. In fact, he is very good indeed.
The goal most often used to illustrate this was Messi's headed goal in the 2009 Champions League Final against Manchester United.
The goal came in the 70th minute and sealed a 2-0 win for Barca.
As United searched for an equalizer, the ball broke to Xavi who strode towards the edge of the United area and looped a deep cross into the box.
Messi found space between the two United center-halves and leaped high, sending a looping header over Edwin Van der Sar and into the far corner of the goal.
RELATED ===> How Fast Is Lionel Messi's 40-Yard Dash?
It was just before technical equipment was used to measure jump heights, but experts have since gone back and analyzed Messi's leap, which was quite remarkable.
It is estimated Messi's total jump height was around 2.74m, which works out at 108 inches or 9 feet. That is the total height he was off of the ground at his highest point to the top of his head.
Or more simply it was a 41-inch vertical leap.
Even Messi seem surprised by the goal, later saying:
"It was hard to imagine that I was going to score with my head with Rio Ferdinand standing near me, but I didn't really have a marker the ball came into the center and I was there to meet it."
Messi's Headed Goals
In Messi's incredible compendium of statistics, he has scored 769 goals (to date). Just 24 of those have been headers.
He did score at least one headed goal in every calendar year from 2007 to 2017.
His very first headed goal came on 31 January 2006 when he gave Barca a 1-0 lead in a Copa Del Rey quarter-final match against Real Zaragoza.
His amazing header in the Champions League Final against Manchester United, which came on 27 May 2009 was, at the time, only the third-headed goal of his career.
He then went on to match this total in the following season, scoring three more headed goals in the 2009/10 season to take his total to six headed goals.
RELATED ===> How Much Can Lionel Messi Squat?
His most productive season for headed goals was the 2014/15 season when he scored six headed goals.
As of now (June 2022), his last headed goal came for Barcelona against Celta Viga on 16 May 2021.
The unique thing about this goal was Barcelona lost the game. It was the first time Messi had scored a headed goal and Barcelona had lost.
Messi's record in games when he has scored he headed stands at P24, W21, D2, L1.
How High Can Cristiano Ronaldo Jump?
So of course whenever a statistic comes up about Lionel Messi, there is always a comparison to Cristiano Ronaldo.
Ronaldo is very much renowned for his heading prowess. In fact of his 815 goals, 112 of them have come with his head.
Ironically Ronaldo's highest jump also came in a Champions League game against Manchester United.
It was on 5 March 2013 when he leaped 2.93m to meet an Angel Di Maria cross and head past David De Gea. 2.93m works out at 9 feet 7 inches or 115 inches in total.
Messi vs Ronaldo – Who Has the Highest Jump?
So guess what?
That jump mentioned above by Ronaldo against Manchester United in 2013 gives him a vertical leap of 41 inches.
Exactly the same as Messi's against Manchester United in 2009!
So technically they have exactly the same highest jump.
What is not in doubt is how prolific Ronaldo is at scoring with headers.
The statistics show that 1 of every 30 goals Messi scores is with his head, this is in comparison to 6 in every 30 for Ronaldo.
Of course the fact Ronaldo is 6-inches taller does have something to do with this!
RELATED ===> How Many Juggles Can Messi Do?
How High Can Michael Jordan Jump?
It is interesting to see how Messi and Ronaldo's highest jumps compare to possibly the biggest basketball legend of all time – Michael Jordan.
There is a bit of debate about this but Jordan's highest vertical jump is either 46 inches or 48 inches.
Regardless of which is right, it is higher than both Messi and Ronaldo.
As an interesting aside, the world record for a platform vertical jump currently stands at 63.5 inches. Set by Evan Ungar from Canada in 2016.
This involves someone jumping onto a platform from a standing positing, and will usually generate a higher figure as you tuck your legs in during the jump.
Final Thoughts
Whilst it is something that is rarely mentioned Lionel Messi is actually extremely good in the air for his size.
At 5'7 he will never be dominating defenders aerially in the same way Ronaldo does but if you watch this video on YouTube highlighting all of his headed goals you will see both his leap and his technique is very good.
Pay particular attention to the goals he scores at 1minute 07seconds, 2minutes 54seconds, 4minutes 45seconds, 5minutes 33seconds and 6minutes 20seconds.
In three of them, he outjumps far bigger defenders and the other is an extremely well-guided header from a corner.
So Messi can jump pretty high!
---
Interested in Buying a Lionel Messi Shirt?
Check out the range of retro Barcelona shirts for sale. Or view all retro shirts you can choose from.
---