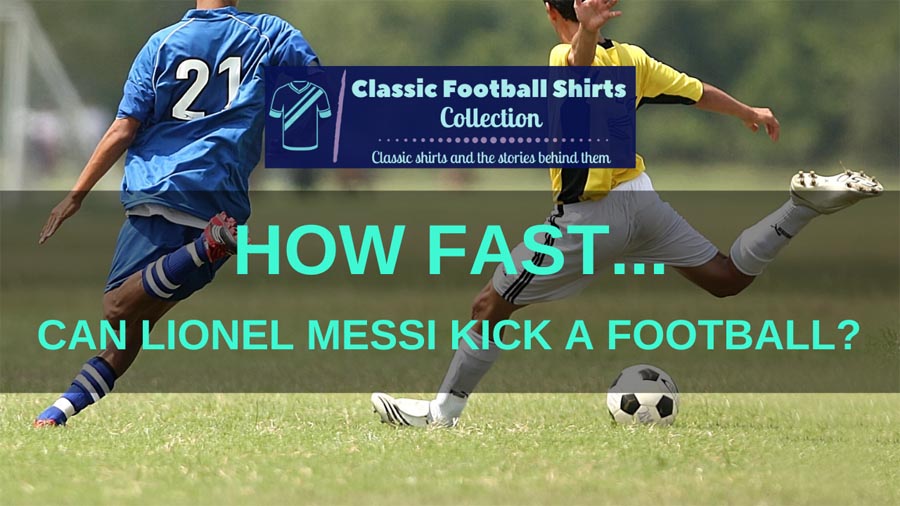 We know almost everything there is to know about Lionel Messi on the pitch.
In previous blogs, we've examined how fast he can run, the most amount of goals he has scored in a game and the records he holds.
But one thing we don't know is how fast can Lionel Messi kick a football.
So let's see if we can find out…
How Fast Can Lionel Messi Kick A Football?
As an estimate Messi can kick a ball somewhere around the 130km/h to 145km/h (80mph to 90mph) mark. If you watch some of his clips you will see he packs a lot of power, just another string to a neverending bow of talents! Unofficially the hardest kick in football falls to little-known Brazilian Ronny at 211km/h (131mph).

There is a problem with the question of finding out how fast Lionel Messi can kick a football.
It is one of the few things about the Argentinian maestro that no one seems to know!
If you google the question, you get an answer of 145km/h (90mph).
But that seems to be because it was a question in a geometry exam somewhere!
Not because someone recorded Messi striking a soccer ball that hard.
I spent a lot of time researching this question but couldn't find a definitive answer.
The plus side is, I ended up watching some exquisite goals and pieces of play by Messi!
Now looking at the above video, and comparing it to some other players we will discuss later on, I would estimate that Messi can strike a ball at somewhere between 130km/h and 145km/h (80mph to 90mph).
So maybe that geometry exam question wasn't far off!
How Fast Can A Professional Soccer Player Kick A Ball
From my research, the average speed at which a professional footballer can kick a ball is somewhere between 95km/h and 113km/h (60mph to 70mph).
Obviously, this is very hard to measure, and we are talking here about a player kicking a ball as hard as possible, not simply passing it from one side of a pitch to another.
How Fast Can Ronaldo Kick A Football?
Ah, the good old Messi v Ronaldo debate rears its head again!
Whenever a question is asked about Messi people always want to see how Ronaldo compares or vice-versa.
However, we do have much more concrete proof of how hard Ronaldo can kick a football.
RELATED ===> What Is The Most Number Of Goals Messi Has Scored In One Match?
In 2011 he took part in a documentary called "Tested to the Limit", which put him through a series of tests.
One was kicking a football through a series of panes of glass.
Ronaldo's strike registered at 128.7km/h (80mph).
Additionally, when I was researching this question I found Ronaldo had twice had strikes that registered at 120km/h (75mph).
Once for Manchester United in a Champions League match against Marseille and once for Real Madrid in a La Liga match against Levante.
It is just a shame we have no concrete statistics for Messi to compare Ronaldo's efforts against.
Who Has The Hardest Kick In Football History?
I bet if you were to place a bet on who has the hardest shot in football a few names would immediately spring to mind right?
For me, I thought of Cristiano Ronaldo, Roberto Carlos, Alan Shearer, David Beckham and Tony Yeboah.
In fact, when Tony Yeboah played for Leeds, he scored two goals in a month that were struck so sweetly that I would find it hard to believe anyone could physically strike a ball harder.
Yet when I was researching who has the hardest shot in football history, yes Tony Yeboah was there in the top 10, but the player heading the list had struck the ball a full 57km/h (35mph) faster than Yeboah.
The player in question was a Brazilian.
Yes, it was that famous Brazilian free-kick master…
Ronny Heberson!
Who I hear you ask? And quite rightly so as I have never heard of him either.
Heberson, more commonly known simply as Ronny, played most of his career in Europe.
He spent a couple of seasons in his native Brazil with Corinthians, before moving to Portugal in 2006 to play for Sporting and then to Germany to play for Hertha Berlin.
In 2017, he moved back to Brazil and spent his last season playing for Fortaleza, before retiring at the age of 30.
RELATED ===> How Far Does Lionel Messi Run In A Game?
Ronny only scored one goal for Sporting, but it was a memorable one. His free-kick against Naval in 2006 was believed to have reached an astounding 211km/h (131mph)!
Now I have to admit this has only been unofficially measured and there is plenty of debate around the validity of the actual speed, but if you watch the video it is a pretty amazing hit:
He is obviously a bit of a free-kick specialist though as he has done it more than once. Here he scores another scorcher for Hertha Berlin against Hannover:
Now honorable mentions go to:
Arjen Robben: 190km/h (118mph)
Not only does Robben have one of the fastest sprints ever recorded in football history, but he also has one of the hardest shots in football history.
His effort in a friendly for Bayern Munich against Borussia Dortmund is estimated to have been 190km/h (118mph).
Steven Reid: 189km/h (117mph)
Reid was a solid top-flight player in England, without being spectacular, with the exception of one astounding goal for West Brom against Wigan which almost broke the net!
Ronald Koeman: 188km/h (116.8mph)
To call Koeman a free-kick specialist was an understatement. He was absolutely lethal and is both Barcelona's top-scoring defender and the top-scoring defender of all time.
Amazingly he scored over 250 goals, including a free-kick that won the European Cup Final for Barcelona against Sampdoria to give them the trophy for the first-ever time.
David Hirst: 183km/h (114mph)
I went to Uni in Sheffield and developed a real fondness for Sheffield Wednesday.
David Hirst is remembered as one of their greatest ever players, with a cannonball of a shot. His effort againt Arsenal in 1996 smashed against the bar and reached 183km/h (114mph).
David Beckham: 158km/h (98mph)
This name needs no introduction.
Beckham will be remembered as one of the greatest deliverers of dead balls ever. In 1997 he smashed a goal against Chelsea that reached 158km/h (98mph)
Tony Yeboah: 154km/h (96mph)
I had to include this one as I still remember it! Yeboah's strike for Leeds against Wimbledon was recorded at 154km/h (96mph) and was exquisite.
Just for good measure, he scored a goal just a month earlier against Liverpool that was equally as good.
RELATED ===> How Fast Is Lionel Messi's 40-Yard Dash?
Francisco Javier Galan Marin: 129km/h (80mph)
If don't recognise this name I am not surprised.
Marin holds the record for the fastest officially measured kick of a football ever. It took place for Spain's El Show de los Récords and was measured by an adjudicator from the Guinness Book of Records.
Final Thoughts
I still don't know how fast Lionel Messi can kick a football!
My guess is around the 130km/h to 145km/h (80mph to 90mph) range though, and if you watch back some of the clips from the YouTube video posted above you can see just how hard he can strike a ball.
Most of the documented speeds that players have been recorded striking a ball are unofficial, but you always know when some kicks a football fast as the camera can't keep up!
So sorry I haven't been able to definitively answer your question, but we have seen some great goals in the process!
---
Interested in Buying a Lionel Messi Shirt?
Check out the range of retro Barcelona shirts for sale. Or view all retro shirts you can choose from.
---