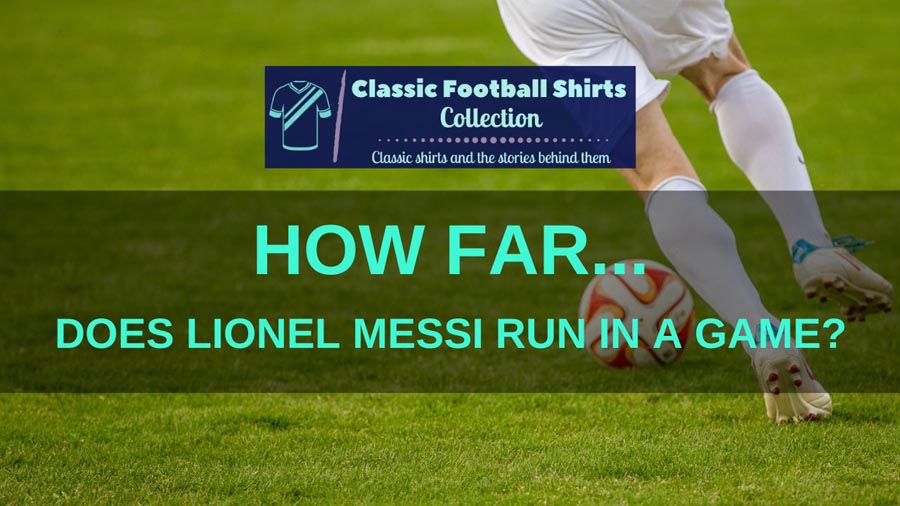 I've actually heard a few people ask the question how far does Lionel Messi run in a game?
If you watch him off of the ball, it would be easy to think he is lazy as he doesn't seem to run as much as other players.
But actually, there is a reason for this.
We are going to look at how much ground he covers in a game and the reason for his unique approach to the game in this article.
So let's get started.
How Far Does Lionel Messi Run In A Game?
Lionel Messi runs around 8km (5miles) per game, which is considerably less than most of his compatriots who tend to be in and around the 10km (6.2miles) mark. He does spend a lot of each game walking, but that is for a reason – he is analyzing the opposition and thinking, watching, waiting and getting himself into the best positions for himself and his teammates.

The stats on how much Lionel Messi runs in a game do make for interesting reading.
The data is nearly exclusively from Champions League games as it is the only competition that releases extensive running information, but let's go through it.
How Much Did Messi Run at the 2014 World Cup?
Stats for the 2014 World Cup in Brazil showed that Messi had the lowest work rate of all players excluding goalkeepers when their team were defending.
He also had the second-lowest work-rate of all players when their team were attacking.
How Much Did Lionel Messi Run in the 2014/15 Champions League?
During Barca's Champions League Quarter-Final with Atletico Madrid, Messi ran 6.8km (4.2miles) in the 95 minutes of play.
This was only just over half of the distance run by Koke, who scored the winning goal for Atletico which knocked Barca out, and only 1.4km (0.9miles) more than Barcelona's own goalkeeper Jose Manuel Pinto.
How Much Did Lionel Messi Run in the 2015/16 Champions League?
Messi covered the second least amount of distance in the 2015/16 Champions League amongst outfield players with more than 180 minutes of playing time.
He covered 7.9km (5 miles) on average. In the round of 16 tie against Arsenal, Messi ran at least 1km (0.6miles) less than any other Barcelona outfield player, and a full 3km (1.85miles) less than Andres Iniesta and Ivan Rakitic.
But he scored both goals in a 2-0 win.
How Much Did Lionel Messi Run in the 2017/18 Champions League?
In the 2017/18 Champions League Messi averaged under 8km (5miles) per 90 minutes, far less than any other attacker.
Roberto Firmino for instance averaged 11km (6.8miles) per 90 minutes for Liverpool and even Cristiano Ronaldo averaged over 9km (5.6miles) per game for Real Madrid.
RELATED ===> Why Do Many Professional Footballers And Managers See Messi As The Best Player Of All Time?
How Much Did Lionel Messi Run in the 2018/19 Champions League?
At the Quarter-Final stage of the competition Swiss newspaper, Neue Zürcher Zeitung released information that showed Messi ran the second-fewest metres per minute of all players in the Champions League that year.
Messi averaged 90metres per 60 seconds, only Manchester United's Eric Bailly came in lower with 88.2metres per minute.
Other selected forwards in comparison (per 60 seconds):
Cristiano Ronaldo: 102metres
Robert Lewandowski: 109.6metres
Neymar: 112.2metres
Harry Kane: 117.5metres
Thomas Muller: 124.8metres
How Much Did Lionel Messi Run in the 2017 El Classico?
This is another game that is often referred to when the question of why does Lionel Messi always play at a walking pace comes up.
Messi covered around 8km (5miles) during the game and was walking for 83.1% of that time, jogging for 10.8%, running for 4.95% and sprinting for 1.15%.
Just to add Messi scored and assisted in the game as Barcelona beat their rivals 3-0…
So the question remains…
Why Does Lionel Messi Always Play At A Walking Pace?
Ok so maybe the word always is a bit of an exaggeration, but the stats do prove that Messi generally runs less than almost any other player.
But why?
He Hasn't Always Played This Way
A little unfairly all of the statistics I have referred to above are from 2014 onwards – ten years after Messi made his Barcelona debut.
This isn't a case of me being selective with my data, more a case of information prior to then being much harder to come by.
Messi however hasn't always played in this way however.
RELATED ===> How Much Does Lionel Messi Make A Second?
There was a big shift in the 2009/10 season, Pep Guardiola's second season in charge of Barcelona.
His first season had seen Messi drift in more frequently from the wing to occupy an almost free role finding space between Samuel Eto'o and Thierry Henry.
From 2009/10 onwards he took on the now infamous 'false nine' role, playing in a much more central role.
Messi was told to conserve energy as he had been suffering from muscle fatigue due to excessive running.
And that is when Messi started running less, but arguably his value to the team kept increasing.
His Teams Tailor Their Tactics to Suit Him
Most teams build their game and their tactics around their best players.
Now Messi isn't just his team's best player, he is arguably the world's best.
Each coach knows Messi has the ability to single-handedly win a game with a moment of brilliance.
This allows Messi to play the game that suits him best, and the rest of the team works with him to achieve this.
He is Conserving His Energy
Problem the most simplistic way to look at his lack of running is the fact that the old adage, "Work smart, not hard" is one Messi adopts.
He conserves his energy for those forward bursts and mazy dribbles, which have the most impact.
If he were to spend a lot of energy continually pressing players and chasing down the ball, it would take away from the aspects of the game we all know and admire him for.
When you see Messi running during a match, he nearly always has the ball at his feet.
He is Analysing His Opposition
Did you know of the 769 goals Lionel Messi has scored for club and country, he has never scored in the first two minutes of a game?
It is pretty remarkable really.
But not when you hear the story of journalist Simon Kuper attending a Barcelona game, Barcelona vs Atletico Madrid in Camp Nou.
An unnamed Barcelona official urged him to focus entirely on Messi for the first few minutes of the game.
Kuper said Messi was just wandering around the pitch, to all intents and purposes ignoring the ball.
"In the first few minutes, he just walks across the field" the Barcelona official explained to Kuper. "He is looking at each opponent, where the guy positions himself, and how their defense fits together. Only after doing that does he start to play."
So whilst he may spend a lot of time walking that is for a good reason.
He is constantly making calculations and observing the opposition.
RELATED ===> How Much Can Lionel Messi Squat?
Pep Guardiola further expanded on this in his autobiography in 2017.
"You have to pay attention when Messi moves away. He spends his match walking, he's always analyzing the situation. When he receives the ball he has a complete analysis of space and time in his head. He knows where every player is and boom".
So although we don't realise it, Messi is not just one of the best players ever because of what he does when he has the ball, but also what he does when he doesn't have it.
He is always in the right position, thinking, watching and waiting. If he were to spend time and energy chasing down players and the ball he wouldn't be in the right position to do the amazing things he does when he has the ball.
To quote the great Johan Cruyff:
"When you play a match, it is statistically proven that players actually have the ball 3 minutes on average. So, the most important thing is: what do you do during those 87 minutes when you do not have the ball. That is what determines whether you're a good player or not. You play football with your head, and your legs are there to help you."
He is Creating Space
Messi knows his sheer presence on the pitch draws attention from opposing players.
So even when Messi is walking around in advanced areas of the pitch he is winning his team space and territory in those parts of the pitch, by dragging players with him.
This was most evident from 2014 to 2017 when the Barcelona forward line was comprised of Messi, Suarez and Neymar.
The three would spread out wide across the pitch and occupy players, creating space for each other.
By not chasing the game, Messi is creating this space for himself and his teammates.
Final Thoughts
It is evident that Lionel Messi runs less than most other players during a game.
He generally seems to cover around 8km (5miles) per game, whereas most players fall within the 10km to 11km (6.2miles to 6.8miles) range.
However, his impact is considerably more.
This seems to be down to his unique talent when he has the ball, but equally his ability to analyse the opposition and know equally where to be and when to ensure he has the most impact when he does get the ball.
So don't take the fact he runs less than most players as a sign of laziness, if anything it is another example of his footballing intelligence.
---
Interested in Buying a Lionel Messi Shirt?
Check out the range of retro Barcelona shirts for sale. Or view all retro shirts you can choose from.
---