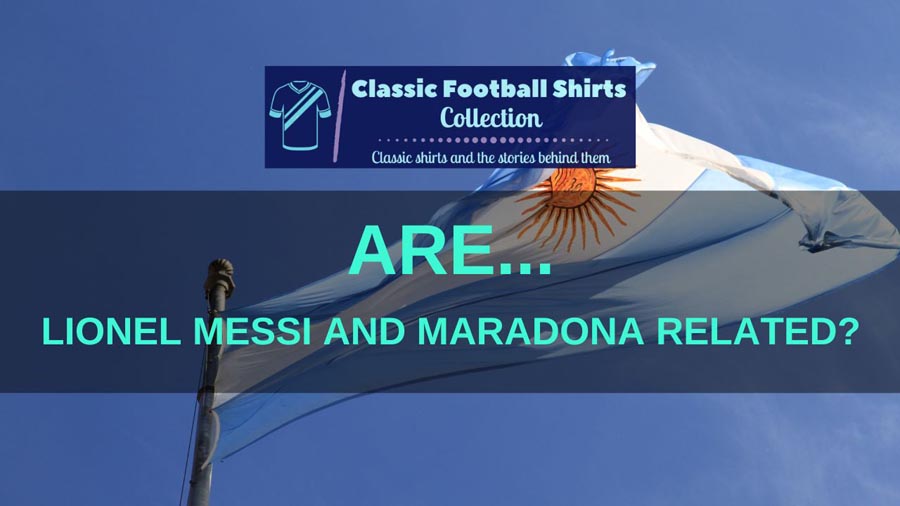 There are a few footballers many people don't realize are related.
Are the two Argentinian greats part of that group?
Are Lionel Messi and Maradona related?
Let's find out!
Are Lionel Messi And Maradona Related?
No, they aren't directly related, but there is a connection. Messi is the godfather of Benjamin Aguero, who is Sergio Aguero's son and Maradona's grandson. Aguero was married to Maradona's daughter for four years from 2008 to 2012.

Maradona and Messi were not biologically related in any way.
The only way they were related is through the football family.
And even then their relationship would be up for debate.
Some would call Messi the King of football, others would insist it is Maradona.
Either way, few would argue with the fact that both of them sit at the top table of footballing greats, no matter what order they come in.
Was Messi Close to Maradona?
The relationship between the two can probably be defined as tumultuous. But that is true of many people who were part of Maradona's friends, family or entourage.
Right from the start, there were some very big differences between the two.
Messi was born to middle-class parents of Italian origin and lived in an unspectacular part of Argentina – Rosario.
Maradona came from a much poorer family and was raised in a shanty town on the outskirts of Argentina's capital Buenos Aires.
Beyond that, the two were also completely different characters.
Messi is very introverted and shies away from interviews and doesn't want to be the center of attention.
Maradona was completely the opposite, a drug-taking, cigar-smoking extrovert, with a larger-than-life personality.
RELATED ===> Why Is Lionel Messi Called La Pulga?
As with any football-loving youngster in Argentina, Messi grew up worshipping Maradona.
However if anything Maradona seemed threatened by the young contender to his throne as the greatest Argentinian footballer ever.
Whereas there had been many promising Argentinian players since Maradona, Aimar, Ortega and Tevez to name just three, it was obvious Messi really was on a different level.
When a 19-year-old Messi scored possibly his greatest goal ever, against Getafe in 2007, it drew immediate comparisons with Maradona's goal against England in the 1986 World Cup.
Maradona played down Messi's goal saying it wasn't that great and that his goal in 1986 was better and more important.
Things did improve between 2008 and 2010 when Maradona became manager of Argentina and gave Messi a prominent role in the team.
But when that ended in tears for Maradona with a 4-0 defeat against Germany in the 2010 World Cup Quarter Finals, he seemed to hold Messi responsible.
In 2014 he chided the decision to award Messi the best player of the 2014 World Cup accolade, saying he didn't deserve it.
In 2016 Maradona praised Ronaldo's leadership qualities for Portugal and said he would love to see him playing for Argentina.
The same year Maradona said he would have punched Messi for his 'disrespectful' passed penalty against Celta Viga.
Then in 2017 when Messi retracted his decision to retire from the Argentina national team Maradona criticised him again.
The closest Maradona came to complementing Messi was when he said:
"Out of respect for Leo I don't say if he's better or I was better, you have to leave him alone. I love him very much and I enjoy it when I see him on the pitch. He is a good person. But he doesn't have much personality to be a leader."
Messi himself never publicly criticised Maradona, but notedly didn't invite Maradona to his 2017 wedding.
"He may have left us but he isn't gone because Diego is eternal," were Messi's words after Maradona's death in 2020.
He chartered a flight back home to say his personal goodbyes.
Is Messi Related to Aguero?
Messi and Sergio Aguero are not biologically related, however they are very close friends and Lionel Messi is the godfather of Aguero's son Benjamin.
Aguero once joked about their friendship, saying: "Messi and I have been together [rooming while on international duty with Argentina] since we were 17 years old. We are already 32 (Aguero) and 33 (Messi) years old, we are like a worn-out married couple."
RELATED ===> How Much Is A Signed Messi Jersey Worth?
And when Aguero was forced to retire from football due to a heart condition, Messi was one of the first to offer a tribute to his friend and colleague, saying:
"Now a new stage of your life begins. I am convinced you are going to live it with a smile. All the best in this new stage. I love you a lot, friend. I'm going to miss being with you a lot on the pitch and when we get together with the national team".
Was Aguero Related to Maradona?
Sergio Aguero married Maradona's second daughter Gianinna in 2008 and the pair had a son Benjamin together, before divorcing in 2012.
So Maradona was Aguero's father-in-law and the grandfather of his son Benjamin.
This may be where some confusion has crept in as to whether Maradona and Messi are related, as Messi is the godfather of Maradona's grandson.
Nonetheless, the divorce left Maradona bitter towards Aguero, referring to him as a "wimp who I don't even want to name."
When Aguero made his debut for Independiente in 2003, he actually broke Maradona's record to become the youngest player to feature in a top-flight game in Argentina. Aguero was 15 years and 43 days old.
RELATED ===> Is Lionel Messi in Jane the Virgin?
Are Messi and Bojan Related?
Lionel Messi and Bojan Krkic are actually 4th cousins.
They are both great-great-great-grandchildren of Mariano Pérez Miralles and Teresa Llobrera Minguet who got married in Spain in 1846!
Another way to put it is Messi's great-great-grandfather was Bojan's great-great grandfather's brother!
Final Thoughts
The Messi-Aguero-Maradona triangle can get confusing for some people!
All Argentinian, all footballers, all forwards and all very good players.
Messi and Maradona aren't related.
Maradona was Aguero's father-in-law, as Aguero married his daughter and they had a son together. So Maradona was the grandfather of Aguero's son.
Messi is the godfather of the same son.
Hope that clears it up!
---
Interested in Buying a Lionel Messi Shirt?
Check out the range of retro Barcelona shirts for sale. Or view all retro shirts you can choose from.
---