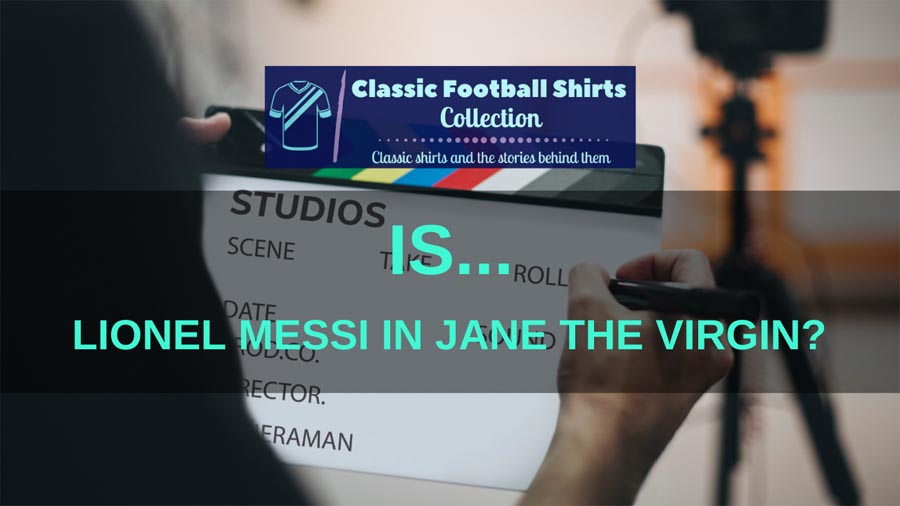 Do you remember that kid at your school who was good at everything?
The one who was the best footballer, the best runner, the most intelligent, played the lead role in all the school plays?
Let's find out if that was Lionel Messi and answer the question that is on everyone's lips…
Is Lionel Messi in Jane the Virgin?
Is Lionel Messi In Jane The Virgin?
No Lionel Messi is not in Jane the Virgin, he has been mistaken for actor Keller Wortham who appeared in many episodes of the show as Esteban Santiago. He also wasn't in Hannah Montana either, but happens to bear a passing resemblance to actor Mitchel Musso who played Oliver Oken in that show!

So no, Lionel Messi is most definitely is not in the American romantic comedy-drama 'Jane the Virgin'.
However many people have pointed out the similarity between Messi and actor Keller Wortham, who appeared as the recurring character Esteban Santiago in all five series of the show:
"When Esteban first appeared I nearly fell off my seat – I was super convinced it was Messi."
"I'm still convinced it's the same person."
Wortham actually spent two years in Spain, more specifically in Madrid, where he studied art history and taught at an international school.
He actually combines his career in acting alongside working as a physician in California, so maybe he is almost as talented as Messi!
RELATED ===> Why Is Lionel Messi Called La Pulga?
Jane the Virgin ran from 2014 to 2019 and tells the story of a devout virgin who accidentally becomes pregnant after mistaken artificial insemination by her gynecologist.
Ironically the baby boy Jane has in the show was called Mateo, the same name as one of Lionel Messi's children!
The show garnered much critical acclaim and several awards.
But Lionel Messi is most definitely not in it!
Was Lionel Messi on Hannah Montana?
Would you believe it, Jane the Virgin isn't the only American TV show people think Lionel Messi might have been in!
There are some who think they might have seen one of football's greatest ever players in the globally famous American teen sitcom 'Hannah Montana'.
The show made a household name out of Miley Cyrus and focused on her attempts to live a normal life, whilst secretly moonlighting as a pop singer.
One of her best friends in the show was Oliver Oken, played by Mitchel Musso, and some think there is a resemblance with a certain Mr Messi.
And I suppose there is…
Hannah Montana was hugely popular, maintain fantastic ratings in America, as well as being sold to numerous countries overseas.
Mitchel Musso continues to act and make music, but rumours of a second career as a Lionel Messi impersonator are unfounded!
Has Lionel Messi Ever Acted?
As I write this piece Lionel Messi is in fact about to make his acting debut!
He has been in filming for the Argentinian TV series, 'Los Protectores'.
Messi is set to appear as a special guest start in the second series of the show, which scenes being filmed in Paris where Messi now lives.
The scenes are set to be shown on TV next year.
There are very few details about the episode, aside from a press release saying it will follow three football agents who 'face an unexpected threat to their business.'
Like Hannah Montana (which Lionel Messi definitely wasn't in!), the show is made by Disney.
Footballers Turned Actors
There have been some footballers who have made a relatively decent transition from the sports world into acting most notably Eric Cantona and Vinnie Jones.
But let's take a quick look at some of the others that have slipped under the radar:
Stan Collymore
The ex-Liverpool and Nottingham Forest striker actually made an appearance in a film that pretty much everyone over the age of 35 will have heard of.
Well almost.
He played a lover of Sharon Stone in Basic Instinct 2!
RELATED ===> How Much Does Lionel Messi Make A Second?
Collymore's appearance is a fleeting one, and without wanting to be typecast he plays footballer Kevin Franks.
He is in the opening scene having sex with Stone in a sports car as it speeds through London.
Unfortunately, he suffers a drug-induced seizure whilst driving and careers off of a bridge into the water, all within the first 30 seconds of the film.
Collymore said that his brief appearance still took a week to film.
George Best
Vying with Messi for the accolade of the greatest player ever, George Best himself appeared in a few TV shows and films.
My favorite was when he played a rising football star waiting for his first break for his local amateur side, Chisleton FC in the kid's TV show Supergran.
In a cup match against The Mighty Rovers, Best is left on the bench as Supergran comes on to turn the game around and secure the victory!
Worth watching the start of the video below alone, for its catchy Billy Connolly-performed theme tune.
Best appears around the 16m 20sec mark.
Bryan Robson and Bobby Charlton
Talking of classic kids' TV, another one any footballing-loving child of the 80s will remember is 'Jossy's Giants'.
The show centered on a terrible football team, the Glipton Giants, full of quirky characters, managed by Joswell 'Jossy' Blair, an ex-footballer.
The show featured trips to St James Park and cameos from both Bobby Robson and Bobby Charlton.
Ally McCoist
This is a slightly different matter compared to the players mentioned above.
McCoist didn't just appear in this film, he played a lead role alongside Hollywood legend Robert Duvall.
The film tells the story of a fictional Scottish football team, Kilnockie FC, attempting to reach their first-ever Scottish Cup Final.
RELATED ===> Can Lionel Messi Dunk? And other FAQs About Messi (Revealed)
McCoist played Jackie McQuillan, a hell-raising player on the verge of retirement recently signed by Kilnockie from Arsenal.
The film received mixed reviews, but McCoist is actually quite good in it I think.
In fact, Duvall was very complimentary of Super Ally: "That guy McCoist he was a natural actor, a good natural actor" he said. "He's a great guy. I met Albert Finney and I mentioned I knew Ally McCoist and he said 'Ally McCoist, sharp as a tack."
Not a bad compliment coming from a man with an Academy Award, four Golden Globe Awards, a BAFTA Award, two Primetime Emmy Awards and a Screen Actors Guild Award!
Final Thoughts
Unfortunately as good as Lionel Messi is at football, he doesn't have an acting career to match!
His upcoming appearance in the Argentinian TV series Los Protectores will be his acting debut.
No roles in Jane the Virgin and Hannah Montana for Messi!
There are just two actors who happen to look like him.
---
Interested in Buying a Lionel Messi Shirt?
Check out the range of retro Barcelona shirts for sale. Or view all retro shirts you can choose from.
---