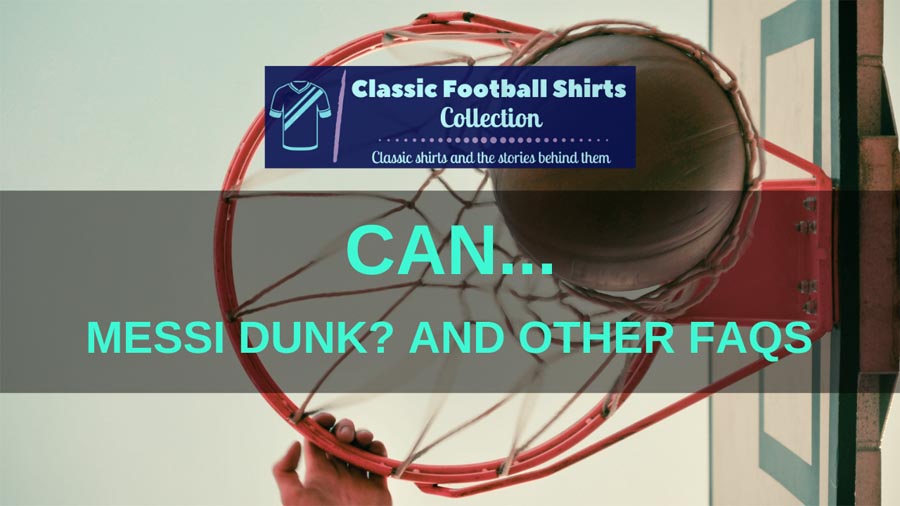 It is surprising how much people want to know about arguably the greatest player ever.
If you do a bit of research on La Pulga, you will find literally everything is asked from 'Can Lionel Messi Dunk?' to 'What is Lionel Messi's IQ?'
I am going to do my best to answer some of the more unusual questions asked about Messi right now.
So let's get started.

Can Lionel Messi Dunk?
No Lionel Messi cannot dunk.
A basketball hoop is 10 feet (3 meters) off of the ground. Lionel Messi is 5 feet 7 inches tall, he would not be able to dunk a basketball.
Regardless of this, he is apparently quite good at the sport.
In 2018 Barcelona visited Japan and Messi was caught on film playing basketball with Gerard Pique and Arde Turan.
He sank three shots easily and even prompted Rakuten executive director Hiroshi Mikitani to say: "Messi is INSANELY good at basketball. INCREDIBLE!"
Has Lionel Messi Ever Won The Puskas Award?
The Puskas reward was established in 2009 in honor of Hungarian striker Ferenc Puskas, who was widely seen as one of the greatest players of his era.
The award is given to the player, male or female, who is judged to have "scored the most aesthetically significant goal".
RELATED ===> How Much Is A Signed Messi Jersey Worth?
Lionel Messi has been nominated seven times since the award was inaugurated, but has never won it. The closest he has come was two second-place finishes.
One was in 2015 for his goal in the Copa del Rey Final against Athletic Bilbao. The other was in 2019 for a delicate chip against Real Betis.
The only other players to have been nominated for the award more than twice are Neymar and Zlatan Ibrahimovic, and they have both won it.
What Ethnicity Is Lionel Messi?
Lionel Messi is white and of Spanish and Italian descent.
His father, grandfather and mother are all of Italian-origin. His great, grandparents on his father's side came from the northcentral Adriatic Marche region of Italy and Catalonia.
They brought the family to Argentina in the 1800s.
What is Lionel Messi's IQ?
Lionel Messi's IQ has never been officially tested, or if it has, the results have never been made public.
IQ tests are made to have an average score of 100. 68 percent of people who take them record a score somewhere between 85 and 115.
Messi undoubtedly has an incredible football IQ, but that doesn't count for anything in an IQ test!
And people with a high IQ usually learn to speak languages very quickly, which is something Messi seems to struggle with.
We can assume Lionel Messi has an IQ somewhere around the 100 mark.
What Is Lionel Messi's Favorite Color?
Lionel Messi's favorite color is apparently red.
I am unsure why or when he admitted this, but that is the answer!
Can Lionel Messi Play Piano?
Lionel Messi cannot play the piano, although thousands of people were duped into believing he could after an Adidas-sponsored video of Messi playing the theme tune to Champions League appeared in 2017.
A few days later it was revealed that it wasn't actually Messi playing the piano, but professional pianist Tomas Fosch.
Fosch admitted in an interview with Catalan radio station RAC1:
"One day the ad agency, who had my info in their database, contacted me because they needed a piano player, but they didn't say anything else,"
"Later they explained to me that they wanted me to play the Champions League theme, but I didn't know until the very last minute that I was going to be Messi's double.
"First they taped some shots with him on the keys in front of the piano while they shaved my arm to copy the tattoo that he has, and when they were done taping that with him, I wore his clothes and played the Champions hymn."
RELATED ===> Are Lionel Messi And Maradona Related?
Who Is Lionel Messi's Godfather?
This I couldn't find the answer to.
However, I believe it has been asked because Lionel Messi is godfather to Sergio Aguero's son, Benjamin.
The closest I could come to finding any details about Messi's own godfather was this quote from Messi about Ángel Guillermo Hoyos.
"He was my footballing dad. He's helped me a lot since I came to Barça. He was always with me, showing me things and has brought me to where I am today, the First Division. I'm grateful that he is my footballing godfather".
Ángel Guillermo Hoyos is an Argentine football manager and former football player and was coach of Barcelona B at the time Messi broke into the Barcelona first team.
In 2003, before Messi had made his first-team debut, Hoyos compared him to Diego Maradona, saying: "There were things I only ever saw Diego do … And then Leo, he has the art and magic to write countless pages in football's history books".
Is Messi's Grandma Still Alive?
Lionel Messi's maternal grandmother, Celia Olivera Cuccittini, died in 1998 when Messi was just 11.
Messi was very close to her and she was known as his biggest supporter and managed to get him his first proper game of football when he was just four years old with local side Grandioli.
Messi's trademark celebration, making the sign of a cross and pointing to the sky, is in her memory.
As far as I can tell, Messi's paternal grandmother, Rosa Maria Pérez, is still alive or she was in 2017.
This was the last reference I could find to her when it was claimed she wasn't invited to Lionel Messi's wedding to his childhood sweetheart, Antonela Roccuzzo.
How Many Red Cards Has Lionel Messi Had?
As of June 2022, Lionel Messi has had four red cards in his career. Two for Argentina and two for Barcelona.
Red Card 1: In February 2005 for Barcelona B v Pena Sport
This came on 27 February 2005, when he was sent off playing for Barcelona B in a game against Pena Sport.
The game finished 0-0 and Messi received a straight red-card in the 82nd minute.
Red Card 2: In August 2005 for Argentina v Hungary
Six months later, on 15 August 2005, Messi got a red card within 44 seconds of coming on for his Argentina debut!
He came on, got the ball and drove at the heart of the Hungarian defence and got pulled back by Hungarian defender Vilmos Vanczák.
As Messi tried to free himself he lightly brushed (see the video below) Vanczák's face.
The Hungarian went down and Messi went off.
Apparently he was later found crying in the Argentina dressing room.
Red Card 3: In July 2019 for Argentina v Chile
Messi got another very harsh red card for Argentina in the Copa America third-place play-off against Chile.
Messi was involved in a tussle with Chile defender Gary Medel as he chased a ball that was running out of play.
RELATED ===> How Much Does Lionel Messi Make A Second?
The two players got into a confrontation with Medel pushing his head into Messi and then bumping Messi away with his chest.
Messi stood his ground but amazingly saw red too, without really doing anything
Red Card 4: In January 2021 for Barcelona v Athletic Bilbao
Now this one probably was justified!
In the Spanish Supercup Final in Seville on 17 January 2021 Messi took a swing at opposition player Asier Villalibre in the very last minute of extra-time.
Initially, the referee didn't see it, but after being alerted to it by the off-pitch official he took a look at VAR and sent Messi off.
To add insult to injury Barcelona lost the final to Bilbao.
Final Thoughts
So to sum up:
Lionel Messi cannot dunk.
Lionel Messi has never won the Puskas Award.
Lionel Messi is white.
We don't know Lionel Messi's IQ.
Lionel Messi's favorite color is red.
Lionel Messi cannot play the piano.
We don't know who Lionel Messi's godfather is.
We think Lionel Messi's paternal grandma is still alive.
Lionel Messi has had four red cards.
Hope that answers everything!
---
Interested in Buying a Lionel Messi Shirt?
Check out the range of retro Barcelona shirts for sale. Or view all retro shirts you can choose from.
---