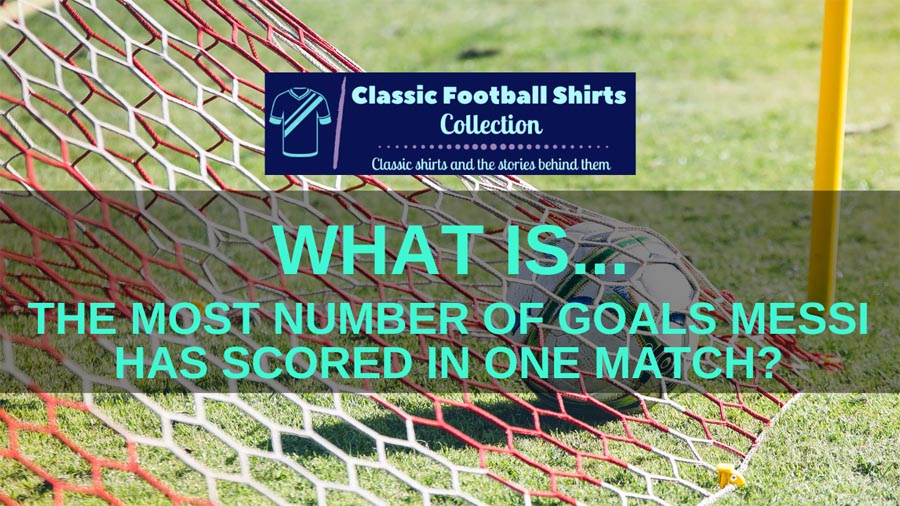 With a player as remarkable as Lionel Messi is difficult to know where to start analyzing his career.
For any player to score over 100 goals in a professional career is a real achievement. To score over 200 goals you are talking about a very special player. Over 300 is usually reserved for a once-in-a-lifetime player.
Messi (and Ronaldo of course) has scored over 700 goals in his career!
I thought I'd start by answering the question, what is the most number of goals Messi has scored in one match? And then analyse his goal-laden career from there.
So let's dive in.
What is the Most Number of Goals Messi Has Scored in One Match?
Lionel Messi has twice scored 5 goals in a game. On 7 March 2012, he became the first player to score 5 goals in a Champions League knock-out tie when he notched 5 as Barcelona beat Bayer Leverkusen 7-1. On 5 June 2022, he scored all 5 goals as Argentina beat Estonia 5-0 in a friendly. He has scored 4 or more goals in a game 8 times and recorded 56 hat-tricks as of June 2022.

Lionel Messi at Grandoli
Lionel Messi's incredible goalscoring record goes back even further than his time at Barcelona.
To chart the start of his career you need to rewind to 1992 when a four-year-old Messi went to watch his brothers play at local club Grandoli.
On one occasion the team was a player short. The coach, Salvador Aparicio, looked up and saw Messi on the sidelines with a ball.
Despite the fact he was far smaller and younger than the players on the pitch he had no choice but to ask him to play.
RELATED ===> Are Lionel Messi And Maradona Related?
"The first time the ball came to him he just looked at it and let it pass. He didn't even move. But the next time the ball came to him, it virtually hit him on the left leg. Then, he controlled it and started running across the pitch. He dribbled past everyone crossing his path" said Aparicio later.
Messi has been scoring goals ever since.
"In the youth teams, he scored six or seven goals in every match," Aparicio added. "Instead of waiting for the goalkeeper to kick the ball, he would take the ball off him and start dribbling all over the pitch. He was supernatural."
Lionel Messi's Goals at Newell's Old Boys
When Messi was nine years old he joined Newell's Old Boys, the team he supported, and the goals kept flowing.
In his first game for them he scored four goals in a 6-0 win.
He became part of a team called "La Maquina del '87," or "The Machine of '87", the year that crop of players were born.
They won every competition they entered and were practically unbeatable.
The official papers from Messi's time at Newell's Old Boys, which ran from 1994 to 1999, showed he scored 234 goals in 176 games.
His year by year record at Newell's was as follows:
1994: 40 goals in 29 games (Messi was six-years-old at this point)
1995: 35 goals in 30 games
1996: 36 goals in 27 games
1997: 40 goals in 36 games
1998: 27 goals in 25 games
1999: 55 goals in 29 games
It is hardly any surprise he attracted the attention of Barcelona.
Lionel Messi's Goals in the Barcelona Youth Team
Messi's official debut for Barcelona came on 7 April 2001, when he was 13.
Of course, he scored in a 3-0 win against Amposta for the U14B team.
He suffered his first setback in the next game, just a week later, when he broke his fibula against Tortosa.
It was obvious Barca had already seen enough to know they had a special talent on their hands though.
For the next season, the 2001-02 season, he stepped up to the U16B team and scored 9 goals in 10 games, whilst still only 14.
In fact, he was young enough to move back down to the U14A side for the 2002-03 season.
That season was a glimpse of what was to come, he scored 38 goals in 31 games. This included nine braces, four hat-tricks and one occasion where he scored four goals.
In 2003-04 a 16-year-old Messi played for five teams.
He scored 1 goal in 3 games for the U19B team, 29 goals in 19 games for the U19A team, 5 goals in 10 games for the Barcelona C team and played 5 games for the Barcelona B team without scoring.
Most significantly, on 16 November 2003, he made his debut in a friendly for the first team against FC Porto, coming on in the 71st minute to replace Fernando Navarro aged just 16 years and 145 days.
He also debuted that season for the U20 Argentina team, playing 2 games and scoring 3 goals.
The 2004-05 season was the year Messi made his first-team breakthrough, whilst also scoring 6 goals in 17 games for Barcelona B.
He made his league debut on 16 October 2004 against Espanyol. At 17 years, three months and 22 days he was the youngest player to play for Barca in an official match at the time.
RELATED ===> How Much Is A Signed Messi Jersey Worth?
On the last day of the season, 1 May 2005, he scored his first senior goal for Barcelona and became the youngest scorer at the time for Barcelona.
The rest, as they say, is history.
Stats for Lionel Messi in Barcelona's Youth Teams
| | | | |
| --- | --- | --- | --- |
| Season | Team | Games | Goals |
| 2000/01 | U14B | 2 | 1 |
| 2001/02 | U16B | 10 | 9 |
| 2002/03 | U14A | 31 | 38 |
| 2003/04 | U19B | 3 | 1 |
| | U19A | 19 | 29 |
| | Barca C | 10 | 5 |
| | Barca B | 5 | 0 |
| 2004/05 | Barca B | 17 | 6 |
| | Total | 97 | 89 |
How Many Hat-Tricks Has Messi Scored?
Lionel Messi has scored 56 hat-tricks. He scored 48 for Barcelona and 7 for Argentina.
His most productive season for hat-tricks was his incredible 2011-12 season when he scored 12 hat-tricks in a total of 73 goals for the season.
He has scored the most hat-tricks in La Liga history with 36. He has scored four hat-tricks against Valencia and three against Osasuna, Espanyol, Athletic Bilbao, Deportivo La Coruna and Sevilla.
He scored two hat-tricks in March 2010, two hat-tricks in one week in September 2011, then two in three days at the end of October and start of November 2011, two in three days again in May 2012, two in a week in March 2014, two in three days again in November 2014 and two in ten days in September 2017.
The first hat-trick he scored was on 10 March 2003 against Real Madrid, the game finished 3-3. Every time he has scored a hat-trick since then he has ended on the winning side, which is probably not surprising.
How Many Times Has Messi Scored 4 Goals in a Match?
Lionel Messi has scored 4 or more goals in a game eight times.
The first occasion was on 6 April 2010 against Arsenal in the Champions League Quarter-Finals.
He then netted four against Valencia in La Liga on 19 February 2012. Under a month later, on 7 March 2012, he scored 5 against Bayer Leverkusen in the Champions League last 16. Less than two months later, on 5 May 2012, Messi scored all four goals as Barcelona beat Espanyol in La Liga.
Messi saw in the New Year in 2013, with four goals against Osasuna on 27 January 2013, before there was a wait of over four years before he bagged four goals and an assist in a 6-1 win against Eibar on 19 September 2017.
Messi ended a run of four games without a goal with a quadruple against Eibar on 22 February 2020. He scored three goals in the first half and added a 4th in the 87th minute in a 5-0 win.
Has Messi Scored 5 Goals in a Match?
On 7 March 2012 Messi became the first player to score 5 goals in a Champions League game as defending champions Barcelona crushed Bayer Leverkusen 7-1 at the Nou Camp.
Messi scored in the 25th, 42nd, 50th, 58th and 85th minutes as Barcelona wrapped up a record-equalling 10-2 win on aggregate.
RELATED ===> How Many Records Does Lionel Messi Hold?
He then repeated this feat for Argentina on 5 June 2022, scoring all five as Argentina beat Estonia 5-0 in a friendly. He opened the scoring with a penalty in the 8th minute and then scored in the 45th, 47th, 71st and 76th minute.
Has Messi Scored 6 Goals in a Match?
Lionel Messi has never scored 6 goals in a professional match but may well have done it in his time at Grandoli and Newell's Old Boys.
Has Messi Scored 7 Goals in a March?
Lionel Messi has never scored 7 goals in a professional match but may well have done it in his time at Grandoli and Newell's Old Boys.
* Note: all statistics correct as of June 2022.
Final Thoughts
Hmmm, final thoughts… Lionel Messi is not of this planet?!
From these career stats, you can see just how unbelievable his goalscoring record is.
As of the end of May 2022, he has scored 764 goals and provided 328 assists in 971 appearances.
That includes 55 hat-tricks, seven 4 goal hauls and one 5 goal haul.
In 2011-12 he scored 73 goals in 60 games and then followed it up the next season with 60 goals in 50 games.
He has also scored over 50 goals in a season a further four times, over 40 goals in a season four times and over 30 goals three times.
In 2012 Messi scored 91 goals in a calendar year, breaking a record set by Gerd Muller in 1972.
All in all pretty amazing.
---
Interested in Buying a Lionel Messi Shirt?
Check out the range of retro Barcelona shirts for sale. Or view all retro shirts you can choose from.
---