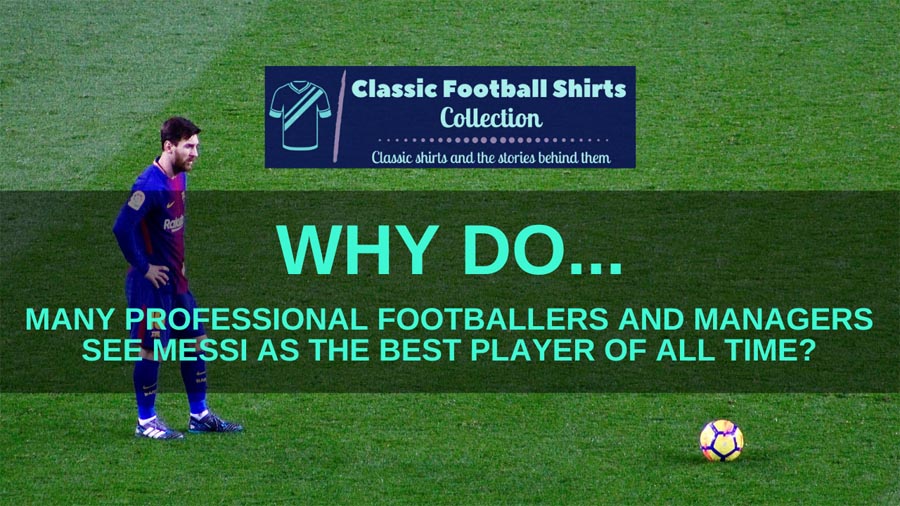 In many ways, the answer to the question of why do many professional footballers and managers see Messi as the best player of all time is not that easy to answer…
Purely because there are so many reasons!
But judging the best player of all time is a difficult (and purely subjective) matter.
Nonetheless, we will try and do so here.
So let's get started.
Why Do Many Professional Footballers And Managers See Messi As The Best Player Of All Time?
For many reasons, largely because of his incredible record of over 1,100 goals and assists in his career, and also because of his unmatched dribbling ability, vision, change of pace, passing, footballing brain, humility… So many reasons.

He Scores So Many Goals
As of June 2022, Lionel Messi has scored 769 goals in 974 appearances for club and country.
For many people, that alone would be enough to consider Messi as the best player of all time.
In 2011/12 he scored 50 goals in a single La Liga season, the most ever. That same year he scored 73 goals in total. 73 goals in one season!
In 2013 he scored in 21 games in a row for Barcelona.
He has created goalscoring records that would be incredible if someone was doing this in Sunday League.
He is doing it at the very top levels of the game.
He also is Argentina's highest-ever scorer, with almost double the goals of the player in 2nd place on the list Gabriel Batistuta.
RELATED ===> What Is The Most Number Of Goals Messi Has Scored In One Match?
He Creates So Many Goals (And Chances)
Again, as of June 2022, La Pulga has contributed 331 assists across this career.
You often get great goalscorers, you often get great playmakers, but Lionel Messi is both rolled into one and that is incredibly rare.
We will almost certainly never see another player who can contribute goals and assists to same level as Messi.
Not only has he frequently been a top goalscorer, but he has also almost as frequently been the top assist maker in various competitions.
Just to illustrate that, he was top assister in the following major competitions:
La Liga: 2010/11, 2014/15, 2015/16 and 2017/18
UEFA Champions League 2011/12 and 2014/15
Copa del Rey 2015/16 and 2016/17
Copa América 2011, 2015 and 2016
He was voted the World's Best Playmaker by the International Federation of Football History and Statistics (IFFHS) for three successive years: 2015, 2016 and 2017.
And all the time he was doing this he was also shattering all kinds of goal-scoring records.
Incredible.
He is the Best Dribbler to Ever Play the Game
This is a bold statement considering the abilities of players like Maradona, Best, Ronaldinho, Cruyff, Matthews, et all.
But it is borne out by the statistics around both his goalscoring and his assist-making.
The ball is literally glued to Messi's feet, always within touching distance, and he can go from stationary to full speed in a couple of seconds and always with the ball under full control.
Whilst there have been a lot of excellent dribblers, I don't think any have done it at the pace Messi does.
I found a statistic from 2018, that listed the most dribbles in La Liga over the past ten seasons. Messi was first with 1,481, next was Iniesta with 575.
Messi had an advantage of almost 1,000 dribbles!
I thought I might have actually made a mistake such was the disparity in the number of dribbles.
RELATED ===> How Many Records Does Lionel Messi Hold?
Then I found some statistics comparing players' dribbles in their respective leagues and the Champions League since 2009.
Messi was top with 2,269 successful dribbles.
Second was Eden Hazard with 1,200.
Again a difference of over 1,000!
Just insane and another reason why Messi is considered the best of all time.
What is particularly interesting about Messi's dribbling style is how relatively 'simple' it is.
He doesn't do multi-step overs or use fancy flicks or tricks, it is instead all about his agility, deft touches, body feints, and changes of direction that leave opponents for dead.
He Is As Close to the Complete Player As We Will Ever See
Again, the fact Lionel Messi has been breaking goalscoring and assist-making records left, right and centre throughout his career prove this point alone.
We've discussed his goals, his assists and his unparalleled dribbling ability. On top of that:
His passing range is up there with the best of them (again look at all the assists he gets).
His vision and football brain means he can see things other players can't.
Now he is 35 he is slowing down a bit, but in his prime he was very fast and we covered this when we looked at his 40-yard dash time.
Whilst due to his stature he will never score a huge amount of headed goals, he actually has a great spring and has scored some fantastic headers.
His decision-making has always been top-level, even from a young age. He knows when to pass, when to dribble, when to make runs to drag players away. And he makes these decisions in the heat of the moment.
He is Mr Consistent
Erm, he scored over 40 goals in ten seasons in a row from 2008/09 to 2018/19.
He is the leading goalscorer and assist-maker in the history of La Liga.
He has won seven Ballon d'Or's. His first was in 2009, and his most recent was in 2021.
He has been named Argentina's Footballer of the Year 14 times, for the first time in 2005, the most recent in 2021
To achieve these kinds of things, over a period of almost 20 years you have to be consistent.
Consistent and brilliant.
Messi is undoubtedly both.
He Is Adaptable
Across his career, Messi has played in a whole range of positions.
He began as a right-winger when he broke through to the first team under Frank Rijkaard, under Pep Guardiola he started to play in a more central role as a false 9 or as a more conventional striker. Under Luis Enrique he found himself back out on the wing again, under Valverde he was alternating between the false 9 role he occupied under Guardiola and even a more advanced midfield role.
Whatever position he has played, he has adapted and excelled and this has been the case for both Barcelona and Argentina.
He is Honest
With his relatively short and slight stature and incredible talent, Messi obviously gets kicked a lot.
But he rarely goes down unless he has to and would rather stay on his feet and try to keep going and score or create something.
He is humble enough to remain a team player and shows no signs of arrogance or superiority when many other players of far less talent do.
RELATED ===> Who Has Won More Trophies Messi Or Ronaldo?
Final Thoughts
Is Messi the best football player of all time?
He certainly has as strong an argument as any player ever.
If anything I think Lionel Messi is underrated.
I don't think it will be until he has retired that we fully appreciate the amazing things he did on a football pitch and the consistency with which he did them.
I am not even going to get into the 'who is better Ronaldo or Messi' debate, as it is purely subjective and an argument could be made either way for either player.
I will say we are extremely lucky to have been able to enjoy them both over the past couple of decades.
Between the two of them, they have set new standards for how we judge players.
In 2003, when Messi was 16 and before he had made his debut, Ángel Guillermo Hoyos who was the coach of Barcelona B at the time, said:
"There were things I only ever saw Diego do … And then Leo, he has the art and magic to write countless pages in football's history books."
In 2005, the year after Messi made his debut for Barca, his teammate Ronaldinho won the Ballon d'Or
This award says I'm the best player in the world, but I'm not even the best player at Barcelona," said the Brazilian.
"Since he (Messi) began to come and train with us and we knew we would go down this path. Someday I will explain that I was at the birth of one of the footballing greats: Leo Messi."
Those two comments say it all.
---
Interested in Buying a Lionel Messi Shirt?
Check out the range of retro Barcelona shirts for sale. Or view all retro shirts you can choose from.
---