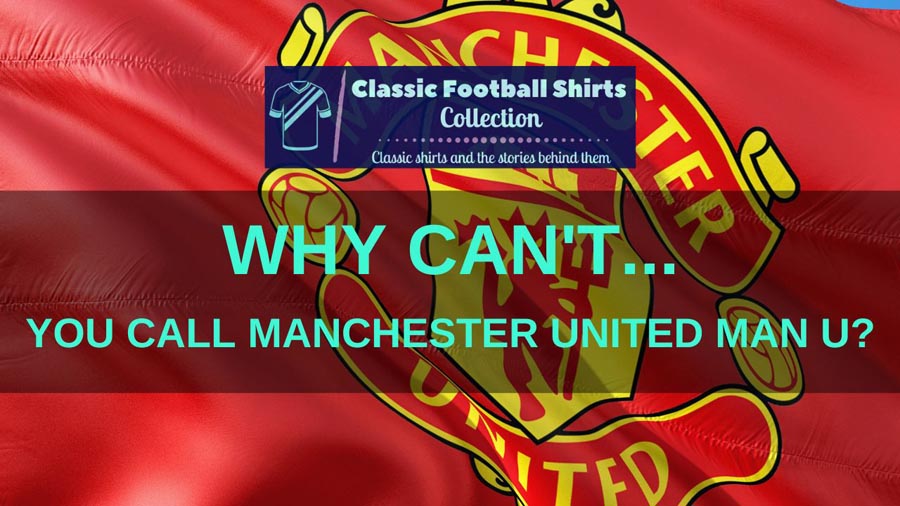 I have a close friend who gets infuriated when anyone calls Manchester United, Man U.
But as a long-term football fan, I've never really known the answer to the question why can't you call Manchester United, Man U?
Or maybe it should be, why shouldn't you call Manchester United, Man U.
So I did some digging around about it for this article.
I discovered a few things I didn't know during my research.
And a whole lot of contrasting views!
So let's get started.
Why Can't You Call Manchester United Man U?
The offensive nature of the term 'Man U' is said to originate from a chant from opposing fans in the aftermath of the Munich air disaster in 1958. The chant used the term 'Man U' to directly insult players who had died in the crash and to create a mnemonic for the world 'MUNICH'.

Why Manchester United Should Not Be Called Man U
The reason for the offensive nature of the term 'Man U' is attributed to some events that followed in the aftermath of the Munich air disaster in 1958.
It is said that West Bromwich Albion fans came up with a terrace chant mocking United and, in particular, Duncan Edwards when the two teams played each other shortly after the crash.
Apparently, the chant went something like this:
"Duncan Edwards is Manure, rotting in his grave,
Man U are Manure, rotting in your grave
Man U, Man U never intended coming home…"
Note the letters in the last line form the word MUNICH.
A quick scan of United's fixtures shows that within a month of the crash they did play West Brom three times in a week – two FA Cup fixtures and a league fixture.
Allegedly Liverpool and Leeds United fans then picked up on the chant, and made their own versions of it, all using the words 'Man U'.
That is the reason given as to why Manchester United fans find the term offensive.
RELATED ===> View a Selection of Retro Manchester United Shirts
A Quick History Lesson on the Term 'Man U'
However, a little more digging and you will find that the use of the term 'Man U', precedes the Munich air disaster by a few years.
And it all goes back to how newspapers were printed in the 1950s.
Back then technology was obviously nowhere near what it is now.
There were many challenges for local and national papers to get their editions finished, printed and on the newsstand as quickly as possible.
Of course, the lack of things like mobile phones and the internet made this job much tougher when compared to today.
To speed things up, the pages of the papers were laid out by typesetters before the actual stories were written.
Then when the copy came in it was just a case of fitting it into the layout of the page and editing it if necessary.
One of these pages would contain all the classified results from the Football League.
The results columns needed to be uniformly set out, so they aligned horizontally and vertically.
As a result club's names would have to be abbreviated to fit the columns appropriately.
So for instance Wolverhampton Wanderers became Wolves, West Bromwich Albion became West Brom (or sometimes WBA) and Manchester United became Man United or sometimes Man U.
In the years after the term was introduced, its use snowballed.
It would appear on the infamous vidiprinter and in results captions on TV, as well as by an increasing number of journalists.
Over time it has simply become ingrained in the vocabulary of football fans, in the same way Wolves or Spurs or West Brom have.
I also saw it noted by more than one person that through his tenure at the club in the 1980s Ron Atkinson referred to the club as Man U, as did Teddy Sheringham when he played for United.
RELATED ===> Why Are Manchester United Called the Rags?
So Are United Fans Really Offended When Their Club is Called 'Man U'?
As with nearly everyone and everything these days, if you are looking for the answer to a question you turn to the internet.
In my research for this article, I found many fans' views on the subject on various forums.
I was going to try and summarise them in my own words, but I thought it would be easiest to simply cut and paste them here:
"I have spoken to many fans who have been going to Old Trafford for over 50 years and, without exception, none of them have any idea where the story of the phrase 'Man U' being offensive came from."
"Generally Mancunians don't use the term 'Man U', but I haven't met anyone who goes to games who is that arsed about it."
"'Man U' was used long before the Munich air disaster without any issues. After the crash some supporters of other clubs did use it in derogatory chants. But now it is not an inherently offensive term, and almost everyone who uses it does it without malicious. So anyone who gets offended might be trying a bit too hard."
RELATED ===> Why Do People Hate Manchester United So Much?
"I've grown up in Manchester with people calling the club 'Man U'. Some people are offended simply because they have been taught by the internet to be offended by it, due to its tenuous relationship to mocking Munich."
"It was used before Munich by United fans. I can understand people being upset at the time, but the chant isn't prevalent anymore. It certainly has never been as much of an issue in Manchester as it seems to be in other places."
"On the whole, it is oversensitive United historians who get upset about it as a way of showing how much they know about the club. It is commonly used by fans across the globe, and for the selected few who find it offensive they need to get over it and stop acting so pretentious."
"I was born and raised in Manchester and have supported United since the 80s when I was kid. Me, my family and friends have often said 'Man U' and I never realised there was anything taboo about it until I read this thread."
Final Thoughts
I know that the comments I have copied and pasted above may look a little one-sided, but that genuinely seems to represent the overwhelming feeling amongst fans.
I was born in 1979 and I was completely unaware of the reason why the term 'Man U' apparently might be offensive to United fans.
I had never heard the rumour about these chants and it seems quite a few United fans hadn't either.
And the thing is, without the internet, would the details of these chants ever have become public knowledge or would they simply have gradually become a forgotten memory as fans from that era became fewer and fewer?
What we do know is that unfortunately, some derogatory chants do still occur about the Munich air disaster.
What I think is less certain is that someone would use the term 'Man U' as a direct reference to Munich and as an insult to Manchester United.
The main reason I think supporters don't like to hear their club called 'Man U', might be encapsulated in this post I saw on a forum about it:
"I don't think it's actually bad or insulting, it just sounds shit."
---